So I'm trying to be a good little blogger and update this puppy every day. I've got two hours left before it's tomorrow and I don't have the picture I need to do the update I want, so we're going into the vault.
A couple years ago I put the biggest above ground pool I could find in my living room. The pictures were posted to a bunch of those link collecting sites and almost 7000 people saw the pictures the first day. Every year or so they are rediscovered and they get a ton of hits. However, I've never publicly told the story of the pool and why I did it. Avast!
One day my friend Crystal sends me an IM. Here's a dramatic rendition of the event :
Crystal: OMG! Ty, check out www.penguinwarehouse.com
So I did.
Lo and behold, it's a site that apparently sells pet penguins. I didn't realize it before that moment, but I had always wanted a pet penguin. Probably everyone has. I just never thought it was possible. Penguin Warehouse assured me that it was in fact possible :
Q: Do I need to provide a habitat for my penguin?
A: Most certainly! Each penguin species requires unique habitat requirements and your home environment needs to be made suitable for a penguin before purchase of such a pet. Most penguins require a decent sized salt-water non-chlorinated pool set at an appropriate temperature. In fact, some penguin species spend as much as 75% of their life in water. If you are interested in learning more, please look into one of our many penguin care books.
Needless to say, I was sold. If only I had a decent sized non-chlorinated pool. I sent an e-mail to the proprietors at Penguin Warehouse asking all the questions I had, and telling them I was ready to order. They had a variety of breeds and ages available, and after a couple hours of research, I decided on a Snares Island penguin. I was going to name him Magellan.
I was really excited. So excited, in fact, that I told everyone I knew that I was getting a pet penguin. Knowing me, most people weren't too surprised, and most were excited by the idea as well. My parents offered the opinion that buying a penguin was a reckless and irresponsible thing to do. This was a very frequently offered opinion, however, so it was discarded.
Later that week I found myself at Costco buying frozen fruit. While wandering the aisles I couldn't help but notice the large swimming pool in display. They had it sitting on its edge, and it towered over the shoppers at a height of 15 feet. I immediately thought that it would be really cool if I had a pool that big at my house. The only problem is that my backyard is small and the robomower might cut the pool up. I considered putting it in the garage, but decided that I like parking there too much.
Then it hit me that I could just put it in my living room. I had just moved into my house and didn't have a dining table. I could easily move the living room furniture in there and put the pool in the living room. I wasn't sure it would even fit, but I figured it was worth a try. My friends Jake and Crystal cautioned me that it could easily be a disaster, but I could tell that they really wanted to see it happen. I called my father, who is a carpenter, to see what he thought. I believe his quote was something like this :
"I know I always tell you not to do your crazy ideas and you usually do anyway, but listen to me on this one. Don't do it. You could crack your foundation or flood your house"
That was enough to sway me. I made a little flow chart for you guys to help understand how I make decisions. If you want your life to be more interesting, try following it yourself with your decisions :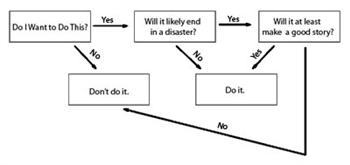 Clearly, it had to be done. I picked up one of the huge boxes containing the inflatable pools and put it in my cart. I checked out and had to drive home at about 10mph because the pool only fit halfway in my trunk.
First we cleared all of the furniture out of the room and unpacked the pool.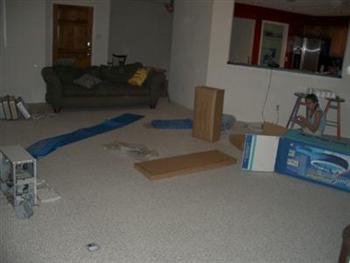 Then we unrolled the ground tarp. I didn't know if I actually needed this, since the manufacturers carelessly ignored the possibility of indoor installation. In the end I decided to use it, because you can never be too safe when installing a pool in your house.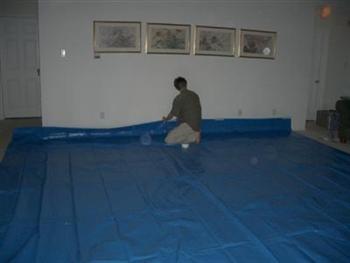 To ensure that the pool would be environmentally friendly, Crystal simulated a retarded dolphin swimming in the dry pool. It was a great success.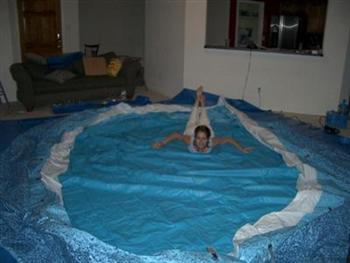 The way the pool works is that the outer ring is inflated, and as the pool is filled with water the ring rises and causes the pool to form its shape. Whoever came up with this idea is a genius madman. I'm sure that outdoors it's a walk in the park, but doing this inside was quite nervewracking. I can't really describe the nervous feeling of standing in the middle of the living room with the hose at full blast.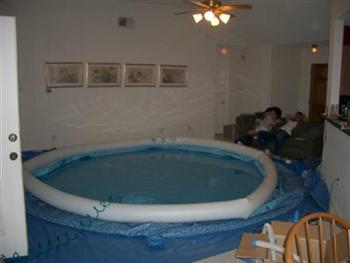 Then we waited…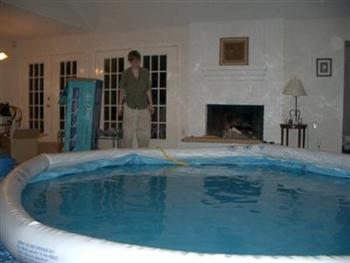 …and waited… The pool was 3100 gallons, which is a lot more water than it seemed. As the pool slowly grew we'd marvel every five minutes at how cool it was. I actually had to stop for the night and restart the next morning. I believe it took around 8 hours total to get the sucker filled.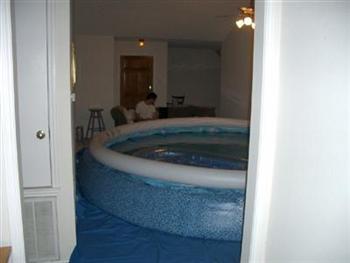 Finally the pool was completely full. Eager to celebrate, we tested the water. That's when it dawned on me that the pool was never going to get any warmer than 72 degrees – for some reason I just thought outdoor pool = cold and indoor pool = warm. Oops. I was somewhat comforted by the fact that Magellan would probably appreciate the cold water.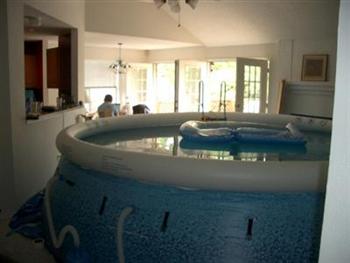 Jake insisted that we try it out anyway, so we did. It's very bizarre to be floating comfortably along in the pool while staring at the ceiling fan.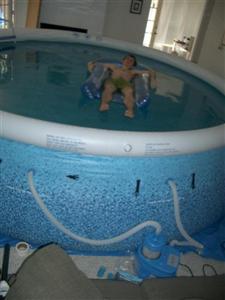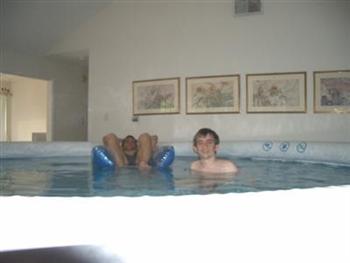 What I didn't count on was the paranoia that the pool caused. I would routinely wake up, convinced that I heard a noise, and I would run my hand along the entire perimeter of the pool. The pool was 15 feet in diameter and barely fit into the room, so this was a bit of a chore.
A couple days later I started getting suspicious because the Penguin Warehouse people hadn't written me back yet. One of my friends took a closer look at the site and realized that it is obviously a fake. He told me, and despite a brief attempt to cling to my hopes, I had to relent. A second look at the web site made it very clear that it was just a hoax.
With cold water and no penguin to occupy it, I was ready to get rid of the pool. Siphoning the water out was surprisingly easy. I put one end of a hose in the water, and brought the other end to the back edge of my property. Without any work on my part, the water started flowing. It was as if immaculate sucking had occured.
A neighbor came by with the bad news that I must have a leak in my sprinkler system because water was pumping out of my backyard at an alarming pace. He was a bit freaked out when I invited him in and he saw the pool. He never came by again.
Unable to get the last drops of water out, I dragged the pool outside and put it on the deck, where it sat for a couple months.
I read about Costco's incredible return policy – essentially anything can be returned for any reason. We loaded the whole moldy mess onto my friend's pickup truck – there was no chance it was fitting in its box. And hauled it to costco. Using a large shopping cart to transport it, I dumped the pool and its accessories in front of the returns counter, causing a bit of a scene. Here's how the conversation went down:
Tynan : I'd like to return this swimming pool.
Woman : Is there something wrong with it?
Tynan : No.
Woman : Then why do you want to return it?
Tynan : Well, I put it in my house because I was going to buy a penguin, but I kept worrying that it was going to leak on my carpet. It's not as sturdy as the one you had on display (this is true – the one on display was double walled)
The woman definitely did not believe me and just stared blankly.
Woman : I.. umm. I don't think we can take this return. I'm going to get a manager.
Manager: Sir, can you tell me why you'd like to return this pool?
Tynan : I was going to buy a penguin, but I was worried the pool was going to leak on my carpet. It doesn't say anywhere not to use it inside, but I don't think it's sturdy enough.
Manager: Are you being serious?
Tynan: Yes.
Manager: Ok… I guess we'll take it.
I provided my receipt and got my money back. Not getting the penguin was a very sad event for me. I had already named Magellan and was extremely excited. I had read tons of information about penguins and was really excited about taking care of him. Since "losing" him, I have visited two aquariums and spent as much time with the penguins as possible. For Christmas my awesome sister bought me a plastic penguin named Magellan.