NEW: Video link added to the bottom 12/14
NEW: Second video link added to the bottom 12/15
Haha… two secret posts in a row. I have a mental list of stories I want to write here, and somehow this one had slipped off of it. Luckily, a UT Grad who goes by "The Reel Deal" posted a comment reminding me about the story. So here it goes, with a little history first.
I never thought I'd go to UT (The University of Texas, not Tennessee). Ever since I was in middle school, I always knew that I'd go to MIT – it was where the smart geeky people went, and I was one of them. When it came time to do applications for schools, I mailed two of them. One for MIT and one for WPI, a lesser known technical school in Massachusetts. I had abysmal grades, due in a large part to my refusal to do most homework and having never actually studied for a test. I always thought it was interesting to see how much of the material I'd naturally retained. Let's just say it usually wasn't over 80%.
After sending those applications in I found myself sitting in a calculus class with my good friend Phil.
"Have you finished your UT app?" Phil asked.
"No, I didn't do one"
"You should. They're due today. Here… I have an extra one. I'm going after class to drop it off – if you come with me I'm buying Wendy's"
That was enough to seal the deal. Phil had a meal plan on campus that allowed him to use his meals at the local Wendy's. Because he had a fully stocked fridge thanks to his job (maybe I'll write about that gem later), he rarely used his meals. He often bribed me with them, accounting for many classes, quizzes, and even a few tests missed. We both loved Wendy's. That was, of course, before I began eating healthy.
During the rest of the class I filled out my application, although I didn't have time to write an essay. I didn't really have the inclination, either. I was sure that MIT or WPI would accept me solely based on my charm and potential.
Weeks passed, and my MIT and WPI letters came in. I was rejected at each of them. Oops. I wasn't too upset, though – I wasn't totally sold on the idea of going to college anyway.
Then, of course, my UT letter came in. Somehow they'd accepted me. Many of my friends had similar fates, so a bunch of us ended up at UT. In the end, this was much better and I'm very grateful I didn't go to MIT.
Then, there were the tunnels. We'd heard about them before – supposedly there was a secret network of tunnels underneath UT that connected almost all of the buildings. It was a farfetched concept, but it became credible to us when we read an article that said it was the way they got to the tower without being shot to take out Whitman.
Soon after moving into UT, we started looking for the tunnels. The UT campus is one of the largest in the world, so this was no easy task. It led us to some pretty interesting places, but we couldn't find any evidence of the tunnel.
Then one day we saw a worker servicing one of the fountains on campus. A door was opened in the back of the fountain that revealed a spiral staircase going underground behind it. Could that be the entrance to the tunnel system? We did our best to be nonchalant and peered down into the entrance. It appeared to go down quite far – surely this was the entrance. The only problem was that the worker never left the area.
Undaunted, we waited for night and headed to our armory of choice – Home Depot. Home Depot used to be open twenty four hours a day, which made it perfect for us. It seemed that nearly every adventure that we embarked on, and there were many, required some sort of supplies that Home Depot always had. We bought a small saw and headed back to campus.
With two people watching, and another two of us cutting, we tried to cut the deadbolt holding the door shut. I'm morally very against destroying property, and in our many crazy adventures (several of which involve breaking into buildings) we have destroyed only one lock and no valuable property.
Unfortunately, this lock was not destined to be the one that we broke. We cut 1/8 of an inch through the deadbolt after maybe half an hour and realized we'd never get through. We planned on getting a reciprocating saw and trying again, but it never happened. I guess we decided it was too difficult to explain why we had one of those.
For a year or so we forgot about the tunnels and diverted our mischeif to other outlets.
One night we were again discussing the tunnels, and we resolved that surely one of the many manhole covers must be hiding an entrance to the coveted tunnels. With a stick to pry them up, we hit the streets and pried up a significant portion of UT's manhole covers. We found a few cool little hideouts, but no tunnels.
The next night we returned and upturned any other manholes we could find. We were about to go home for the night when Terry made a discovery. He found a metal grate that was blowing exhaust from below. That would be nothing to get excited about except that it appeared that there was light beyond the fan. We crowded around the grate and peered in. Sure enough, a tunnel could be made out below.
We were all very excited, but the task of penetrating the tunnels remained. The grate was secured by welding and concrete and wasn't going anywhere. Further, even if we could get in, there would be no way to get past the fan.
Terry and I started walking in the directions the tunnel led, hoping to find an easier entry point. He found another vent that had no fan. It had some other metal contraption that could possibly be moved, but it wasn't promising. What was promising is the clearer view of the tunnel that grate afforded. It was real.
I walked in the other direction, and found another grate. Beneath the metal grate was a ladder leading down to the tunnel, and the gate was secured only by a padlock. Often times too brash, I was eager to go get bolt cutters and go in that night, but another friend who wishes to remain anonymous pointed out that soon it would be light and we might get caught.
The next night we returned to home depot and bought bold cutters. We were always asking weird questions like "My deadbolt is stuck and I need to cut it. Which saw is best for that?" or "Which bolt cutters can get through a masterlock", or later "my boss wants me to copy all these keys". If they were suspicious, they never shared that suspicion with us.
We left with our giant flourescent orange bolt cutters and headed to campus. We agreed that the tunnels were likely used by workers, but that 2-5:30am or so was probably a safe time to go. I wrangled with the lock while John (name changed) and Terry acted as lookouts. I was too weak to cut the lock, so John took over.
We probably should have worked out a better plan, though, because although we spotted the police, there was nothing we could do to warn John. They saw us, turned on their lights, and started driving towards us.
Crap.
John made the decision for us. Bolt cutters in hand, he started running. I followed him and Terry headed in a different direction. As soon as we turned a corner John threw the bolt cutters into the bushes and we kept running. We stayed away from streets so that police couldn't see us.
When we finally made it across the street and blended into the pedestrians, we were safe. We all met back at our apartments and agreed to try again the next night.
The next night was better. Our friend Ben was in town, and he was ready to ride. He was strong, as was John, so between the two of them we were able to quickly break the lock. One by one we scurried underground and closed the grate behind us.
After nearly four years of wondering – we were in.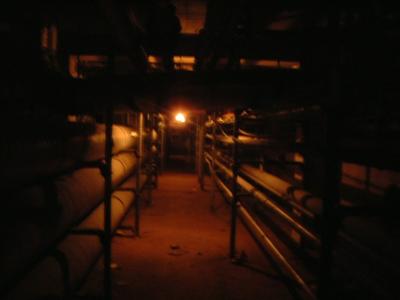 Any expectations we had were instantly shattered. No longer were we on campus – we'd be transported into another world. The narrow concrete path was flanked with a host of steam pipes, bundles of wires, and even toxic waste pipes. It was surreal.
We ventured down the path, but soon came to a locked gate. We turned around and made it a little further in the other direction, but there was another gate there too.
Intermitently, the steam pipes would makes scary noises which sent our hearts jumping. We were all overwhelmed and not entirely upset that there wasn't much to explore. We left the tunnels, put our own padlock on the gate, and went back home.
Plans were immediately made to go back. We'd bring the bolt cutters and get past the next gate.
The next day Terry, John, Dan (name also changed) and I returned. It was cold outside, but underground it was comfortable. We again got into the tunnels and stashed our jackets near the entrance. John was in charge of mapping out the labrynth as best as possible. We'd also brought orange tape to tie to grates so that we could find them from the outside. We were prepared.
Again we reached the first locked gate. This time I was a little more clear headed and realized that if we stood on the crossbar we could slide past it over the top. Immediately the maze began to branch and we realized that the tunnels were bigger than we expected. At the next dead end, John realized that if he hugged one of the pipes he could slide past the gate where the pipes went through.
We spent a couple hours underground exploring as much as we could. Every few minutes a steam valve would release or the pipes would creak and we'd all become terrified. There was no telling if we were alone in the tunnels, or if there were workers there.
Here are some of the incredible things we saw underground :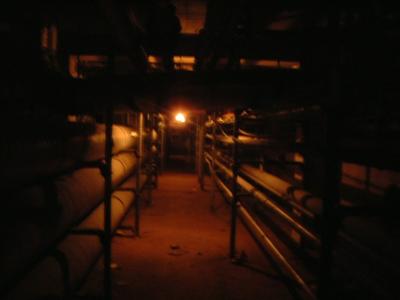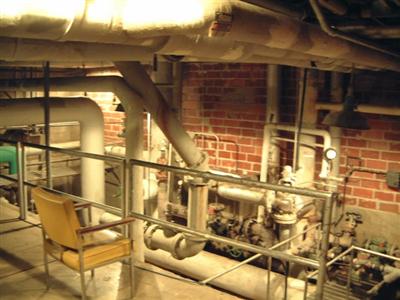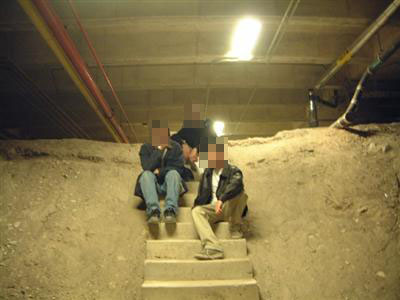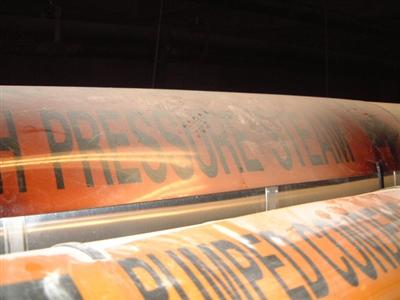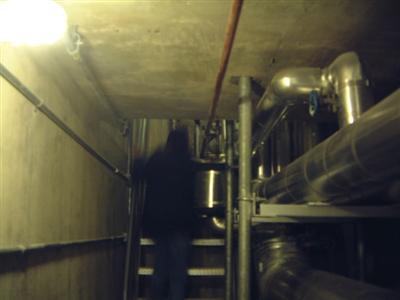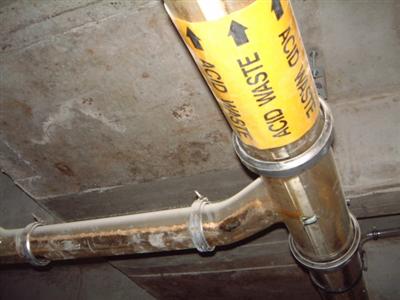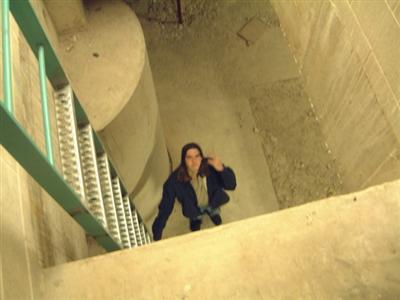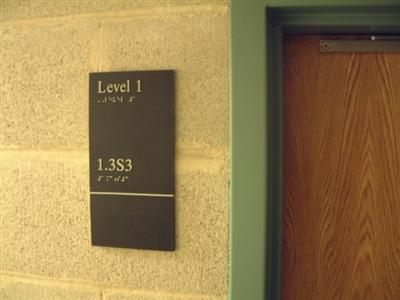 The tunnels were more interesting than we expected. There were ramps going up and down, entrances to buildings, forgotten storage areas, windows looking outside, and strange masses of pipe. Some places were very closed in, others were wide open. Some were brightly lit, while others were pitch black. One of our favorite areas we dubbed "the beach". It was a huge sandy expanse under one of the buildings, bordered by a concrete walkway. Along the walkway were locked cages with strange looking machines. Here are some pictures from the beach: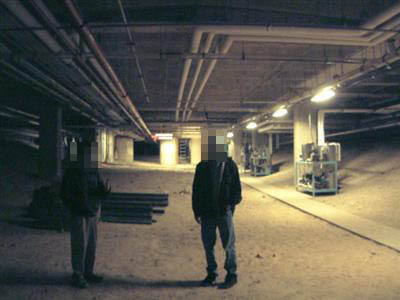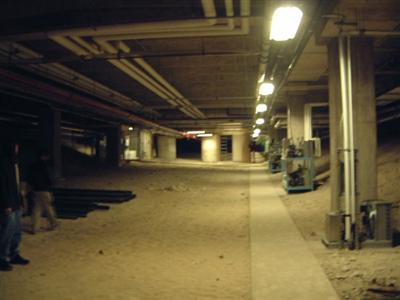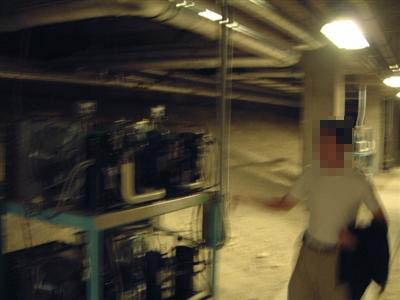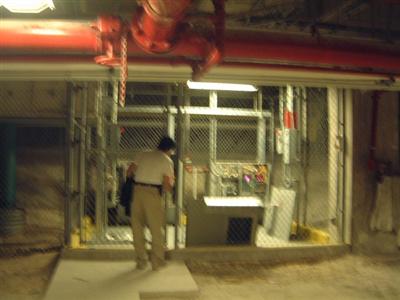 Of particular interest was a code (or possibly gibberish) written on one of the stone pillars.
P D G H M P D G
P H M W M L Y W O
O F F 6 I M U S S G
P – Forgive me
The full image (blurry, unfortunately) can be downloaded here : code.
We never figured out what it meant, but our interest was piqued with the "Forgive me". If you can figure out what it means, we'd all be really interested in hearing your interpretation.
Here's a copy of the map that John created : [removed at KVUE / UT's request]
Finally after spending hours underground we started to get worried that workers may be arriving. We peeked our heads out of the grate, and when no one was coming we quickly snuck out. Our lock was put back on the grate and we left.
We had intended on going back, but our lock was replaced with an official one rather quickly. We were all alarmed, thinking that it was an unused entrance. We never went back in. To this day there is a grate near ENS which you can look into and see some of the orange tape we used to mark the path.
We are a particularly responsible group of trouble makers. If any of us had gotten hurt we wouldn't have sued UT. We didn't damage anything or steal anything. I can't be sure that readers of this article will exercise the same discretion, so I won't disclose where the entrance to the tunnel is. If you're dedicated enough, you can find it. The map also provides some clues.
Update: On 12/13 I got a huge surge of traffic thanks to sites like Digg, Del.icio.us, Fazed, and many other bloggers. Within the first few hours of the morning, I received over 10k unique visitors. By the end of the day it reached 17k.
One of the people who read the story is friends with a reporter at ABC affiliate TV station KVUE. KVUE did a piece on the story seen here :
When I saw it, I was furious. The segment was pretty complementary, and that Izzy girl was pretty cute, but they stole my pictures!
The next morning I called the Austin Bar Association and was referred to an intellectual property lawyer. He was generous enough to talk with me for twenty minutes to give me a good understanding of the law and the practicality of filing a suit.
He said that it was without a doubt illegal copyright violation and that I would win in court… but he also said that it would be hard to prove that I was significantly damaged by the use, and would probably not get too much money.
After hearing that, I was still going to sue. He said we'd send a letter, they'd reply back saying that it was legal just to call my bluff because it was unlikely that I would actually file suit. However, I had every intention to do so, even if it was possible that I would lose money.
It was a matter of principle, and I was genuinely offended that they would air my pictures without credit. The lawyer suggested I first contact KVUE and try to work it out. I was skeptical that they would rectify the situation, but I wrote a letter anyway. I offered three possible solutions :
1. They could give the address on TV tonight
2. They could pay a sum of money in damages
3. They could air a different story with me and give credit there.
Within a few hours the reporter who did the segment got in touch with me. He was very apologetic, professional, and courteous. He said that he regretted the way that it was handled, and would air a segment that night with the address. I thanked him for making the situation right.
Here's the new segment that aired :
Pretty cool.
I'm not concerned with UT coming after me. It just wouldn't make sense. We explored the tunnels 5 years ago, which is more than twice the statute of limitations. We also did no damage other than the lock. If they do get in touch with me I would be more than happy to buy them the lock of their choice, though. After the second time I actually planned on taping a $20 inside the tunnel to cover the cost of breaking their lock, but we never went back.