Our most popular Life Nomadic article last year was our complete packing list. Since then we've learned a lot, made a lot of changes, and managed to pack a lot more into the same tiny amount of space.
There are a few areas where slight improvement could be made, which you'll hear me talk about in the video, but overall this collection of stuff represents everything a traveler needs to travel through just about anywhere on the planet, live comfortably, and keep connected.
I've consolidated most of the stuff I pack into an Amazon store, which you can access here: Life Nomadic Store. If you use that link, or the Amazon links below, I get a commission. Other good places to buy this sort of gear are ebay and outdoor shops like REI and MEC, although neither store carries most of the gear.
Without further ado, here's the video and list:
THE LIST
Klean Kanteen 12oz Aluminum Water Bottle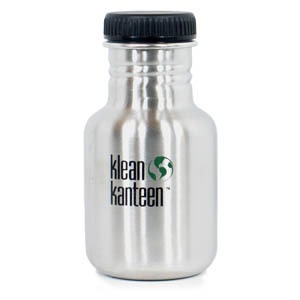 Description: Most water bottles are huge. This one, which is actually meant for babies and kids, is a very packable size. It only holds 12oz of water, but that's enough to drink at once as long as you're not on a hike. There are several caps available, including a loop to connect to your bag. Get the unpainted one so that you can put it on a stove.
Weight: 4oz
Where to get it: Gear stores, high end grocery stores, online.
Why carry it: Just like the Light my Fire Spork, it's good to carry eating supplies when practical. When traveling, fill it with nuts and a zip lock bag. Once you get through security, put the nuts in the bag and fill it with water. Now you've got a nice snack!
Unusual Uses: Making tea over the stove
Caveats: It takes up a relatively large amount of space unless you get smart and pack stuff (like snacks) inside it.
Moenegallet AC Power Splitter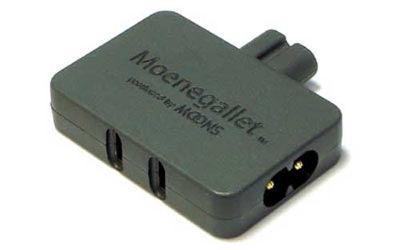 Description: It's hard to describe what this thing does. It goes in between the power cord and your laptop's power brick and allows you to plug two extra things into it. It's perfect for plugging two laptops into one outlet.
Weight: 1oz
Where to get it: It's basically impossible to find. Brando.com used to sell it, but now they don't. We bought ours originally in a tiny computer store in Akihabara, Japan.
Why carry it: Coffee shops, airports, and trains are notoriously stingy with power outlets. Bring this and you and a couple friends can all share one.
Unusual Uses: It can also be used as an extension cord with the wall -> brick cord from your laptop.
Mountain Hardwear Aiguille Hard Shell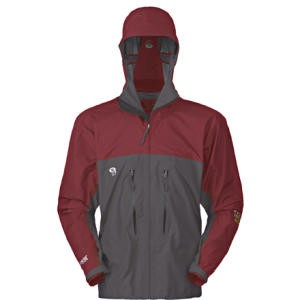 Description: The Aiguille (try pronouncing that…) hard shell from Mountain Hardwear is a great lightweight shell that's also very durable. It's constructed of Gore-Tex Paclite and reinforced with Gore-Tex XCR. It has two "Napoleon" pockets, and an integrated hood with visor.
Weight: 15.2oz
Where to get it: It's available at a few retailers online, but has been discontinued.
Why carry it: The Aiguille is a high quality shell that serves its purpose. I like it because it's so light but still full featured. Todd prefers shells by Go-Lite, and I'd probably buy one of those next time.
Caveats: The pockets aren't in a location that makes them usable for hand warming when it's cold but not raining. It's hard to find now.
LOKSAK aLOKSAK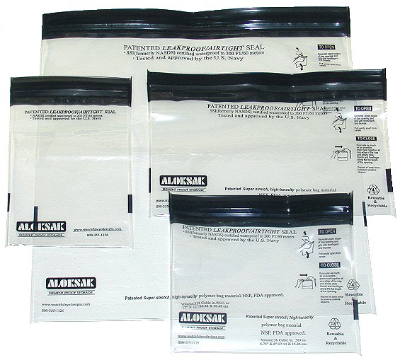 Description: The aLOKSAK appears to be just a regular zip loc bag, but it's actually a lot more than that. Unlike other plastic bags it is fully waterproof and can be submerged up to 200 ft (60m). That's pretty insane. Unlike conventional drybags, the aLOKSAKS are so slight that they take up no significant amount of space in your pack. Sizes and prices vary, but they're very reasonable.
Weight: 0.0oz
Where to get it: If any brick and mortar stores sell these, I can't find them. And I've looked all over the world. They are readily available online, though. Amazon.
Why carry it: They take up almost no room and have a million and one uses.
Unusual Uses: We've used them for compressing clothes, using a GPS in the rain, keeping a passport dry, and even as pillows after inflating them.
Caveats: They aren't terribly abrasion resistant, so they will eventually develop holes. Also, you have to really make sure that you've created a good seal before trusting them to be waterproof.
Icebreaker Beast Briefs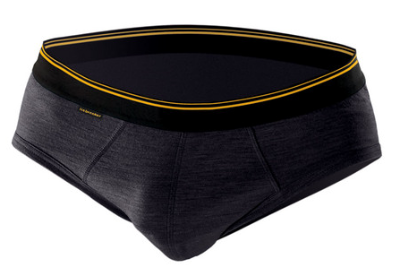 Description: Wool underwear sounds weird, but it's fantastic. Icebreaker uses superfine merino wool which ends up feeling a lot more like cotton than wool. But it still retains all of the great properties that wool has to offer, quick drying, anti-microbial, odor resistant, and it keeps you warm even when it's wet.
Weight: 3.0oz
Where to get it: Some gear stores sell these, but they're easier to find online. Amazon.
Why carry it: The briefs are very small, look great, and feel great. I couldn't be happier with them.
Speedo Belted Retro Square Leg Swimsuit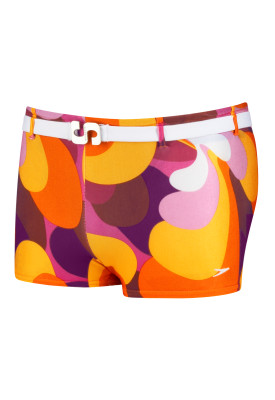 Description: The picture pretty much says everything you need to know, but let me restate the obvious. This is probably the most amazing swimsuit ever invented. It looks simultaneously stylish and ridiculous, and has a white belt along the waist with a classy metal "S" buckle. You can't help but feel like a (possibly gay) superhero while wearing it.
Weight: 4.0oz
Where to get it: These puppies are out of season and are now hard to find. 'Speedo USA' still has them as I write this. Get yours fast!
Why carry it: Besides being acceptably comfortable, affording us excellent hydrodynamic advantages, and drying relatively quickly, the Speedo is tiny and thus packs small.
Unusual Uses: We sometimes wear them without shirts on and go skateboarding around Austin, to restaurants, or to dates that our friends are on.
Caveats: Some countries (Mexico, thus far) really don't seem to be hospitable to Speedo wearers. I can't guarantee someone isn't going to beat you up for wearing one.
Icebreaker Bodyfit 150 Atlas Wool T-Shirt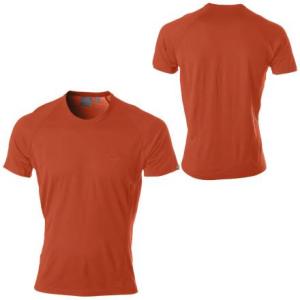 Description: I love this shirt. I have three of them, and have worn them every single day for just about 500 days in a row. If that's not a testimonial, I don't know what is. The shirts are made from the finest Merino fibers, meaning that they aren't itchy like you'd expect. The shirt feels more like thin cotton, but has none of the many terrible properties of cotton. The shirt contributes a bit to warmth in the winter, wicks sweat away in the summer, and never smells bad ever. It's a bit of a miracle. It's available in four colors, and Icebreaker also makes many other similar shirts in different styles and weights. The shirts are extremely durable. I have worn mine each over 100 times in a wide variety of punishing activities, and none have shown any signs of wear.
Weight: 4.0oz
Where to get it: Most serious outdoor gear stores sell these, but the selection is never that great. Check online as well.
Why carry it: It's the ultimate shirt, as far as I'm concerned. Sure, I'd love it a bit more if it had a giant "Life Nomadic" logo on it, but other than that I have complaints. In particular, it has a good athletic fit, whereas most "gear" shirts fit very loosely.
Unusual Uses: These are tight fitting shirts. If you don't want a shirt that fits tightly, get a bigger size or a different style.
Cloudveil Cool Convertible Pants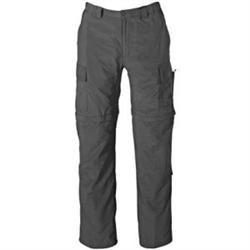 Description: These brushed nylon pants zip off below the knees to turn into shorts. The two back pockets zip for security. The cargo pockets don't puff out when empty, and have small squares of velcro to keep them shut. Unlike other convertible pants, these pants have a relatively slim cut, making them more appropriate for indoor activities.
Weight: 11.0oz
Where to get it: These are VERY hard to find, especially in the most desirable dark grey color. Amazon.
Why carry it: I love these pants. They look great as pants, even better as shorts, and don't have huge cargo pockets that make them look bad.
Unusual Uses: They dry very quickly, which makes them suitable as a bathing suit.
Caveats: They're becoming very hard to find, so make sure to buy a pair as soon as you can.
Arc'teryx Delta SV Fleece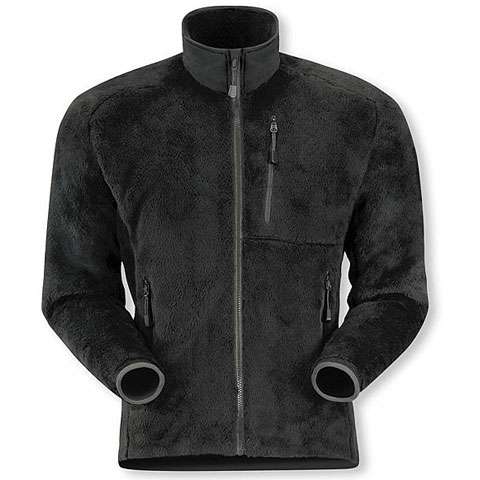 Description: This jacket is a full wrapping of Polartec's warmest fleece and nothing else. No liner, three small pockets, and a nice high collar to keep your neck warm. Incredibly warm in still air or under a shell (like the Mountain Hardwear Aiguille Hard Shell), this fleece packs down reasonably well and weighs a scant 16 ounces.
Weight: 1 l
Where to get it: Available online and in brick and mortar gear stores, Amazon
Why carry it: Your fleece is the center of your warmth empire. Get a nice thick one like this and you'll never be cold. Unzipped and without a windblocking layer, it makes a great fall and spring jacket as well.
Unusual Uses: Folded up around an LOKSAK aLOKSAK it makes a great pillow.
Caveats: As it's compressed over time it stops being as warm. Use a cat hair brush to revive the high loft of the fleece.
Tom's of Maine Deodorant
Description: Tom's of Maine makes deodorants that smell great and don't have questionable ingredients like aluminum.
Weight: 3.0oz
Where to get it: These deodorants are easy to find online or in higher end grocery stores, Amazon
Why carry it: It's just a high quality deodorant with no weird ingredients. It's not particularly suited to traveling, but I'm not willing to give it up either.
Deuter Futura 28 AC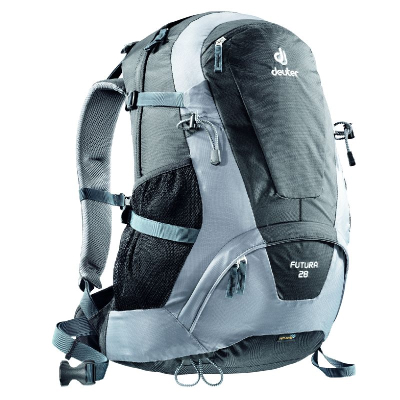 Description: The Deuter Futura is a 28 liter backpack that is perfectly designed for nomads. It features one large compartment which can be divided into two by zipping the divider. It has two side mesh pockets as well as a flat front pocket which is useful for maps or tickets. The Deuter Futura has an integrated mesh suspension which keeps it a few inches off your back for better support and comfort. The integrated raincover keeps your bag dry and is stored in its own pouch at the bottom of the bag.
Weight: 2 lbs. 8 oz.
Where to get it: Most high end gear stores have it, as well as many online retailers, Amazon
Why carry it: This is the best bag money can buy, and it's priced very reasonably. The size is perfect for perpetual nomadic travel and it's organized very intelligently.
Unusual Uses: The bag makes a halfway decent pillow if you flip it upside down and put your head on the mesh suspension part.
Hearos Ear Plugs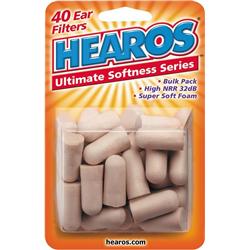 Description: These are your standard foam earplugs, blocking 32db of outside noise. Great for sleeping in a train, plane, or noisy hotel. The Hearos are very highly rated for good reason – they're comfortable and work well.
Weight: 0.0 oz
Where to get it: Available at a lot of drug stores, music stores, and online, Amazon
Why carry it: You never know when it's going to be too loud to sleep.
Energizer Duo USB Battery Charger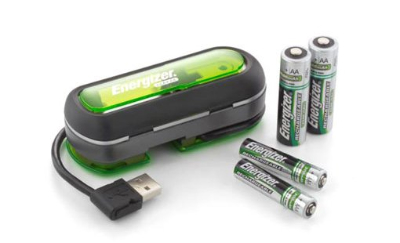 Description: The Energizer Battery Charger is the best USB battery charger on the market, charging high capacity AAs in about 3 hours. It can also charge AAA batteries in less time. The USB cord conveniently stows back into the charger for packing. To make it much smaller, rip off the top part of the case. It serves no functional purpose. There is also software you can download which shows your ETA on the computer (though you can charge from any USB source, not just the computer). It hasn't been very accurate, but is a neat idea.
Weight: 6.0oz
Where to get it: These are sold pretty much everywhere. I bought mine at a grocery store. Amazon.
Why carry it: Two things I carry need batteries. Rechargeables are better because this charger can be used with a solar charger for off-grid treks.
External Hard Drive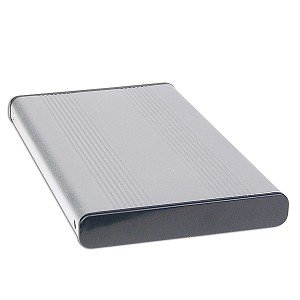 Description: A small hard drive enclosure that can hold a 2.5″ hard drive. There are many manufacturers that make these, but it's important to buy one that can be powered by USB, otherwise you'll have to lug around a power brick. This drive can be used to back things up or transfer large files between people.
Weight: 4.0oz
Where to get it: These are widely available on the internet as well as in shops, especially small computer shops in Asia.
Why carry it: You may not always have an internet connection fast enough to back everything up on the internet. Losing your data abroad can be a big disaster, especially if you're dependent on it for your income like we are.
Unusual Uses: We've used our drives to copy Arrested Development episodes to new friends' computers. Everyone should watch that show.
Caveats: If you don't have much data, you might be better off getting a 16gb SD card. It's much more durable and small.
Epson Extra R-D1s Battery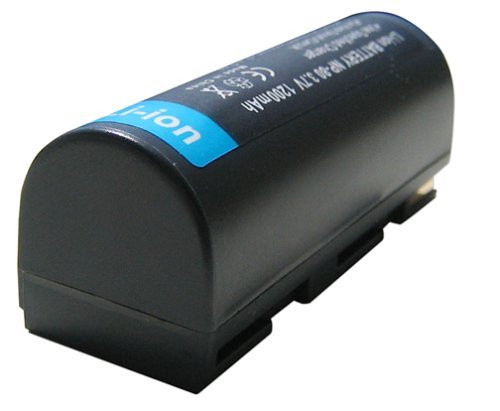 Description: An extra battery for the R-D1s digital rangefinder.
Weight: 2.0oz
Where to get it: The camera is discontinued, so ebay is your best bet.
Why carry it: The one thing I carry that can't be charged by USB is my camera, so I like to have an extra battery.
Vibram Five Fingers Shoes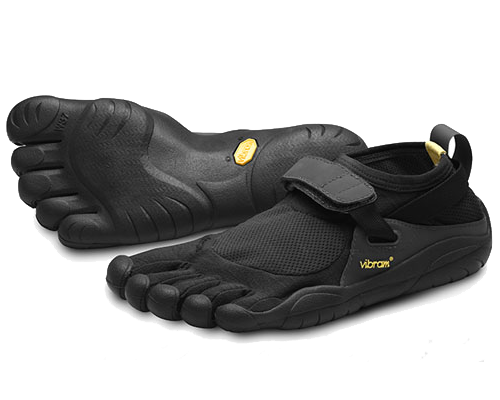 Description: The Vibram Five Fingers shoes were created for boaters, barefoot runners popularized them, and now we nomads use them as the ultimate travel shoe. Unlike every other shoe, the Five Fingers have a very thin flexible sole and individual pockets for each toe. As a result, it feels as though you're barefoot all the time. These shoes are great for you. Studies have shown that shoes are actually the cause of most of our ankle, leg, and hip problems. Having no sole eliminates those problems. The shoes come in a variety of styles. Todd prefers the Classic, I prefer the KSO (pictured). They're unbelievably versatile, great for running, walking, hiking, rock climbing, and even swimming.
Weight: 11.0oz
Where to get it: They're popular enough that they're hard to find. Some running stores have them, some outdoor gear stores have them, and they're available online. www.vibramfivefingers.com, Amazon
Why carry it: Besides the amazing experience of walking around in these shoes, they're versatile enough that we never want for other shoes.
Unusual Uses: They smell terrible quickly. Even with frequent washing they'll still smell pretty bad, especially in the summer.
Dovo Solingen Folding Nail Clippers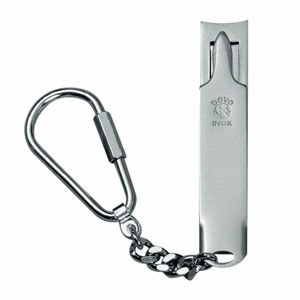 Description: These clippers are very sharp and pleasant to use, despite being small. Dovo is probably the best personal grooming product company in the world, and these clippers definitely live up to that reputation. Mine didn't come with the ridiculous keychain in the picture.
Weight: 1.0oz
Where to get it: Online. Or, surprisingly, some of the department stores in Japan, Amazon
Why carry it: You need a nail clipper, right? May as well get the cool tiny one.
Caveats: I'll admit… it's a bit expensive considering normal crappy nail clippers are only $3.
Nite Ize inka Travel Pen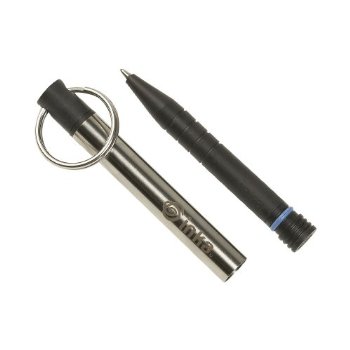 Description: The Inka pen is actually two pens in one. Pull the carbon fiber pen out of its sheath and you have a little 3″ pen. Unscrew the whole deal and within seconds it assembles into a full sized pen. The pen has a big key ring which can attach to your keys, your pack, or (my favorite) a belt loop.
Weight: 0.6oz
Where to get it: Gear stores, both online and offline, Amazon
Why carry it: Customs forms, for one. It's always good to have a pen, and this one is so small and unobtrusive that you'll never notice that you have it until you need it. I keep mine attached to a rear belt loop so that it's always accessible.
Unusual Uses: It has a built in stylus, which I've used when I can't find my phone's stylus.
APC INPA Universal Plug Adapter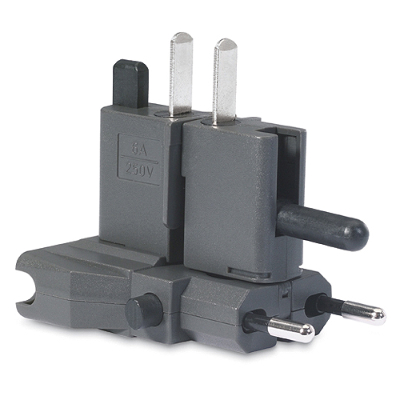 Description: The APC INPA looks like a Transformers toy, but is actually an ingenious universal adapter that allows you to plug any countries plug into any country's socket. It's unique because it's far smaller and lighter than any other solution available.
Weight: 2.0oz
Where to get it: Other than a couple stores in Japan and Taiwan, I've only seen this online.
Why carry it: It's tiny and will ensure that you can always plug your laptop in.
Caveats: It doesn't convert voltage. Chances are you don't have anything that actually needs a voltage transformer, but check the back of your power bricks to be sure.
Kettlestack Kettlestack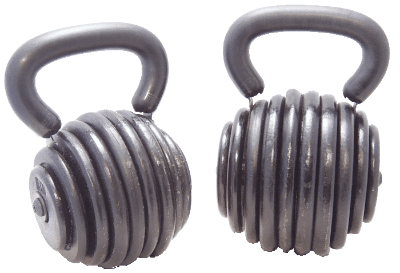 Description: Want to be hardcore and workout on the road? Forget those ridiculous water-dumbells they sell in Skymall catalogs and get a Kettlestack. First of all, the kettlebell itself is one of the most versatile and efficient workout devices on the planet. For more information, check Wikipedia. The Kettlestack is ingenious because it's lightweight and small (volume-wise), but you can use cheap standard weight plates from any gym to make it into a full blown kettlebell. You can also buy your own cheap plates if you're going to be in one location for a long time.
Weight: 1.5 lbs
Where to get it: There are a few local retailers, or you can get them direct at Kettlestack, Amazon
Why carry it: It's the most versatile lightweight piece of exercise equipment available. We love them.
Caveats: TSA will always be suspicious of the hardwear. They once tried to confiscate the large allen wrench that comes with it, but the supervisor allowed it. Then, another time, they confiscated the whole thing.
Fenix LD10 Flashlight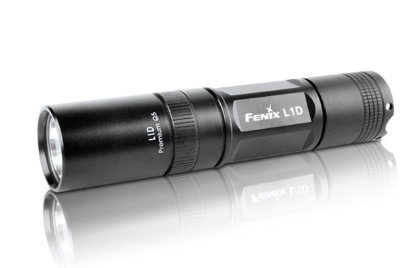 Description: This is an amazing flashlight. Not much bigger than the AA battery that powers it, it has 6 modes, four of which are different brightnesses as well as an SOS mode and a strobe mode (for on-the-go rave parties, I guess). Battery life is a phenomenal 34 hours at the dimmest, and a solid 1.5 hours on the blindingly bright top setting. The flashlight is waterproof and generally very sturdy and durable.
Weight: 2.6oz
Where to get it: Available at good gear stores as well as many places online, Amazon
Why carry it: It's the best and most versatile small flashlight out there! I also have the red filter to use it at night without destroying my night vision, and the white diffuser tip so that it functions as a lamp.
Dr. Bronner's Magic "All-One" Soap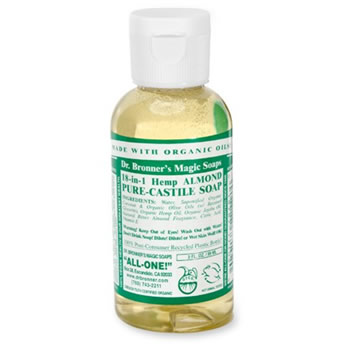 Description: Dr. Bronner's soap has been around and rocking people's skin since the 1940s. The main difference between it and regular soap is that it has really high quality ingredients like organic coconut oil and organic olive oil. The soap is high concentration, so you only need a little bit per shower. This makes the three ounces you can carry on last a lot longer. It's a bit more expensive than regular soap due to the high quality ingredients.
Where to get it: Because it's been manufactured for so long, it's available in a number of countries as well as online. Lots of supermarkets stock it.
Why carry it: This soap is unbelievably versatile. It works great as shampoo as well as soap, and even as a mild laundry detergent for handwashing clothes.
Unusual Uses: I've heard that in a pinch it can also be used as toothpaste, but apparently it doesn't taste very good. I'm not brave enough to find out.
MicroSD Adapter
Description: Newer phones tend to use MicroSD cards rather than full sized SD cards. This adapter lets you read MicroSD cards in an SD slot
Where to get it: Comes free with most MicroSD cards
Why carry it: It's a lot faster to use one of these adapters than to transfer files over USB to your phone. I use my phone to watch videos and movies, so this lets me copy a lot of data very quickly.
Altec Lansing Nobi Portable Speaker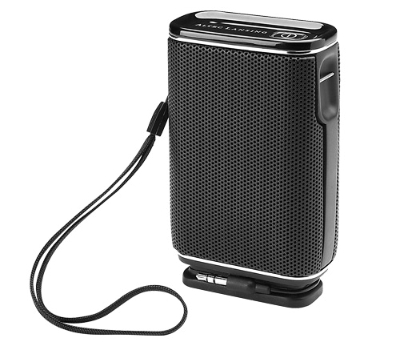 Description: The Nobi is a reasonably compact speaker with surprisingly good audio quality. It's unique in that it has a speaker on each side of it, making it easy for a lot of people to listen at once.
Weight: 10.0oz
Where to get it: Amazon
Why carry it: I bought the thing for way too much money at a Duty Free store. I was sick of not being able to hear movies or TV shows from my computer. It sounds good and works well, but I don't think it's the best portable speaker out there.
Caveats: There is no LED indicating that it's on, so it's easy to leave on by accident and drain the batteries. Speaking of which, it uses regular AAA batteries, which isn't as convenient as USB charging. Finally, it's bigger than some portable speakers. Maybe the sound quality justifies it, but maybe not.
Nylon Pouf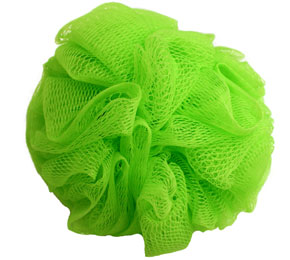 Description: Not much to say about this one. It's one of those nylon poufs that girls use in the shower.
Weight: 1.0oz
Where to get it: Any grocery store or drugstore.
Why carry it: Todd carried one of these last year. I made fun of him mercilessly, and then decided to buy one to try it out. Now I like it and carry it around too.
Caveats: You will feel significantly less masculine when you start using one of these. It's impossible to find black ones.
P-38 Military Can Opener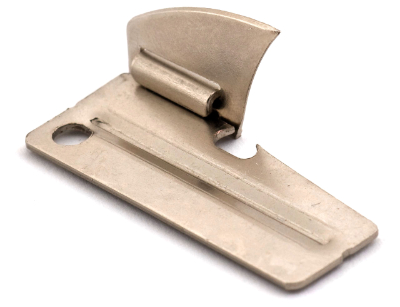 Description: This can opener has a huge cult following, which is unusual for can openers. Made from stamped steel, its ingenious design makes it easy to open cans. The P-38 is intended to hang from a necklace.
Weight: 0.0oz
Where to get it: Available at military surplus stores online and offline, Amazon
Why carry it: I eat tons of beans. Given a really insane diet that I follow, they're some of the best snacks available in a pinch. The problem is that a regular sized can opener is too big to carry, and most varieties of beans don't come with pull off lids.
Unusual Uses: In a pinch it can be used as a small knife to cut a tag or string.
Caveats: The TSA will take it from you if they find it. I wear mine around my neck – it's not enough metal to be detected in the walk-through metal detector.
Eagle Creek Pack-It Liquids and Gels Travel Bottle Set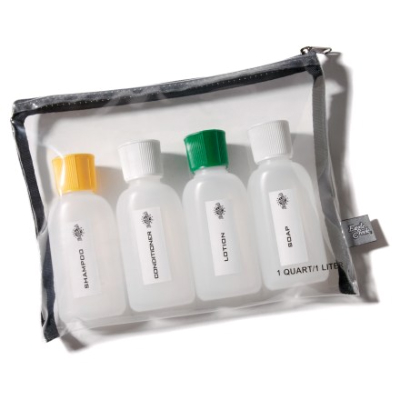 Description: A set of four 3oz bottles with squirt nozzles, made by Eagle Creek.
Weight: 3.0oz
Where to get it: Outdoor gear stores or travel stores, Amazon
Why carry it: Four 3oz containers is just about the maximum you can carry in a 1 quart bag. The small nozzles are perfect.
Unusual Uses: Besides the normal shampoo and soap, I use them to carry shaving cream and toothpaste.
Caveats: While 3oz is what all the airlines tell you is okay, 100ml (3.4oz) is the actual maximum. I would like it better if these were 100ml. Also, it's a bit trick to fit them all in a 1qt Aloksak, but it can be done. The included 1qt bag works perfectly. (as a side note, one liter is the actual maximum size, which is 1.05 quarts)
MSR Packtowl (Personal Body Size)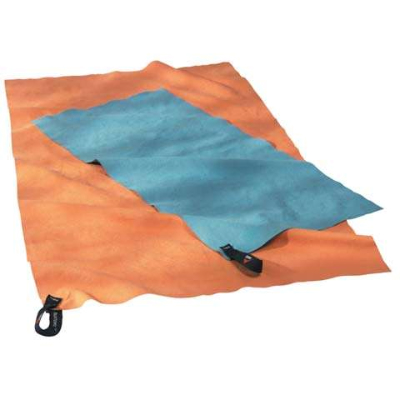 Description: The MSR Packtowl uses microfiber to create a small (17″ x 36″) towel that packs down to an almost negligible size. It can hold several times its weight in water and wrings dry (or at least damp).
Weight: 4.0oz
Where to get it: You can get a Packtowl at most outdoor gear stores, as well as many places online, Amazon
Why carry it: It's so small that it can fit in a dopp kit, but absorbent enough to dry you after a shower. It's perfect for the beach as well.
Unusual Uses: Drying off after rain storms and drying clothes faster.
Caveats: It's a synthetic material, so it needs to be washed more frequently than a regular towel.
Merkur Platinum Safety Razor Blades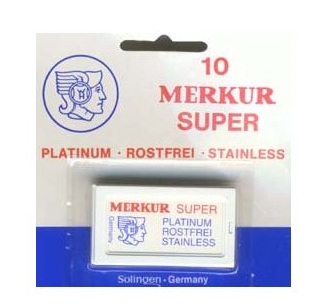 Description: These are my favorite safety razors for razors like the Merkur Travel Razor. Each one is around sixty cents and lasts for 7-10 shaves.
Weight: 0.0oz
Where to get it: Pretty widely available, online and in some drugstores.
Caveats: The TSA will very occasionally confiscate these. I always keep one in my wallet just in case.
Epson R-D1s Digital Rangefinder Camera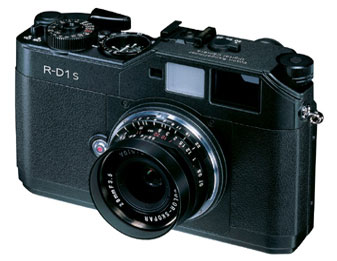 Description: Good cameras are hard to find, unless you want to carry around a behemoth SLR camera. The Epson R-D1s isn't very new, but it has amazing image quality and is half the volume of even the smallest SLR. It has a 6.2MP sensor, giving 3008×2000 pixel images. Everything is manual, including the focus, which is a pro or con depending on your point of view. The camera takes standard SD cards up to 2GB, and accepts Leica lenses. The screen in the back flips over to give the camera the appearance of a standard film camera. In fact, all of the indicators on the top are analog dials. The only other Digital Rangefinder is the Leica M8, which is at least twice the price.
Weight: 1 lb. 2 oz.
Where to get it: It's discontinued, so you'll have to buy it on eBay.
Why carry it: I love this camera. I wasn't a photographer before buying it, my primary motivation was to get a small camera that had full sized lenses. Now I do everything manually very easily, and wouldn't have it any other way.
Caveats: Because it's all manual, spontaneous shots can't be quite so spontaneous. It has no self timer, so there's no way to get pictures of yourself taken with it. If you hate the idea of a manual, wait for the new Micro 4/3s cameras that will come out this year. They should be the same size, but be fully automatic. Still, you won't get this thing out of my hands.
Arc'teryx Rho Wool Hat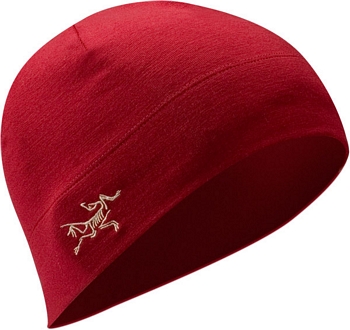 Description: The Arc'teryx Rho wool hat is thin, yet surprisingly warm. It's made of premium wool, so it never gets itchy.
Weight: 2.0oz
Where to get it: Outdoor gear stores, online and offline, Amazon
Why carry it: It's lightweight, and wearing it under a hood will keep your head warm in pretty punishing conditions. I like that it's a bit long so that it can cover my ears.
Unusual Uses: The hat is long enough to pull over your eyes to use as a makeshift sleep mask.
Dovo Solingen Rounded Tip 3.5″ Scissors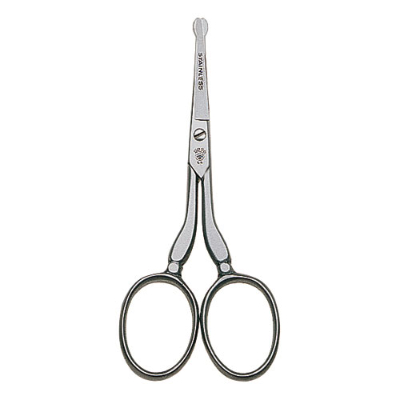 Description: These small scissors have rounded tips which makes it harder to jab yourself and easier to appease the TSA employees. Dovo makes high end hair salon scissors, so you can be sure that these will stay sharp.
Weight: 3.0oz
Where to get it: They're hard to find, even online. Try 'Nashville Knife Shop'
Why carry it: Sideburns can get unruly, and it's always good to have scissors around.
Unusual Uses: Cutting the straps off my Five Fingers after a dog mangled them.
Caveats: TSA agents are generally poorly trained and will try to confiscate these. A regional Panamanian flight insisted that I throw them away, and several US TSA agents have put up a bit of a fight.
Sea to Summit Silk Travel Liner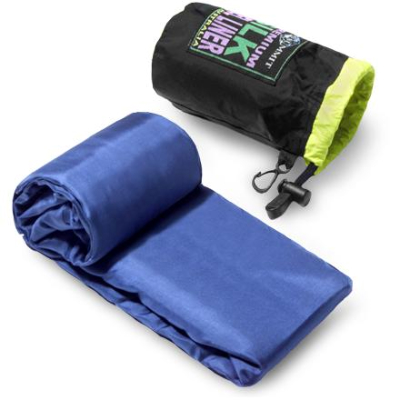 Description: These sheets way a scant 7 ounces, but keep you 10 degrees warmer (as long as there is no wind) and a bit more comfortable. Silk has a very high warmth to weight ratio. They're long enough for a tall person and are arranged like a sleeping bag with a built in pillow case at the top. They work perfectly with the Luxury Lite Travel Cot and pack into the small stuff sack when not in use.
Weight: 7.0oz
Where to get it: Available at many gear stores and online, Amazon
Why carry it: They make sleeping on the Luxury Lite Travel Cot a bit more comfortable, and the occasional hostel stay a bit more comfortable.
Unusual Uses: When sleeping in my RV I've used the sheets to keep me a tiny bit warmer on a very cold night.
Dovo Solingen Silver Tip Badger Hair Travel Shaving Brush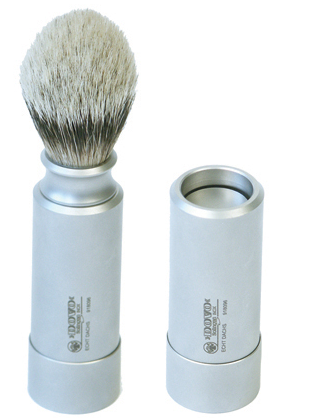 Description: If you'll agree that having a good shaving brush matters (and that's debatable), then you'll probably agree that this is the one to get. It uses premium silver tip badger hairs from the neck of the badger, the gold standard for shaving brushes. The design is particularly ingenious, providing a large handle which the brush can be stored in while traveling.
Weight: 14.0oz
Where to get it: Available online and at some high end shaving shops.
Why carry it: I have to admit that this is more of a luxury item than anything, but it really does assist with a fantastic shave.
Caveats: It's pretty heavy and using your fingers instead works acceptably
Sleep Mask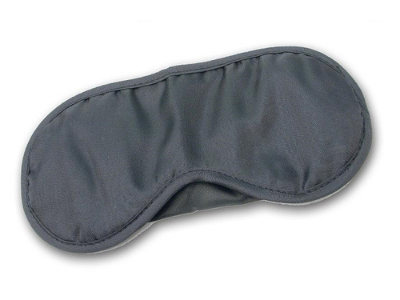 Description: I got a free sleep mask from Qatar Airways. I like it because it blocks most of the light and is negligible in size and weight.
Caveats: Don't buy one of those huge bulky ones that look like pillows with belts attached. A cheap thin one works fine.
Lenovo Slim 90w AC Adapter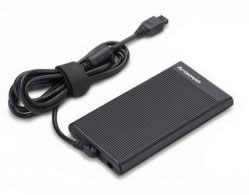 Description: Lenovo redesigned its 90 watt AC adapter to be slimmer and to accept DC input. This one isn't much lighter than the original it replaces, but the shape makes it easier to pack.
Weight: 15.0oz
Where to get it: Available online or at Lenovo authorized resellers, Amazon
Why carry it: It's a bit easier to pack than the original shape one. My original one broke so I bought this, but probably wouldn't have upgraded if I didn't need to.
Uncle Bills Sliver Gripper Tweezers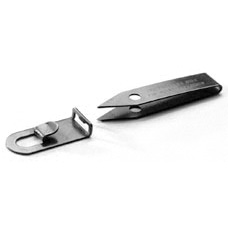 Description: Uncle Bill's Sliver Gripper tweezers are just a simple piece of metal folded back over itself with points on each end. But sometimes simplicity is the best. They work well and take up no space at all.
Weight: 1.0oz
Where to get it: Lots of places online sell them as well as outdoor gear stores around the world.
Why carry it: They're great for removing splinters or, for the metrosexual side of you, plucking your eyebrows.
Unusual Uses: I use them to replace the nibs on my laptop's pen.
Soldius MySoldius Solar Panel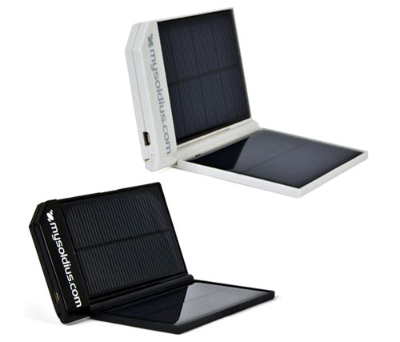 Description: The MySoldius is a cheap and relatively powerful solar charger. It has roughly three times the solar capacity as the more popular, more bulky, and more alien looking Solio. The Soldius has no internal battery, which makes it very small, almost negligible in size. It has enough juice to charge a cell phone, mp3 player, or any other small gadget (no, not a laptop). It comes with a bunch of adapters, including the ever useful female USB adapter that enables you to plug in any USB charger.
Weight: 4.0oz
Where to get it: A number of online stores have it, or it can be purchased on ebay.
Why carry it: It's so small that there's almost no reason not to. I threw away all of the adapters other than the USB one, which all of my things charge from anyway. It's great if you find yourself off the beaten trail or without the right adapter to your country's wall socket.
Unusual Uses: It can even be used to charge a cell phone in an airplane, where the sun is ofter unreasonably bright. Just don't blame me when the crew thinks you're a terrorist.
Caveats: It charges slowly, so don't rely on it as your only method of charging.
Lenovo Spare Trackpoint Caps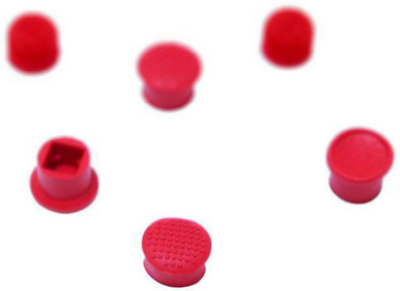 Description: The little red caps that wear out on Thinkpad laptops.
Weight: 0.0oz
Where to get it: http://www.trackcap.com/, ebay, electronics stores in Asia, or Amazon
Why carry it: Trackpoints are by far the best input device for a laptop. They wear out, though, so we need to carry a few extras.
Light my Fire Spork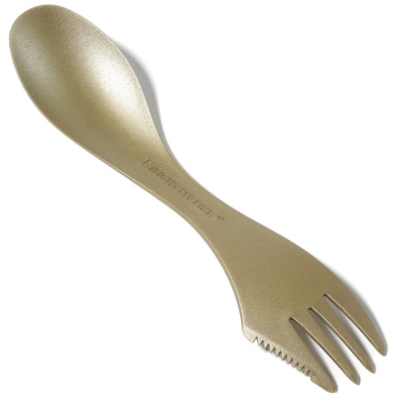 Description: The standard spork is a great idea, except that you end up with a bad spoon and a bad fork. Light my Fire has solved this problem by putting the spoon one one end and a fork with a serrated edge on the other. Genius. It's available in plastic and titanium – I assume the TSA will have a problem with titanium, so I got the plastic one.
Weight: 1.0 oz
Where to get it: Available at a lot of stores online, Amazon
Why carry it: You never know when you'll need a fork, spoon, or knife. It weighs nothing and prevents you from having to buy disposable silverware wherever you go.
Unusual Uses: Making peanut butter and jelly sandwiches
Tom's of Maine Toothpaste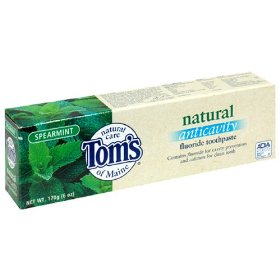 Description: Tom's of Maine is our favorite toothpaste. It's minty fresh, doesn't have any weird chemicals or sweeteners in it, and works well.
Weight: 5.2oz
Where to get it: Lots of grocery stores sell it, as do drug stores and online shops, Amazon
Why carry it: You need toothpaste, right? Most others have aspartame in them, which is gross and scary. Tom's has so many choices of flavors and ingredients that you can get exactly what you want.
Flexoline Travel Clothesline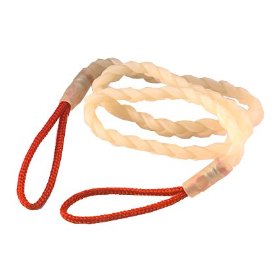 Description: Doing laundry on the road is very convenient, especially if you have clothes which require infrequent washing. The Flexoline is a great compact clothesline that so far has been usable in every place I've stayed with it. It's made up of braided surgical tubing with rope loops at the end, so it stretches as far as you need and is very easy to attach to anything.
Weight: 2.0oz
Where to get it: Amazon
Why carry it: Having a clothesline with you makes it much easier to do your laundry yourself, no matter where you are.
Unusual Uses: We've looped two together with a network cable to make a makeshift jumprope before.
Caveats: The tubing gets brittle in the sun after a while.  Mine finally broke after a year.
Merkur Travel Razor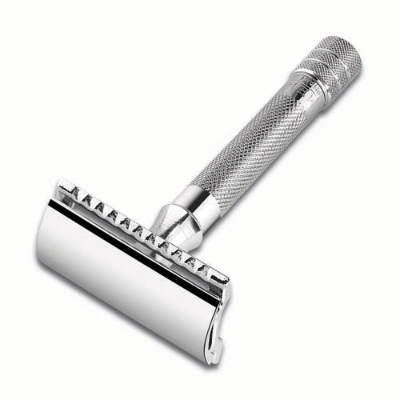 Description: Merkur is well known for making the highest quality safety razors on the market. Safety razors, for the uninitiated, are the kinds of razors our grandparents used, before Gilette's patent ran out, forcing them to invent a new "must have" razor. Most shaving purists agree that the quality of a shave with a safety razor is far superior to that of the shoddily constructed cartridge razors that are much more popular today. This travel razor quickly disassembles to become very small, but when assembled is large enough to provide a quality shave. I used to use their top of the line "Vision" razor, and I find this one to be just as good in every way, besides being much easier to travel with. The razor itself is more expensive than a "Mach 5" or whatever Gilette is touting these days, but the blades are only 50 cents each.
Weight: 3.0oz
Where to get it: Available at high end shaving stores, online and brick and mortar.
Why carry it: It's a great razor that's reasonably priced, tiny, and lightweight.
Caveats: The TSA clearly states that safety razors and safety razor blades are okay to travel with, but they once confiscated the blades.
Travel Toothbrush

Description: I've oscillated between getting "good" toothbrushes and those poor quality travel ones for ages. Then I found the Fuchs toothbrush, and I no longer have to choose between one or the other. The Fuchs brush is excellently made, very durable, and the head is normal sized. Bristles come in different hardnesses (dentists say to go soft), including real badger hair, which is very soft.
Weight: 1.0oz
Where to get it: The Fuchs Travel Toothbrush is available at high end grocery stores and drugstores, both online and offline.
Why carry it: Are you kidding? It's the perfect toothbrush, high quality and portable. I especially like that it's weighted and designed so that when laid flat on any side, the bristles will never touch the counter.
Mountain Hardwear Typhoon Rain Pants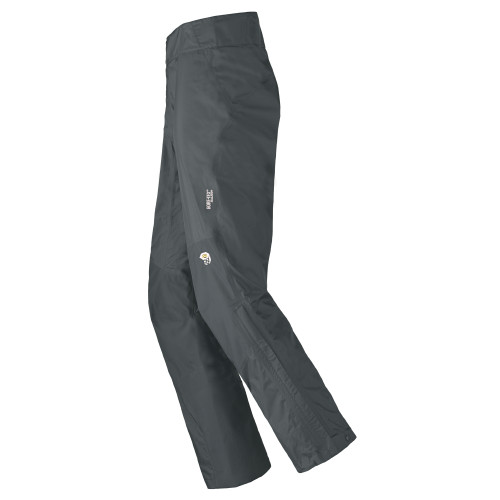 Description: What's the point of a waterproof jacket if your pants are going to get soaking wet? Rainpants like these pack very small and keep you totally dry. The Mountain Hardwear Typhoon pants are constructed from Gore-Tex Paclite and reinforced in key areas like the knees with Gore-Tex XCR. They have a welded waterproof zipper, a snap closure, and a mini belt to make sure they stay on.
Weight: 11.0oz
Where to get it: Available at a number of online stores. Similarly constructed pants are similarly priced and similarly effective.
Why carry it: I like these pants because they aren't super baggy or puffy, and are as lightweight as possible while still being very durable.
Caveats: There are no external pockets. This makes them more waterproof, but cashiers are often shocked when I start unzipping my pants to get my wallet to pay.
LuxuryLite UltraLite Travel Cot

Description: The Luxury Lite cot is the best, and to my knowledge, the only cot that's small enough to fit into a normal sized backpack. Designed by maverick outdoor gear inventor, Bruce Warren, the Luxury Lite Cot uses an ingenious "rolling legs" method of keeping your body off the ground and away from the crossbars. It packs really small and can be made even lighter and smaller by throwing away some of the legs and crossbars. The fabric is a super lightweight nylon, the poles are aluminum, and the legs are plastic. Each cot is big enough for one six foot tall male weighing up to 325 pounds.
Weight: 2 lbs. 9 oz
Where to get it: Get it directly from LuxuryLite.
Why carry it: You never know when you're going to need a bed. Having your own lets you sleep on anyone's floor, add a bed to a hotel room in a pinch, put up guests, or even sleep in the airport. The real reason we got them is because last year we had three nights in a row where we slept in a cave, on the roof of a bathroom, and on a plywood bed in a mountain hut.
Unusual Uses: We slept on heating grates in Pamplona when we ran with the bulls and also in the Panama City airport when our flight arrived at 2am.
Caveats: Some people (Todd) don't find it comfortable enough for every night use.
NEOS Villager Overshoes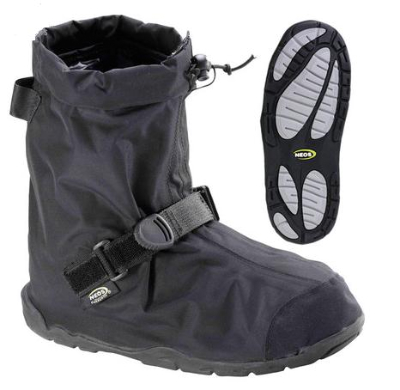 Description: First of all, these overshoes are way lighter and more packable than you'll expect from looking at that picture. I wouldn't order them online because I didn't think that there was any chance they'd actually fit in my bag. I was wrong. These waterproof overshoes collapse down to roughly the same size as a pair of sandals. The material is light and totally waterproof, and a buckle keeps them cinched down on your feet.
Weight: 1 lb. 6 oz
Where to get it: Available online or at many gear stores. Probably best to get them in person to get the best fit over your shoes. Amazon.
Why carry it: Vibram Five Fingers Shoes are the best shoes ever, but aren't anywhere close to being water resistant. That can be excused because they dry quickly, but walking in slush with them is a sure way to get frostbite. Because Five Fingers are so form fitting, I was able to get the smallest pair of overshoes. Besides being the lightest, they also look like normal boots. Between the Five Fingers, the wool toe socks, and these overshoes, I was able to take long walks through snow and slush in 10 degree farenheit (-12 C) weather and be perfectly comfortable.
Caveats: Try them on in person. They are made for bulky shoes, but if you wear Five Fingers (and you should), you can get a smaller pair. For reference, I wear a small NEOS and a 41 Vibram Five Finger.
Maui Jim Wailea Titanium Sunglasses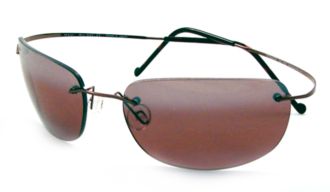 Description: If these aren't the lightest sunglasses in the world, they must be close. They feature polarized lenses, which sounds like a gimmick until you try a before and after on a shiny dashboard, lake, or road on a sunny day. The frames don't have any hinges, which means that you'll never have to worry about breaking them or the screws coming loose or getting lost.
Weight: 2.0oz
Where to get it: Available online, in optometry shops, and in some outdoor gear stores, Amazon
Why carry it: Having sunglasses with 100% UV protection is important. You might as well get the most hassle free lig