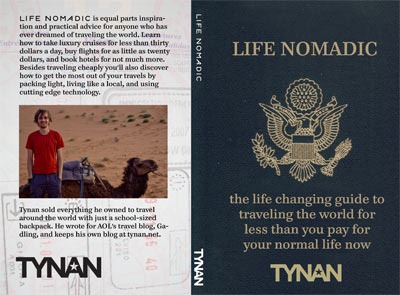 I think the people who pre-ordered for Haiti have had enough time to read the book, so now it's time to make it available to everyone.
You can buy the book here at Amazon!
In case you're new to the site, I haven't had a regular condo or house in 4 years or so, and have been traveling around the world and around the US. Life Nomadic a really practical guide about efficient traveling — experiencing a LOT while spending relatively LITTLE. It has everything from travel stories I didn't publish on the blog to packing lists. If you broke it down, about 1/3 is life outlook sort of stuff, 1/3 is stories (maybe a bit less), and 1/3 is take-action-now howto advice. It will change how you travel, one way or another.
So far it's gotten REALLY good reviews. Here are a few excerpts from different early readers:
"I've been perusing your blog for a few months, and turned a buddy onto it.  He bought and read the Life Nomadic, and absolutely gushed about it.  Naturally I had to read it.  It was MORE THAN GUSH WORTHY!!!  I'm a 4HWW'er, and I thought you covered just the right niche to stand out from the "crowd".  I'm very inspired, and am working towards a location independent lifestyle."
"First off, I do say I wanted to read more! Yes, I have read quite a number of articles from your website and I know there will be more, but reading so many chapters in a row was very enjoyable … Also, lots of unexpected good advice in general. I like the "criteria" in "A roof over my head" — it isn't "just go as cheap as you can," it's "go cheaply, but be reasonable about your comfort level."
"Loved the book, great ideas, especially about experiences being more valuable than possessions. I think I will sell some of my possessions soon. At the moment, I'm not tied down with a mortgage, or paying for a car, and I don't have any inclination to get these now, because it's just money that I could be spending on experiences."
"I thought this [book] was excellent. Very practical and inspiring in a lot of ways. The adoption of a minimialist nomadic lifestyle hit a nerve with me.  I have been feeling some pressure to settle down, get that mortgage and keep that average girlfriend etc. Your e-book has helped me realise that I don't want any of that stuff – I don't want to get married, have a mortgage and work in your stupid 9-5 unless it suits me. I'd rather be a rolling stone and settle down when and where it suits me."
The best part of the feedback I've gotten is that it's indicated that people are actually taking ACTION. When I write, my goal is to motivate you to action, so I'm glad Life Nomadic has hit that mark.
Again, you can buy the book at Amazon. I may release a Kindle or iPad version in the future, but have no definite plans for either.
IF YOU HAVE ALREADY BOUGHT THE BOOK (or the ebook, which is 99% the same), please leave me feedback at Amazon.com. Whether 0 or 5 stars, I'd love for prospective readers to hear from people who have read the book (the same goes for Make Her Chase You).
ALSO… A HUGE THANK YOU TO EVERYONE WHO BUYS MY BOOKS
You might not know this, but the bulk of my income comes from Make Her Chase You on Amazon. The success of that book is a big part of what makes me able to spend my time doing what I want to do and writing about it. So… THANK YOU! It also makes it sensible to not clutter my site with dumb ads all over the place, which I'm sure we're both happy about.