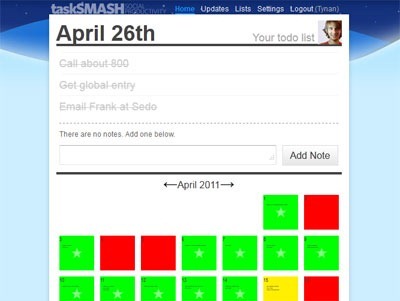 Short version: TaskSmash no longer requires an invitation code to use. Just go to www.tasksmash.com and put in a user name and password.
Long version: Todd and I used to send each other an email every day with a list of two or three tasks that we absolutely had to get done that day. Then, at the end of the day, we'd check in to see if the tasks actually got done.
The problem with that was that sometimes we'd forget what we said we'd do, so we'd have to dig through the sent box on our phones, and there was no real historical tracking.
I'm a stubborn person, so after looking around and being unable to find a task management system that had provisions for keeping your friends accountable, I created TaskSmash. The idea is that it's a lightweight and fun to use task program that allows you to add friends. They can see your calendar and your stats, and leave notes of encouragement on your calendar. TaskSmash also keeps track of your longest streak, all time stats, and various other statistics.
It's just a beta, and could use some more features, but when I use it I definitely get more done. So do the current beta users.
One note: you MUST add a friend immediately. Literally 100% of my beta users who did not add a friend stopped using it within 21 days.
For some reason, people think that this is the big project that I'm working on. It's not-it's just a fun little project that I'm releasing for free so that others can benefit from it.
Sign up for free at http://www.tasksmash.com. I will probably close registrations back down in the next week or so, so if you want an account, definitely make it now.
###
Thanks again for buying Life Nomadic since I've dropped the price to $2.99. The sale has been a big success, so I'm going to leave it at $2.99 for now. If you're an Amazon Prime user, you can now read it for FREE through the lending feature. You can see it here on Amazon.
PLEASE leave a review of Life Nomadic. Reviews help me get into the Amazon recommendation system, which helps me make money.
There's also an API for TaskSmash. If you want to make something for it. Just email.