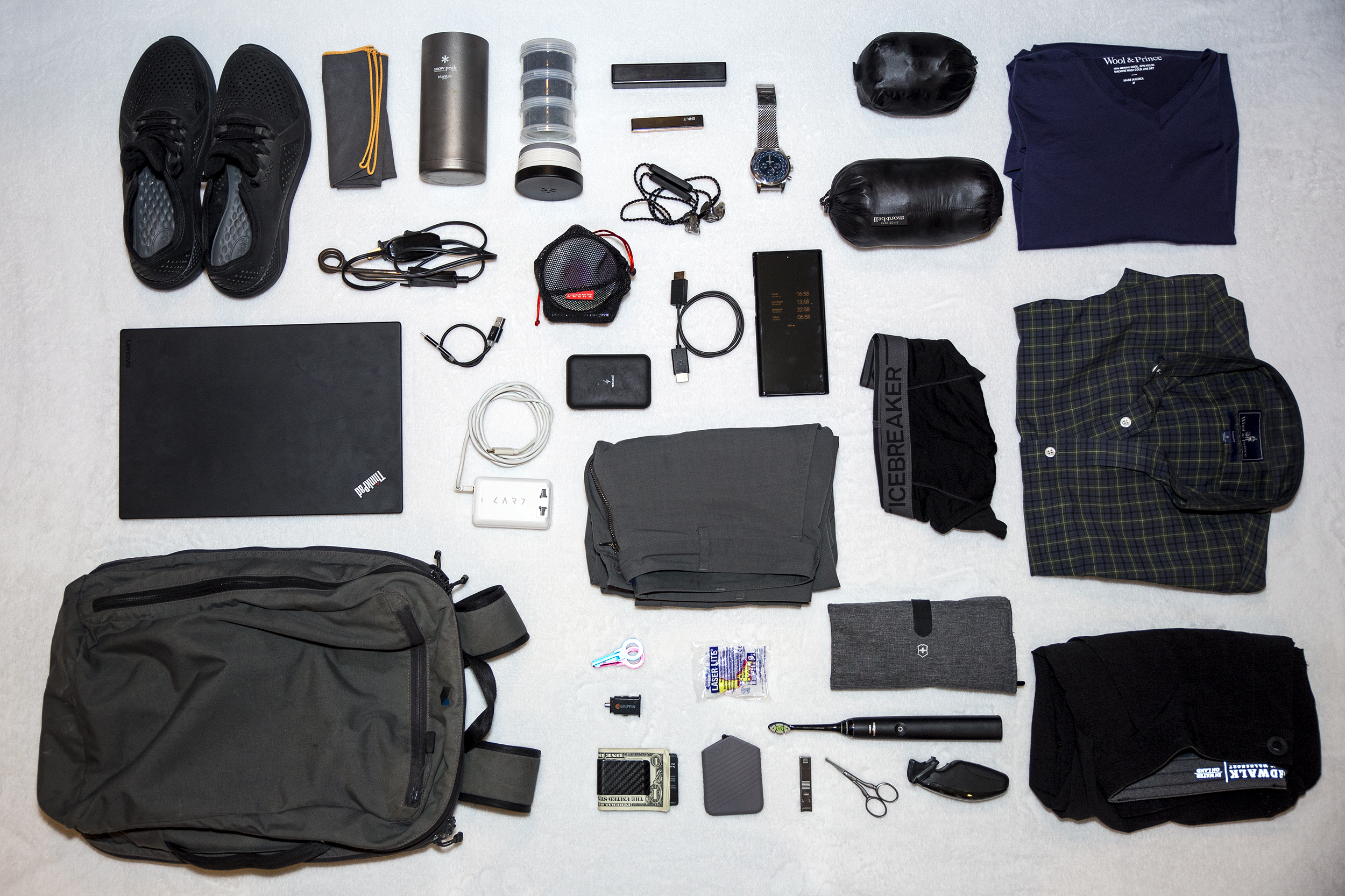 This year's gear post isn't all that different from last year's (can you guess why?) but there are enough new cool things that I think it's worth doing one. Hopefully travel becomes a little more normal in 2021 and I have the opportunity to test out some more gear.
Wool and Prince Button Down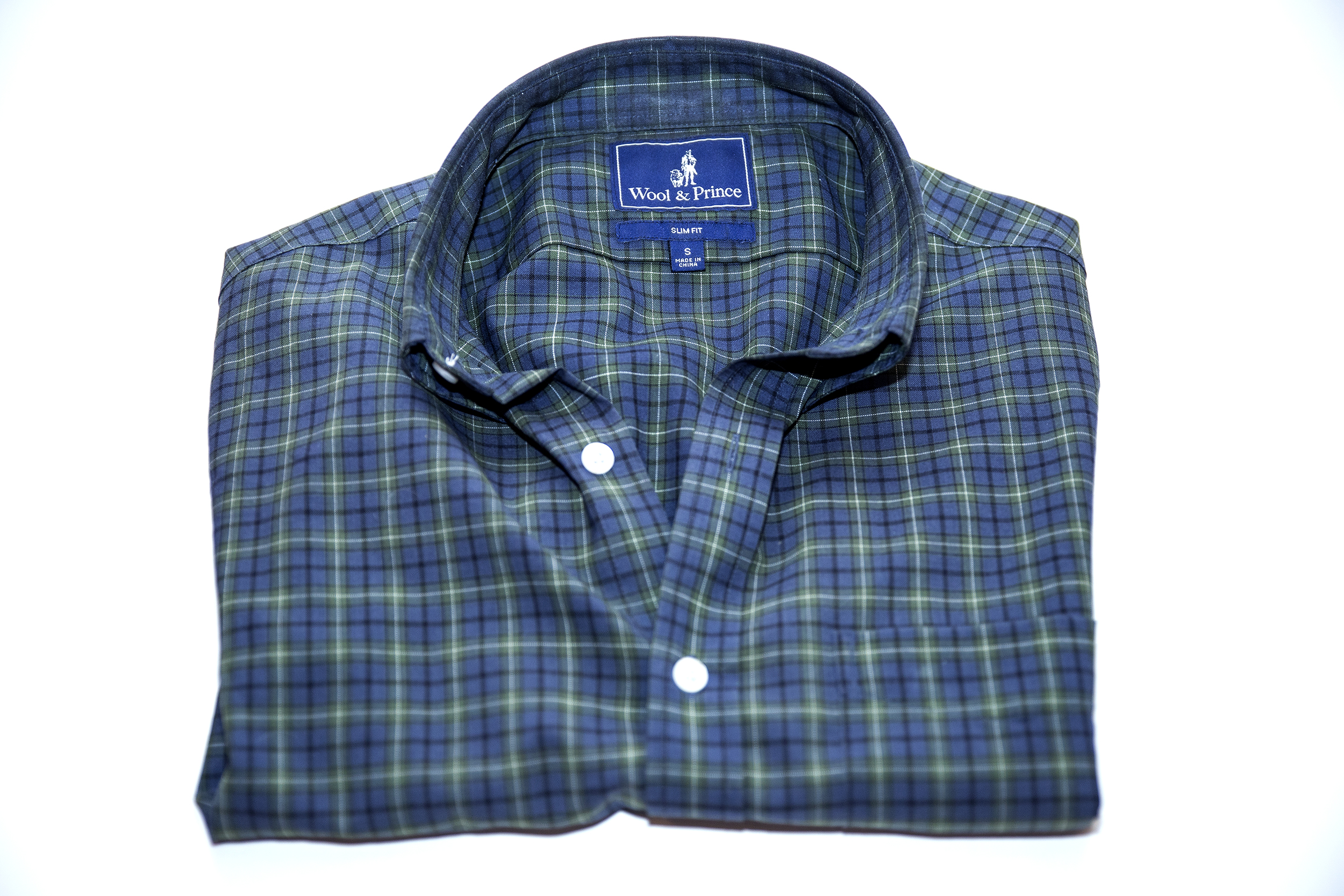 I've talked about this button down for who knows how many years now, and I still love it just as much. I still haven't replaced the shirt that I bought two years ago, though a lack of travel this year definitely contributed to not needing to replace it.
For those who haven't read my gear post before, I love this shirt because it looks great, is durable, and is very comfortable. And, of course, it's made out wool.
Buy at Wool and Prince
Wool and Prince V-Neck T-Shirt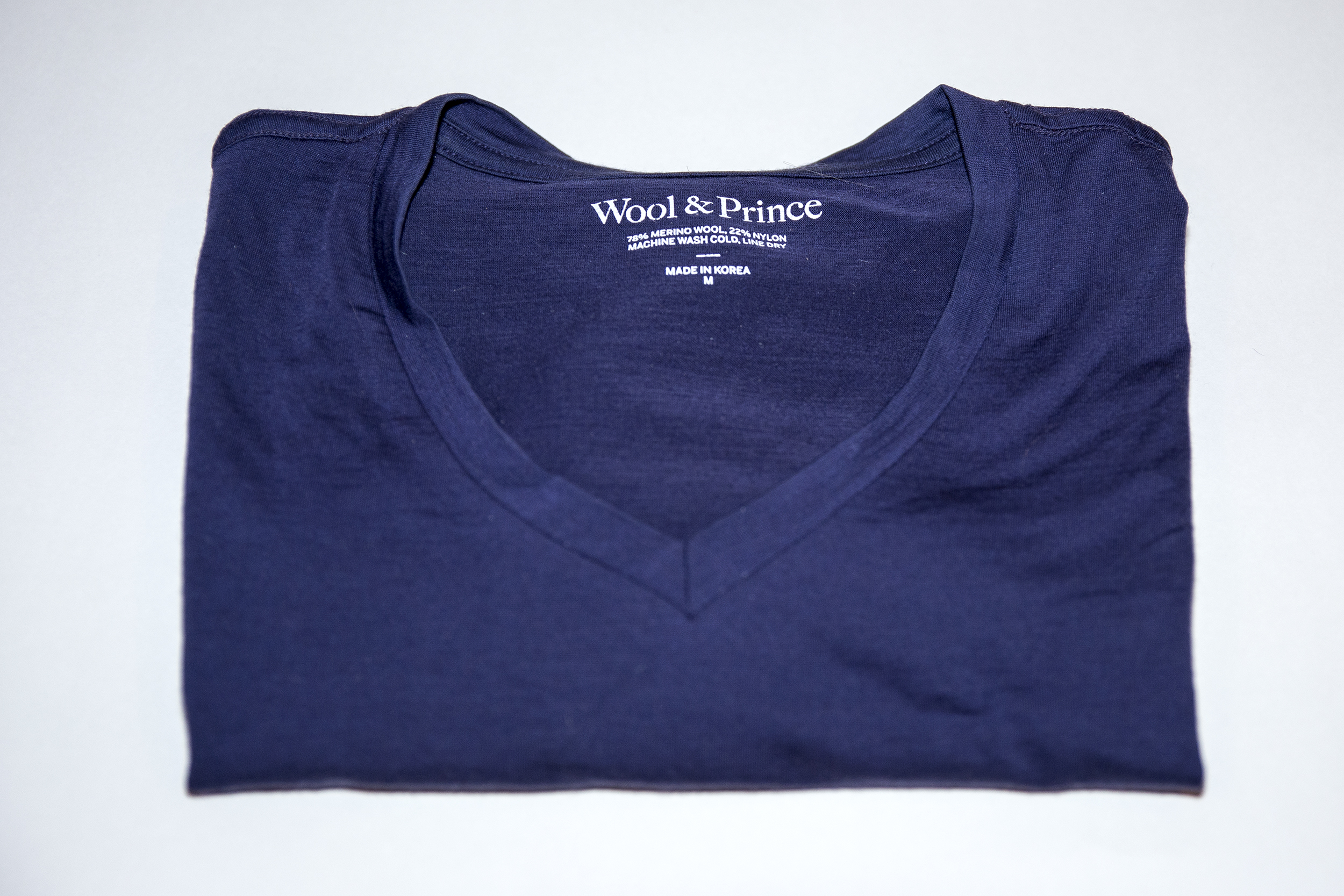 I also didn't replace my V-neck this year, because it has held up pretty well. It didn't fade as much as my previous one did, although the neckline is a little bit less crisp than it was previously.
Buy at Amazon
Wool and Prince Pants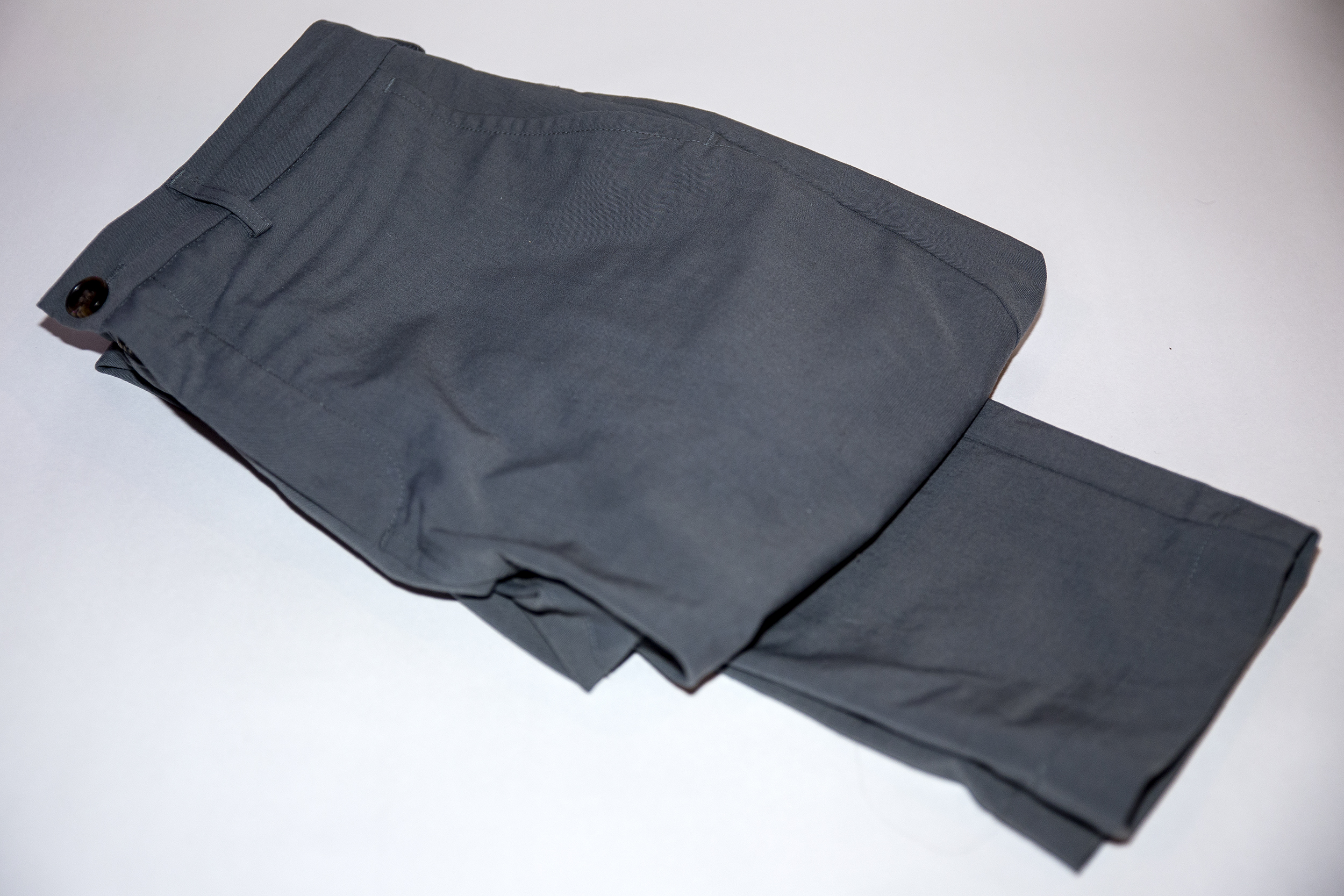 I've now been wearing these pants for over a year and they still look exactly as they did new, no signs of fading or ripping in any way. Pretty amazing, because my pants definitely get the most wear and tear of any of my clothing. I also ordered some new jeans from Wool and Prince, but I lost so much weight during Covid that they don't fit! I didn't get the smaller ones back in time to test, but I loved the feel of the fabric. They are a lower percentage wool than the pants above, so I'm not sure how their performance will be. I also got the sweatpants from Wool and Prince and I LOVE them and wear them every day at home, but they're probably too casual to make it into my travel bag.
Buy at Wool and Prince
Rip Curl Global Entry Boardwalk Shorts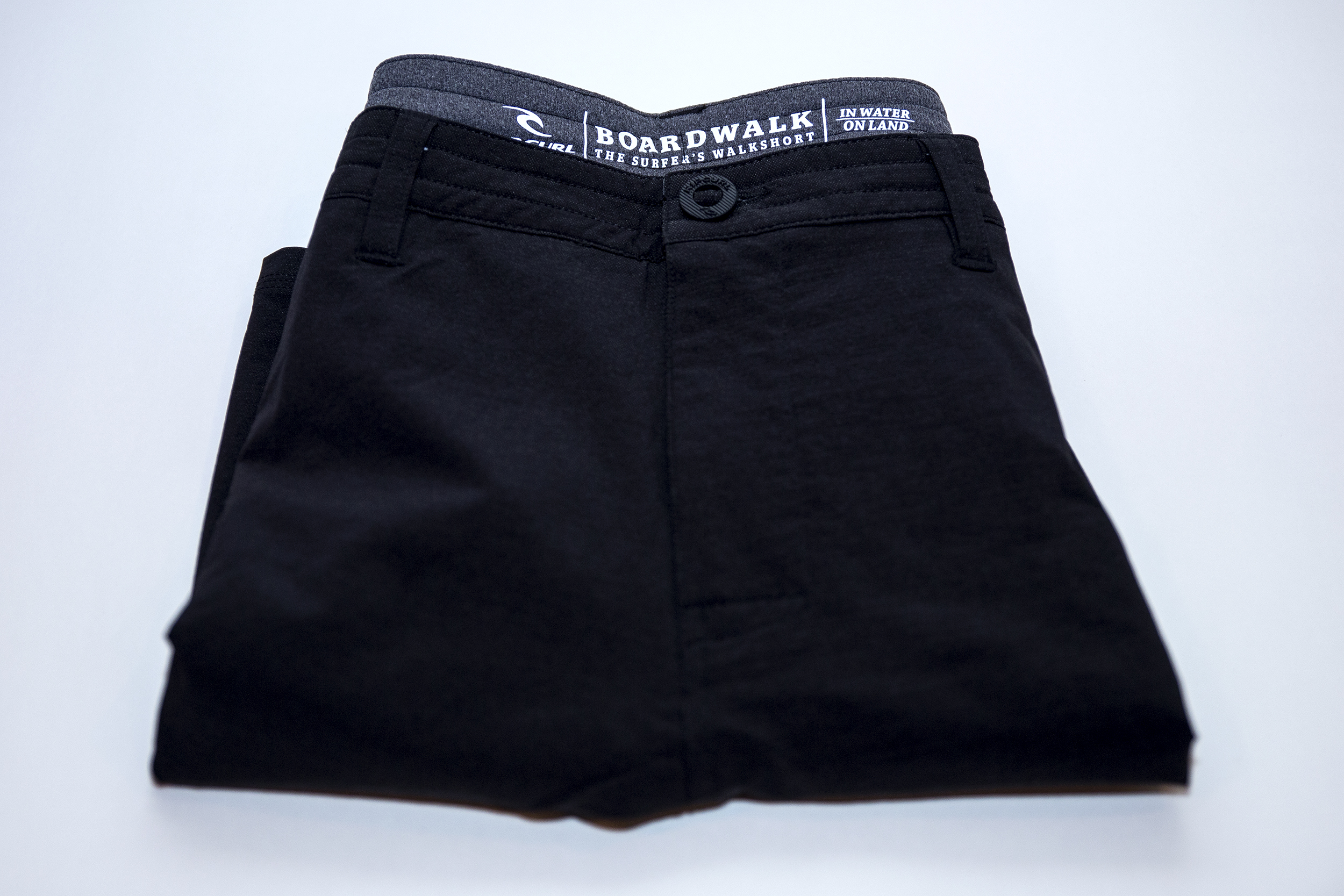 Who would have thought that I'd recommend something from Rip Curl? I've been unhappy about short selectiosn for a long time, and finally started looking into shorts that could also function as a bathing suit since I don't swim all that much. I searched for shorts that would dry quickly, be long enough to pass as normal shorts, and have enough pockets to be useful. The Global Entry Boardwalk fits the bill and works surprisingly well. The design is extremely thoughtful, with lots of hidden perforations to drain water. Pictured are a slightly worse/shorter version that I bought in the airport on the way here because I forgot mine at home and wanted something for the photo.
Buy at Amazon
Icebreaker Anatomica Briefs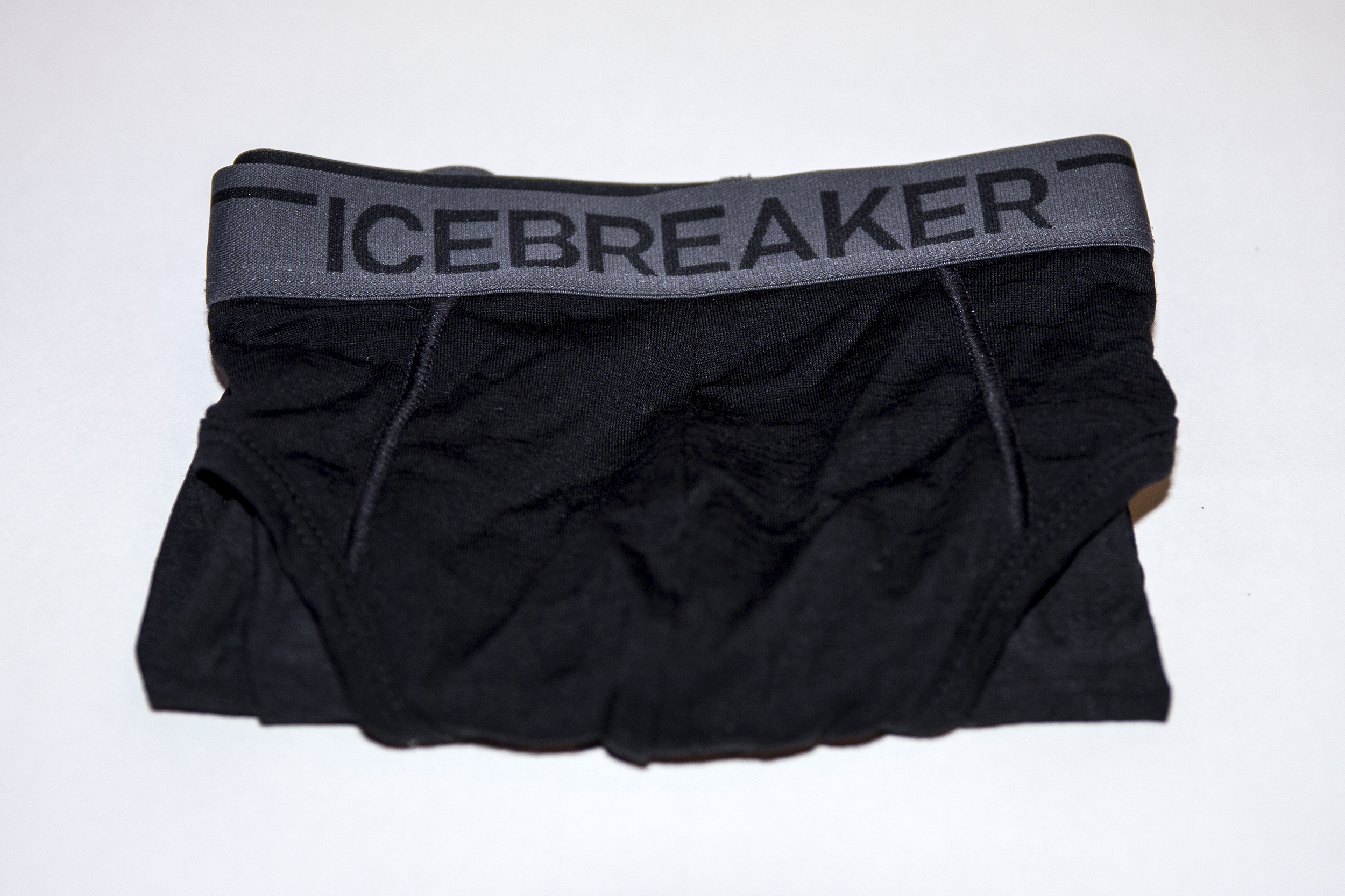 These are the briefs that I've been wearing for years (two new pairs every year or so) and I don't see how they could really be any better. That said, I'd definitely try a pair made by Wool and Prince if they started making them.
Buy at Amazon
Montbell Plasma 1000 Jacket (Japanese Version)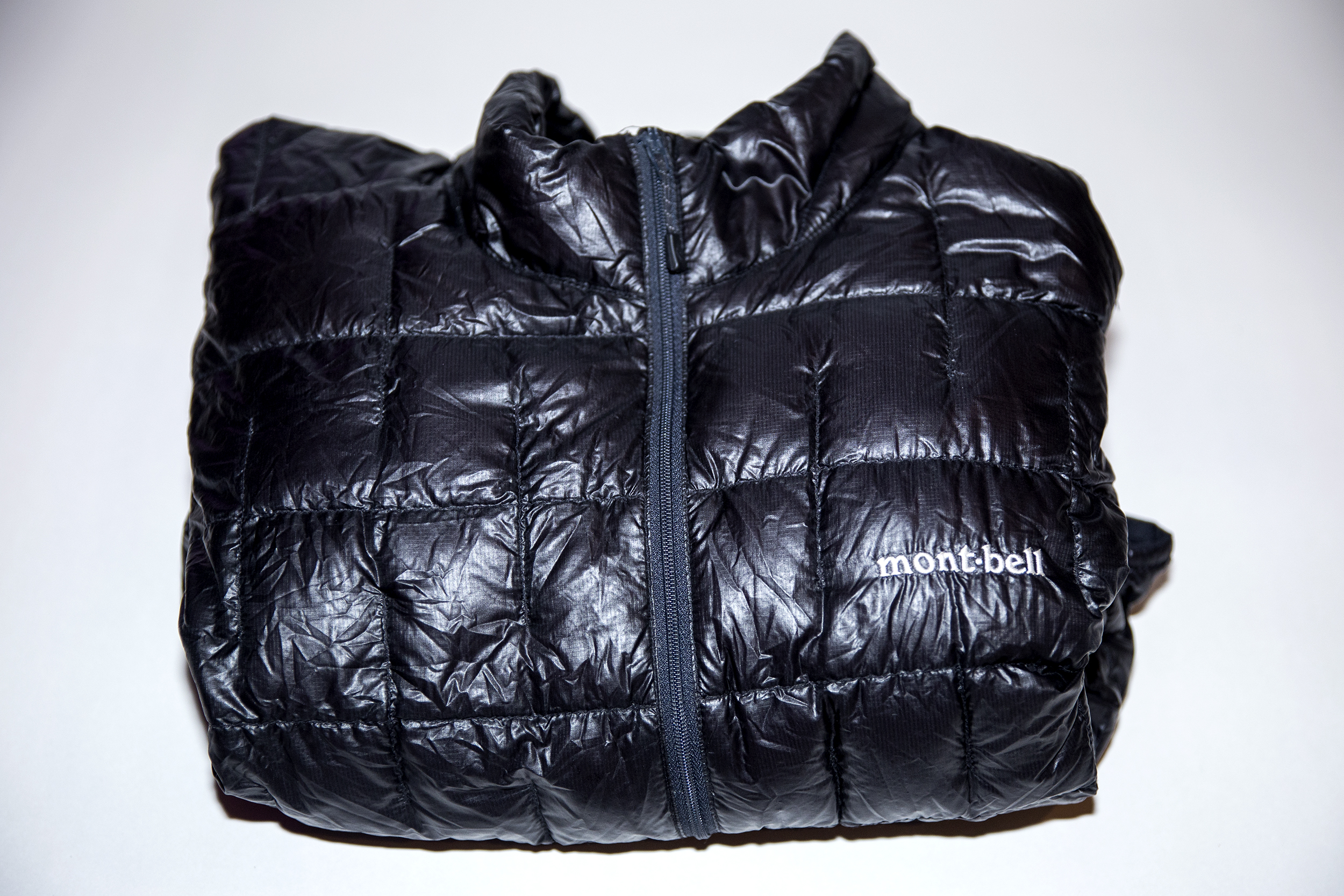 Once again, the king of warmth to weight reigns supreme. This jacket has lasted for many years now, is nice and warm, and looks ok. If you buy it in Japan it will have pockets, but if you buy it in the US it won't.
Buy at Montbell or in Japan
Arcteryx Norvan SL Hoody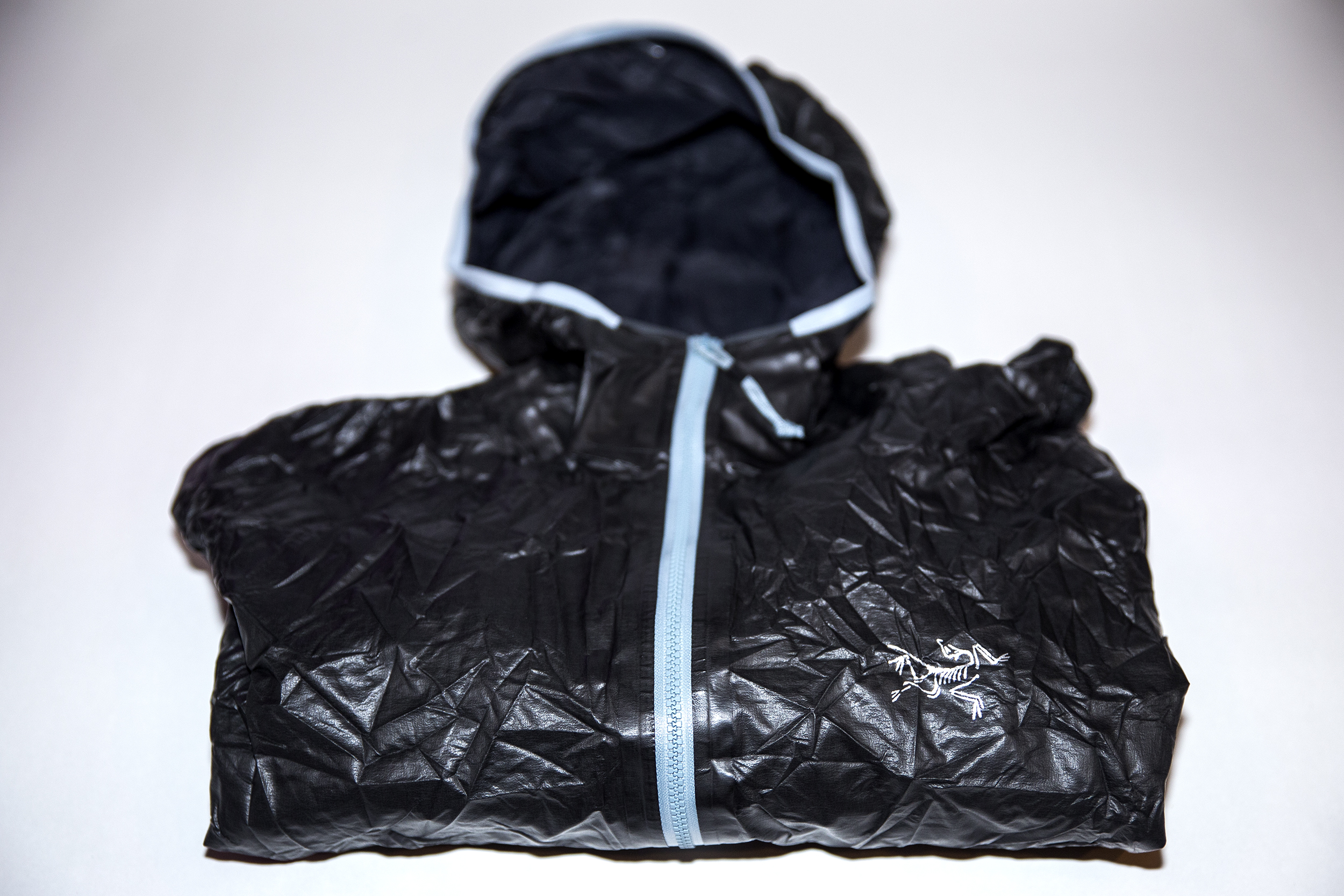 I loved the idea of the windbreakr as a shell until I found myself running through a storm in Riga, soaking wet, desperately trying to find a working ATM so that I could get cash to get to the airport.
After a ton of research, this seemed to be the lightest shell (4.4oz) that isn't specifically meant for road biking. It's not as tiny as my non-waterproof windbreaker from last year, but it's fully waterproof and dries very quickly. The fit is perfect. Online people talk about how it's so fragile that you can't use it with a backpack, but that hasn't been my experience.
I've now had this shell for over a year and it shows no sign of wear.
Buy from Amazon
Crocs LiteRide Pacer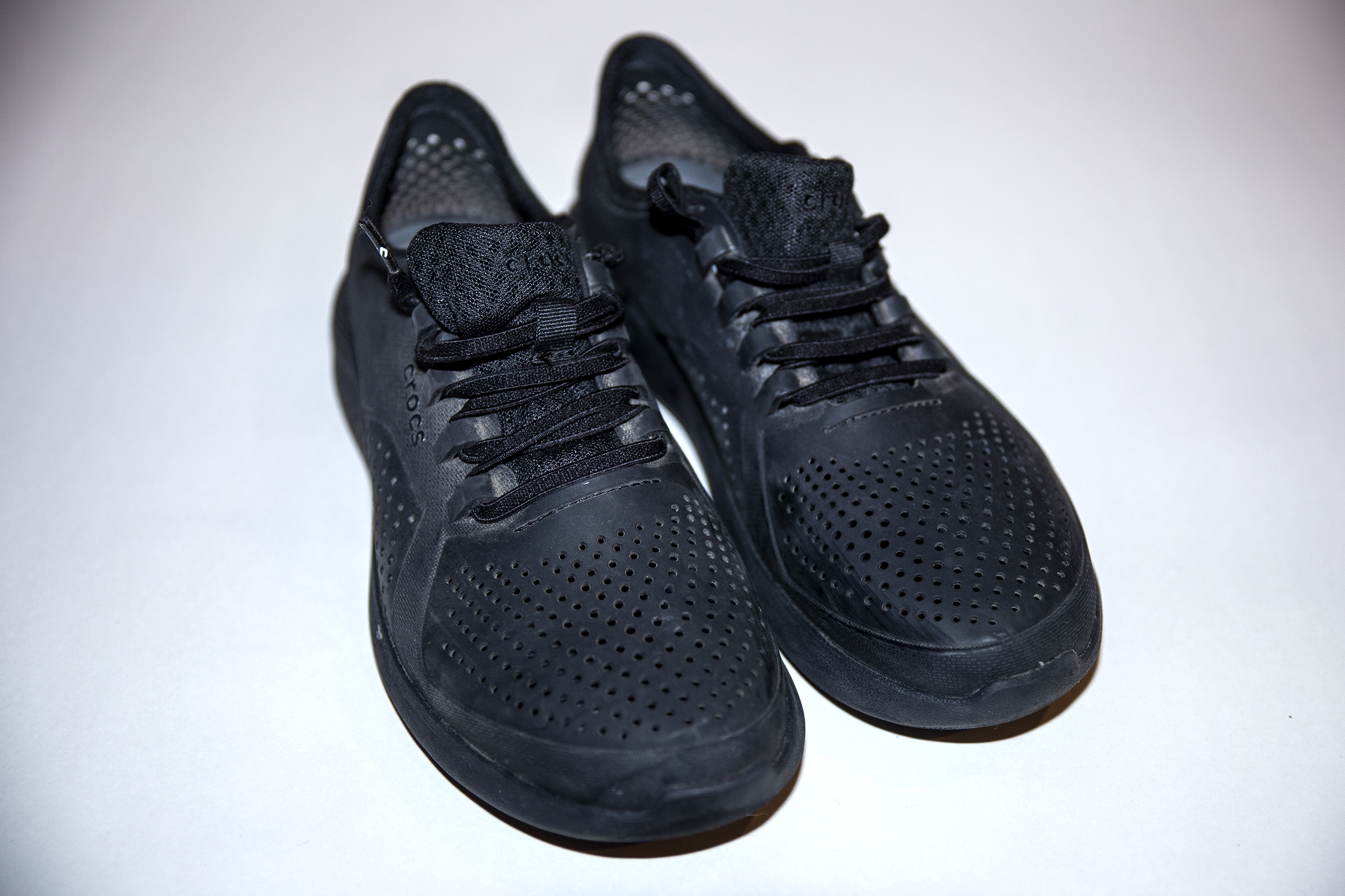 Finally the ultimate shoe has been created, and against all odds it's made by Crocs. I actually like the normal slip-on ones better, but they don't look amazing and I hear about it constantly from friends and family. These sneakers look pretty normal, especially in the all black configuration. The reason I love Crocs is because they're durable, easy to wash, and don't need to be worn with socks.
Buy at Amazon
Roav Eyewear Lennox Sunglasses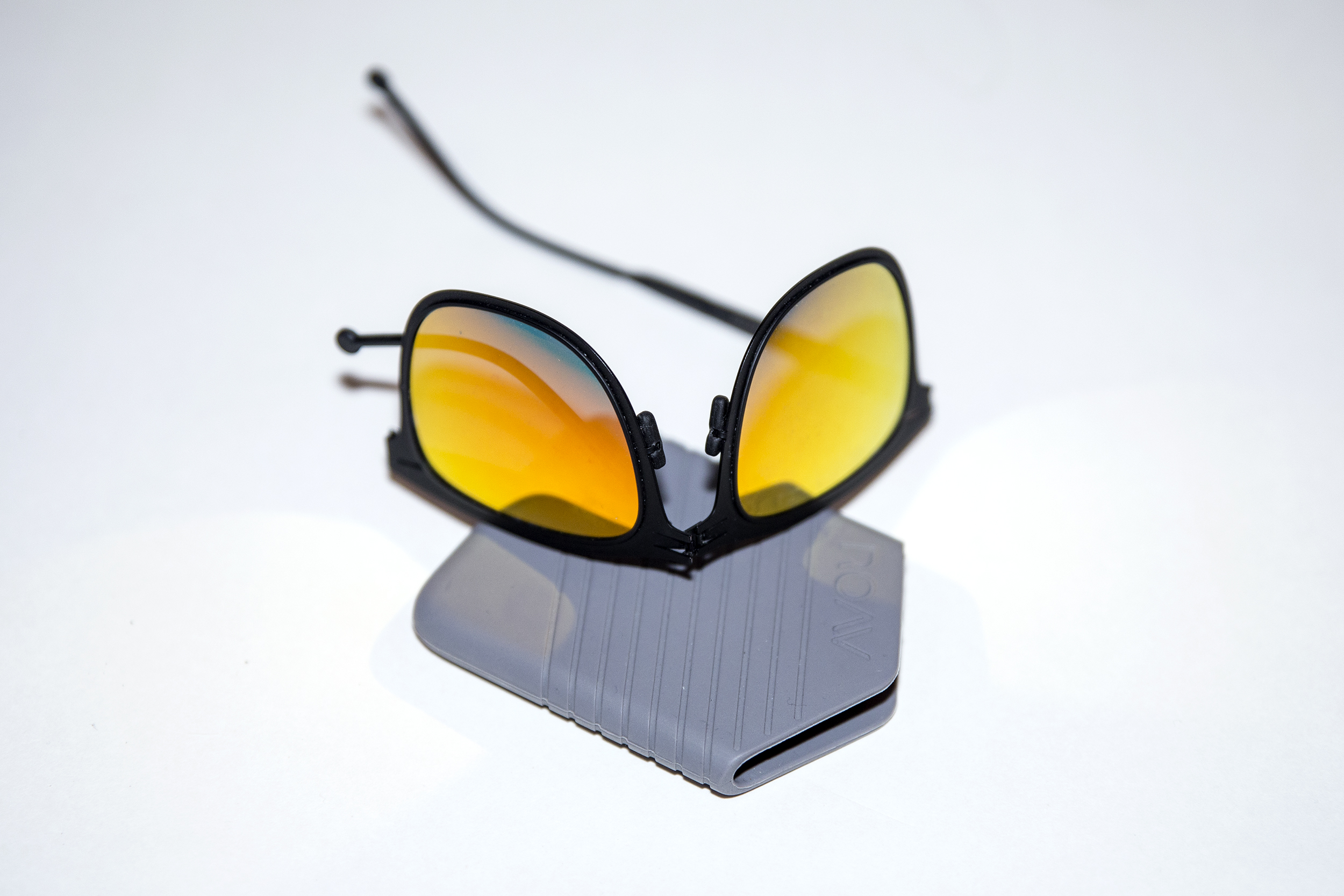 These sunglasses are still kicking and despite being forgotten in my pockets many times they still look brand new. They're polarized, look cool, and fold into the smallest package you can imagine sunglasses folding into.
Buy at ROAV
Breitling Transocean Unitime Watch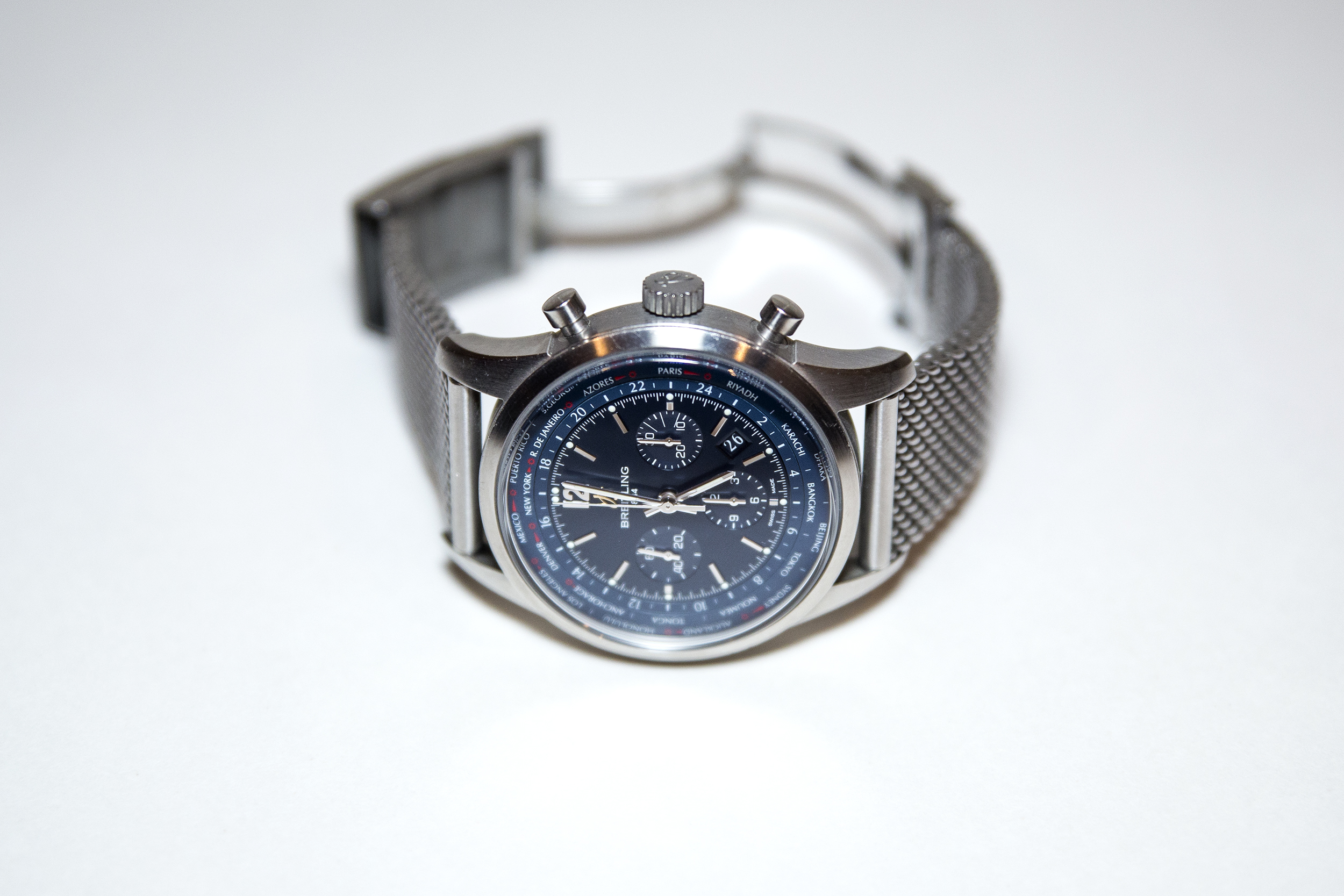 As far as I know, this is the only mechanical watch that can show all 24 time zones and can switch between them with a twist of the crown edit: reader Matthew Dawn sent me examples of other (expensive) watches that also do this. It's a little bit big for my wrist, but worth it to easily be able to see all of the time zones at once. If smart watches didn't have to be recharged constantly I might switch to one, but I love mechanical watches and am happy to wear this one.
As I mentioned last year, a more budget version is the Omega Seamaster GMT, though there are a few Breitlings that are around $3500 with a leather band or $4500 with a metal band.
Buy on ebay
Minaal Daily Backpack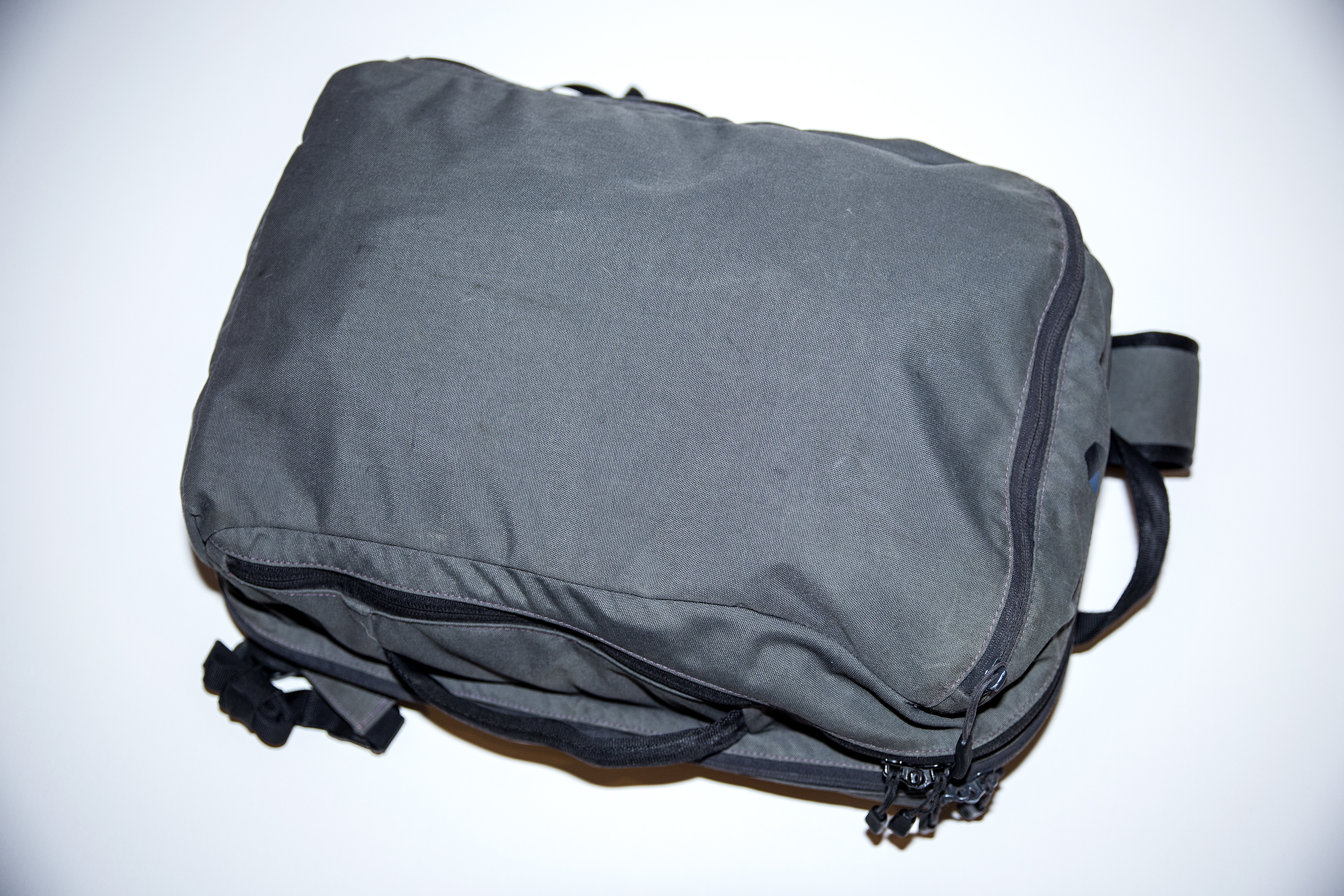 I've had this backpack for four years now and it looks as good as it idid when it was new. I occasionally look around at other backpacks, but I've never found one that is so well built and looks so clean. The size is just about perfect for the kind of travel I do— I usually travel with it about 1/3 empty which makes it very easy to reach around and find stuff, but leaves enough room that if I buy a bunch of tea (or, say, want to carry an Oculus Quest to Christmas so that my family can try it) I have room.
Buy at Minaal
Sonicare Qi Toothbrush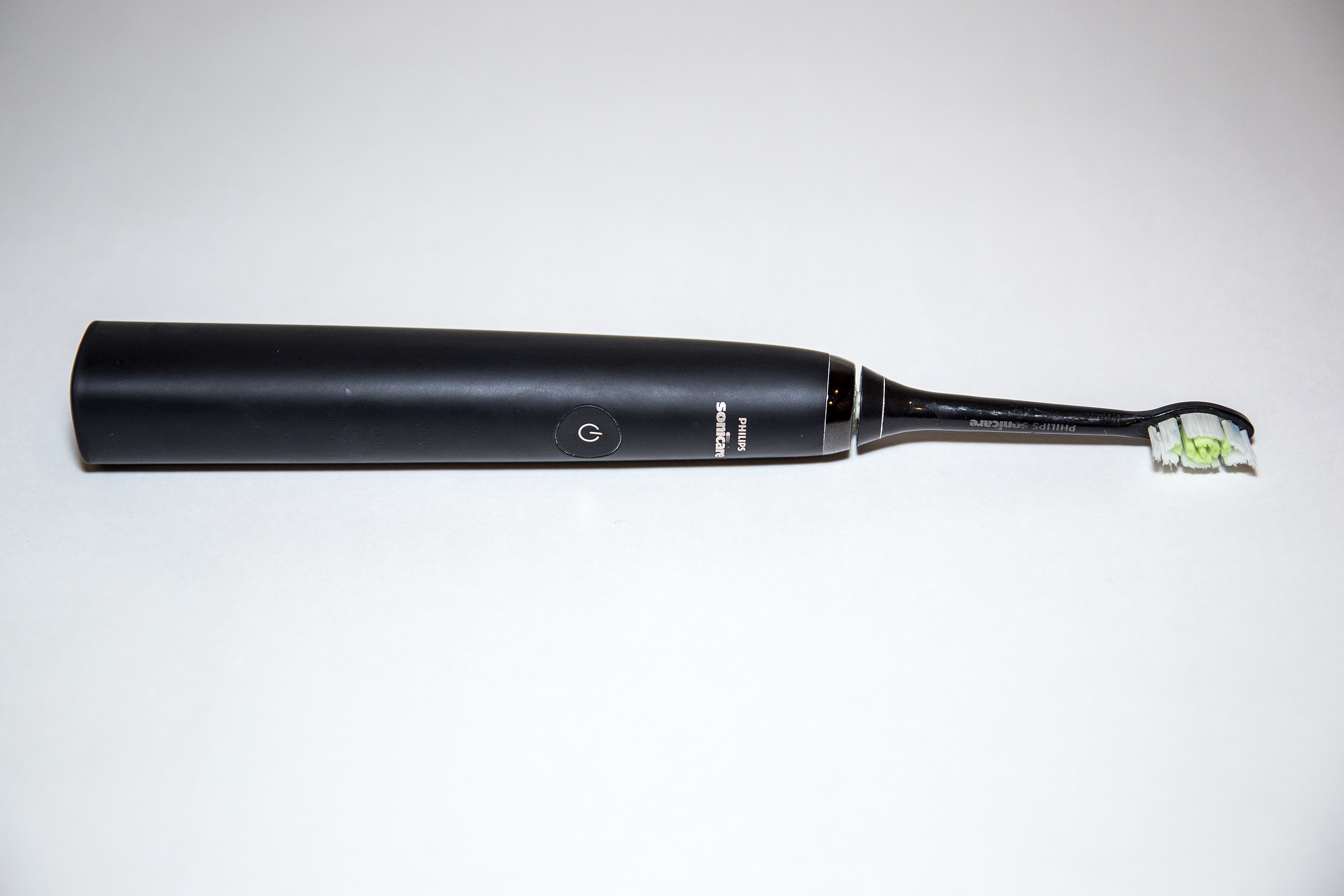 Unfortunately these are essentially impossible to find these days. I have no idea why they stopped making Qi compatible toothbrushes and went back to their proprietary standard. I love this toothbrush because it's the best quality electric toothbrush and I can charge it on any qi charger, including the back of my phone. I wish I had an alternative to recommend but I don't.
Toiletries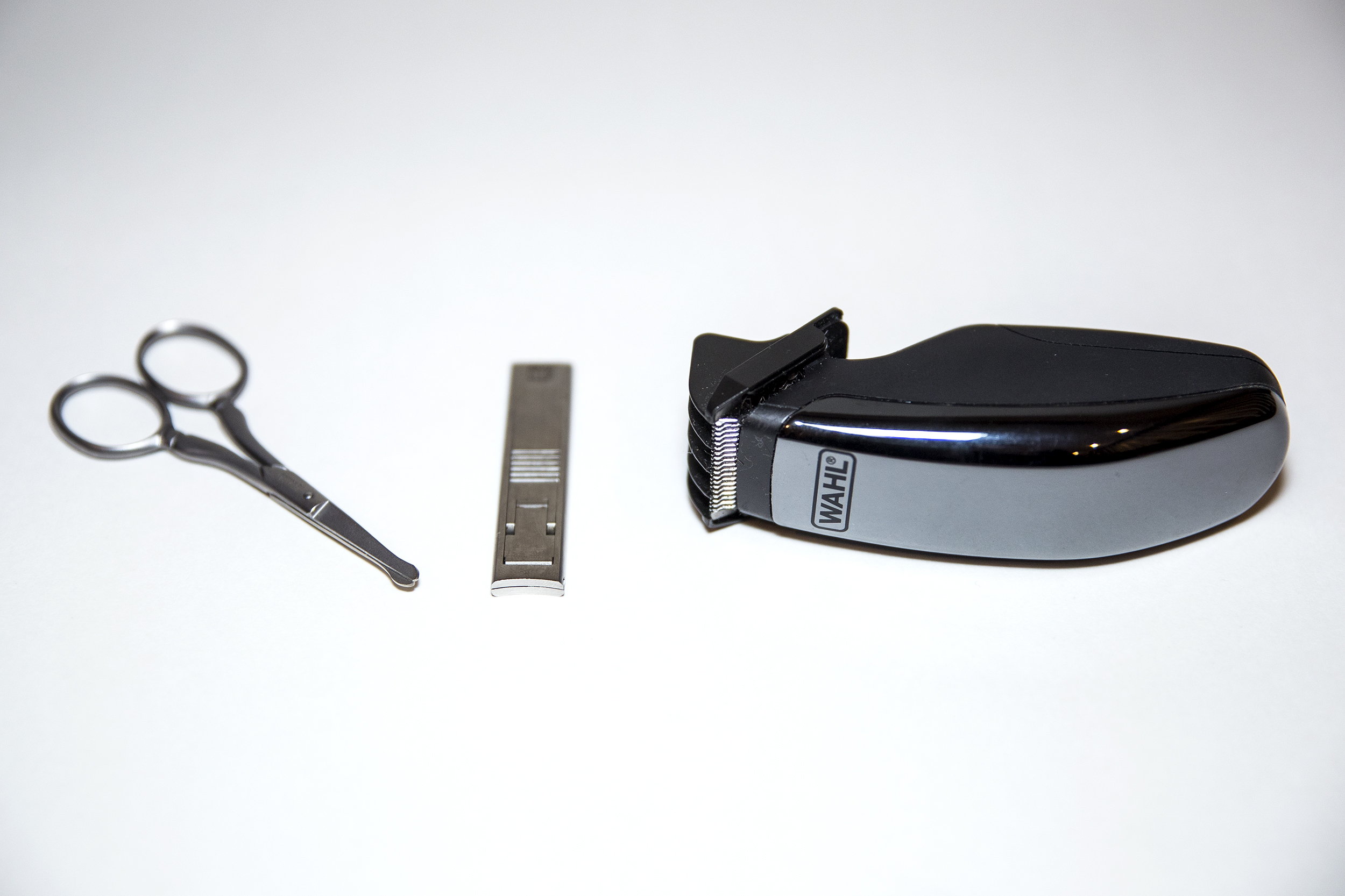 Despite the fact that it's for animals, the Wahl Professional Animal Super Pocket Pro Trimmer (quite a name) is the best travel shaver. It runs off a single AA battery and, unlike the ones meant for humans, has an adjustable guard. It's definitely not as good as a full sized trimmer, but it gets the job done.
The nail clippers are my trusty Henckels Ultra-Slim Nail Clippers. This is the same pair I've had for six years and they're still just as sharp and effective as ever.
The scissors are Tweezerman GEAR Scissors. I think that I actually bought some fancier Dovo Solingen ones when I thought I lost these, but to be honest I can't tell the difference fram a practical standpoint, so it's better to just buy these.
Keith Titanium Travel Tea Set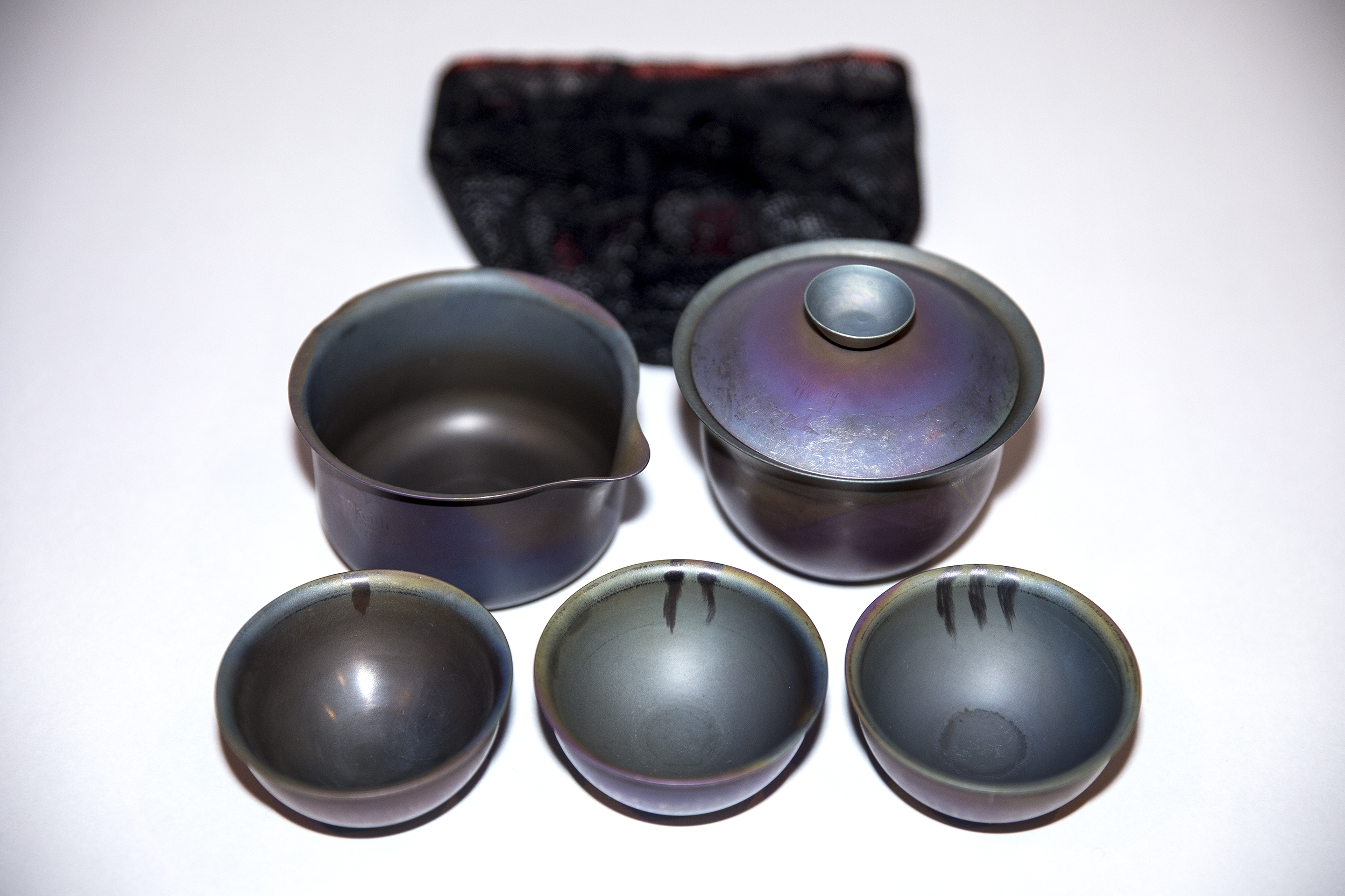 I've now been using this tea set for over two years and I love it. It's an absolute dream for a tea lover and it allows me to make perfect Chinese tea anywhere I go. I ended up buying an extra cup that I travel with sometimes so that I can make four cups, and I modified it by anodizing the titanium and cutting off the handle of the fairness pitcher. The titanium imparts no flavor and is virtually indestructible. If you love tea and you travel, you should have this.
Buy at Outdoor Player (available elsewhere, but always more expensive)
Kanpai Titanium 350 Thermos and 3D Printed Tea Containers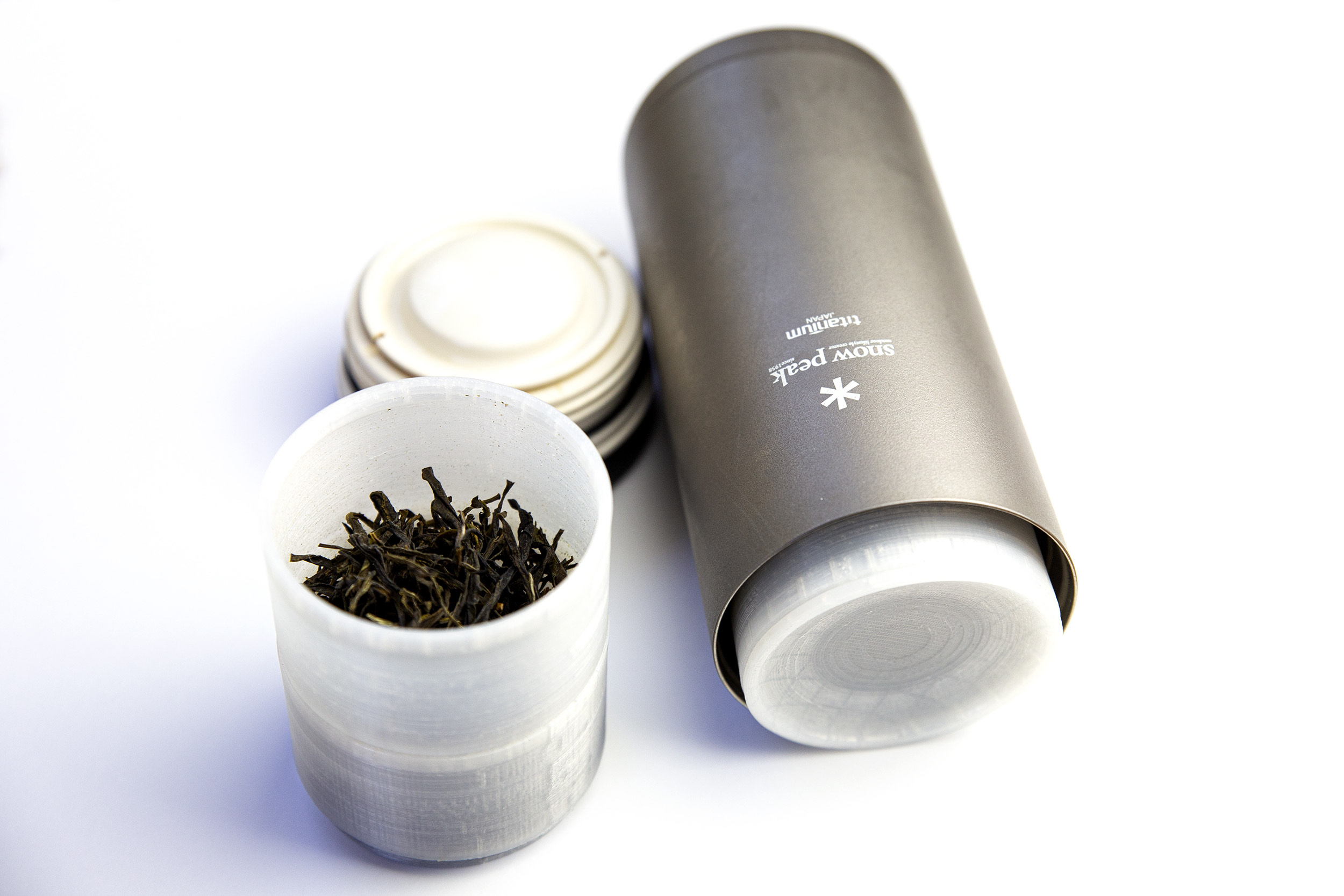 This is the lightest double wall water bottle you can get. I love the extra-wide mouth and the no-taper design that makes it easy to clean and to store things inside. It comes with three tops but I just use the hot water one. It's absolitely perfect for keeping boiled water in.
As soon as I got my 3D printer I designed and printed a set of stacking tea containers designed to take up about 95% of the interior volume. I can now hold 50% more tea than I could before. If you want the STL files to print this, you can email me (I'm still iterating). They were hard for me to make, especially because they were the first time I tried to make screw threads, which took a lot of trial and error.
Buy at Amazon
300W Immersion Water Heater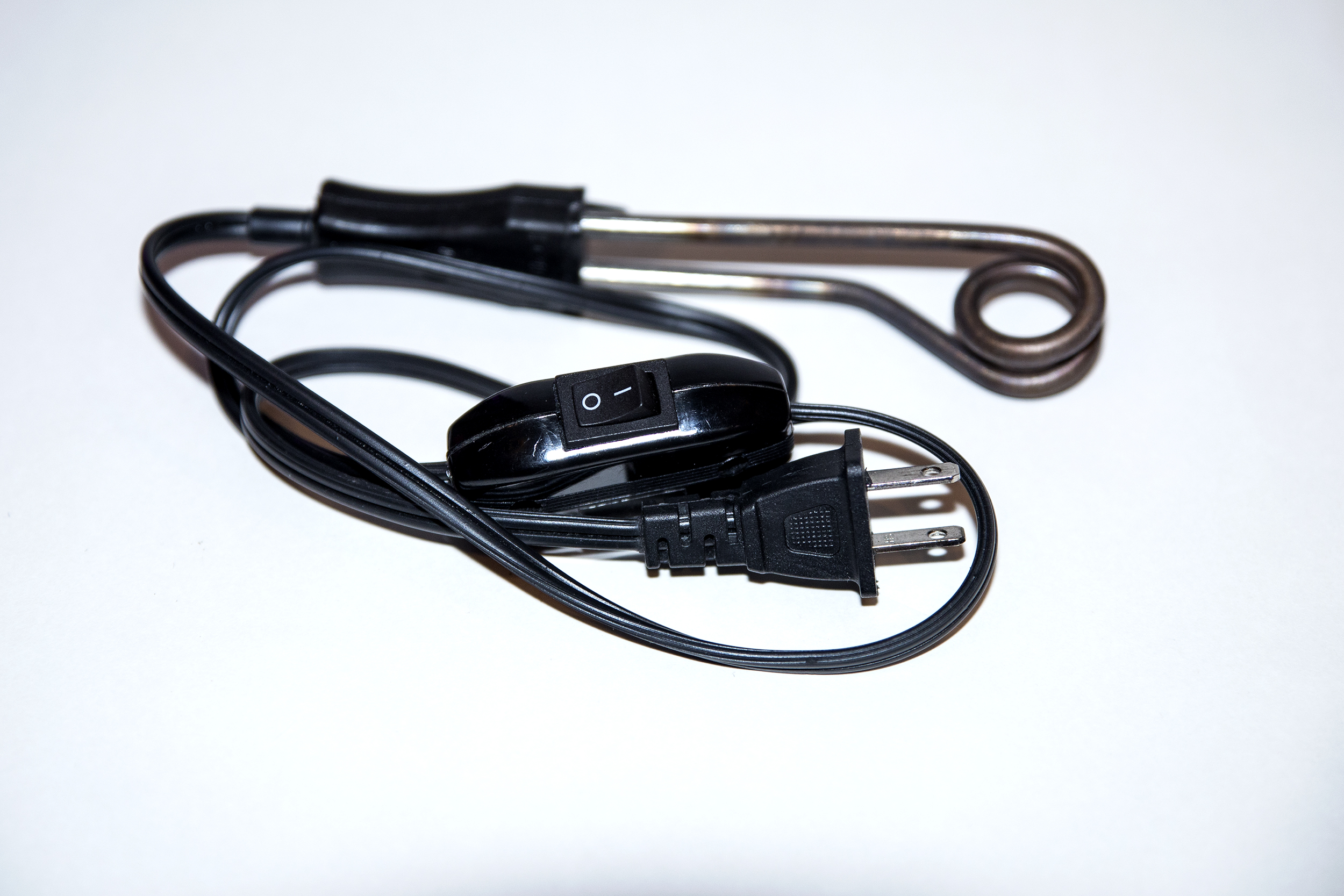 I'm still using this immersion heater with a slightly obnoxiously large switch, but it's worth it for the convenience of not having to unplug in between water boilings and for the faster boiling speed.
In case it's not obvious, I put this in the Kanpai Thermos and use it to boil water. Often I'll put the top on and wait until I'm in the air before I make my tea. You can also ask for hot water on the airplane, but it's sometimes not very good.
Buy at Amazon
Packtowl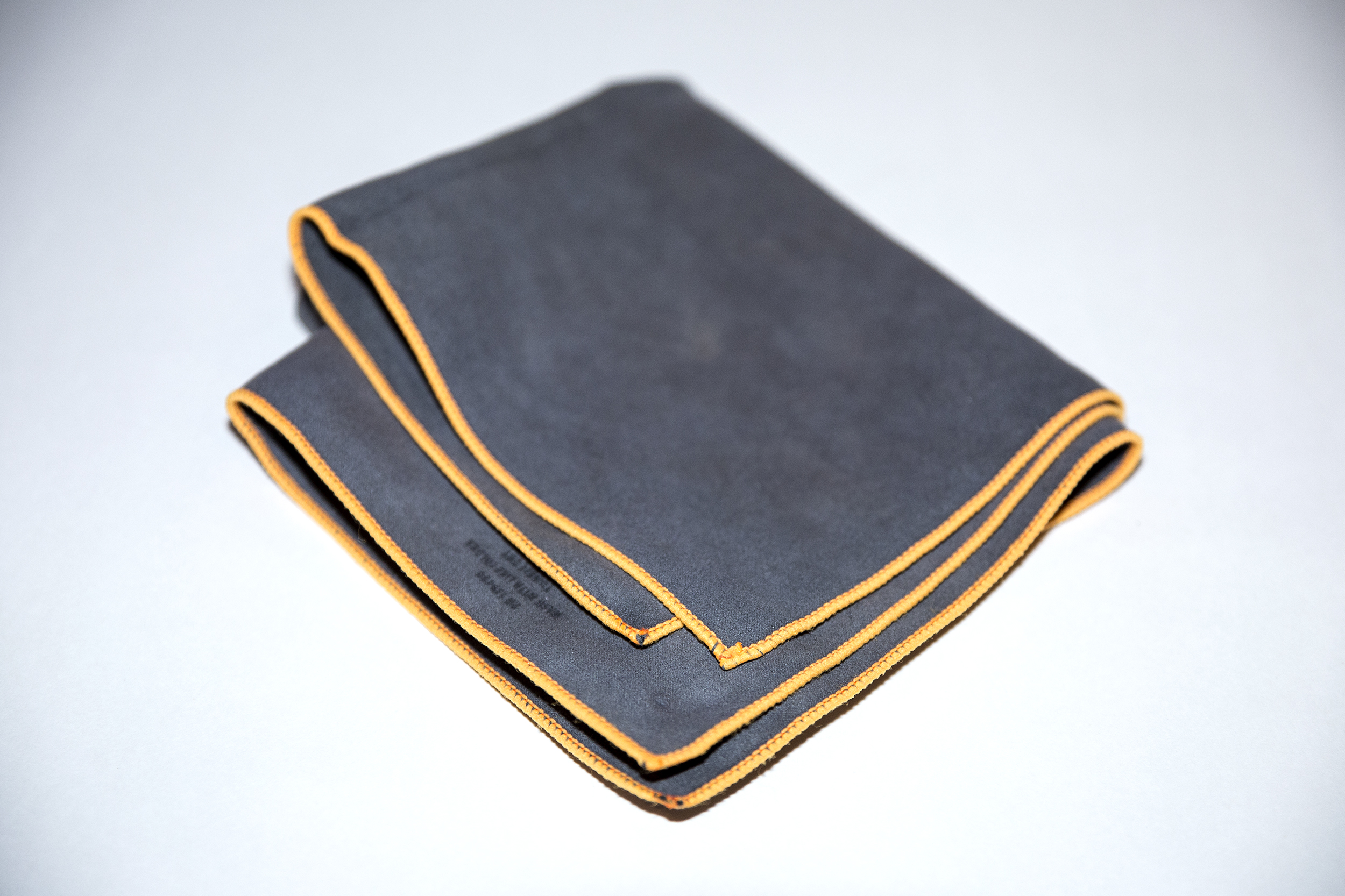 They don't seem to make this size anymore, which is 12×22 edit: Patreon supporter Alexandra found the 12×22 version! It's the perfect size because it's very compact but just big enough to dry your entire body if you somehow don't have a regular bath towel wherever you're staying. I can't find anything else that's the same size, which is frustrating. Usually I use it as a base for brewing tea. I'm tempted to get the small 10×14 inch one to replace it (the snap pulled off so it's harder to keep compact) but wouldn't look forward to drying off with such a tiny towel. The one I linked below is the closest size I could find that looked decent.
Buy at Amazon
Carbon Fiber Money Clip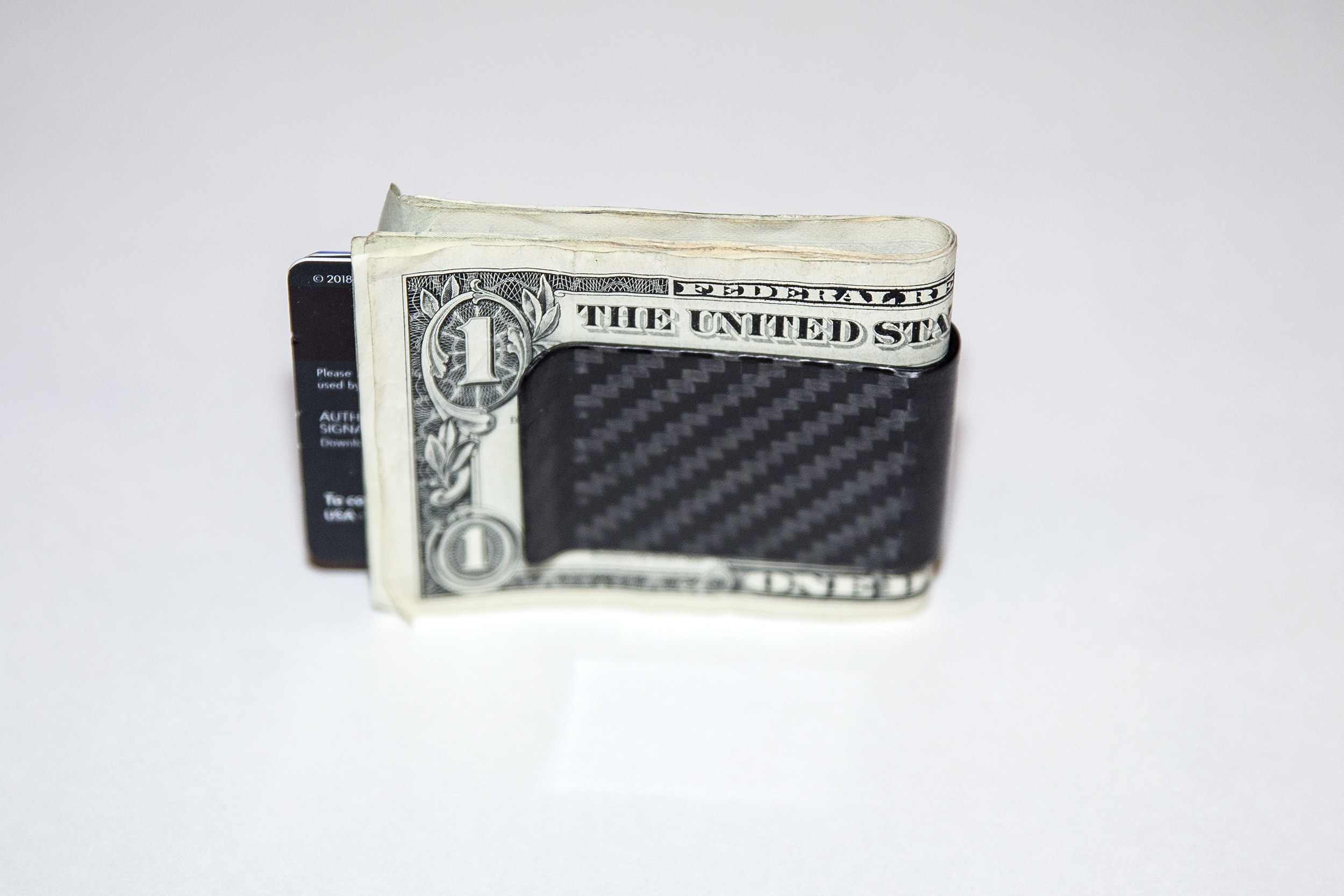 I still have my rather expensive Koolstof carbon fiber money clip, but there are cheaper options on Amazon now that seem to be identical, so I'm linking one of those instead. I can't imagine why someone would use any wallet other than this. It's super compact and light, doesn't set off the metal detector, and is very easy to use. Mine has retained its springiness for many years now.
Buy at Amazon
Samsung Galaxy Note 20 Ultra Phone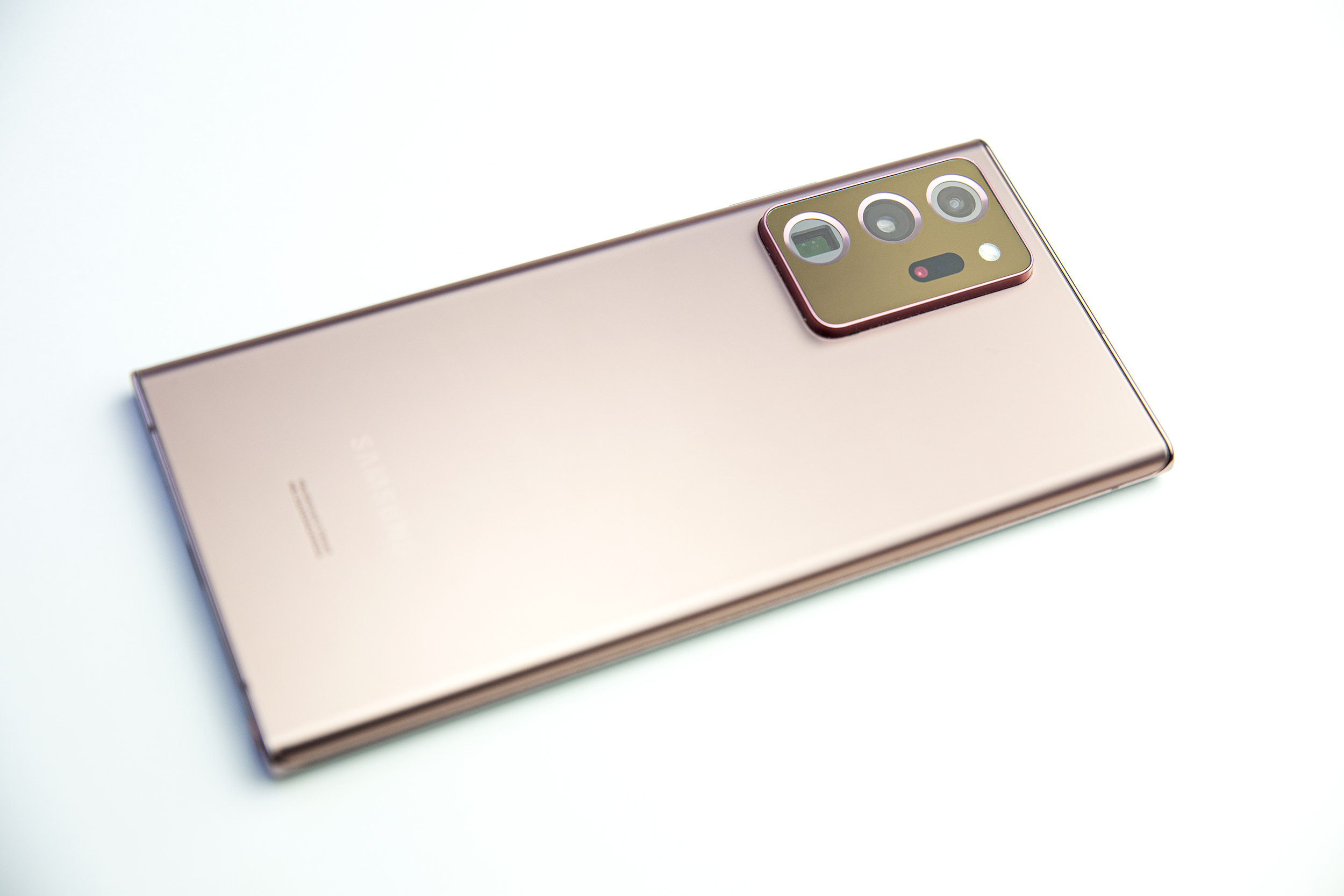 I expected this to be an incremental rather than revolutionary upgrade from my Note 10 Plus, but I chose to upgrade because Samsung had a good sale and was offering a high value for my Note 10 Plus even though the back of it was cracked. And while most of the phone is an incremental improvement, the camera is a huge level up.
I never see this discussed anywhere else, but the sensor size of the new camera is 1/1.33″, which in the range of good quality standalone cameras. A larger sensor allows for better low light shots as well as shallower depth of field. The sensor is 108MP but binned down to 12MP. This upgrade has moved the photos of the phone from "Good for a phone" to "Good".
The camera also has a 5x optical zoom that can combine data from the main sensor for zoom up to 50X. Photos are totally usable up to about 20-25X and quality degrades pretty quickly after that. However, check out this photo I took of the moon at 50X!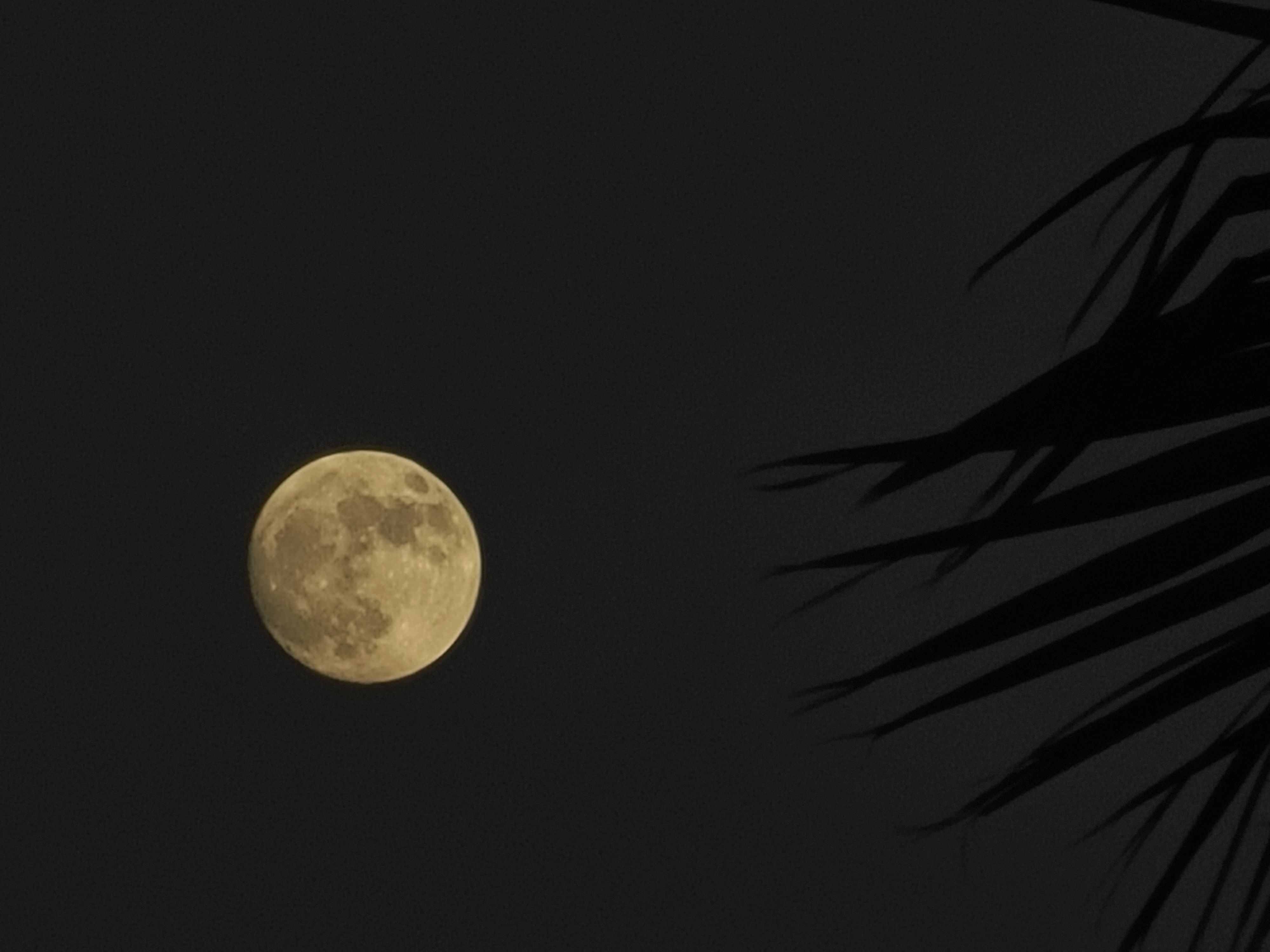 It has its issues, but I doubt most people know that you can take a handheld photo from a phone and see individual craters on the moon.
The wide angle camera is good too, but not much different from other wide angle cameras.
This is the first phone I've had that has 5G and I have to admit that it very rarely makes a difference. By the time I write the next gear post it's possible the infrastructure will have caught up and it actually matters, but for now I wouldn't pay extra for a 5G phone.
I use T-Mobile service with the Global Plus add-on, which gives me free LTE everywhere. I happened to add it on during the <7 days where it offered unlimited LTE rather than a 15GB cap. Project Fi can be a bit cheaper, but T-Mobile includes free voice calls to and from every country with Global Plus, and I'll definitely get a lot of use out of that.
Buy at Amazon
Lenovo X1 Carbon (Japanese Version)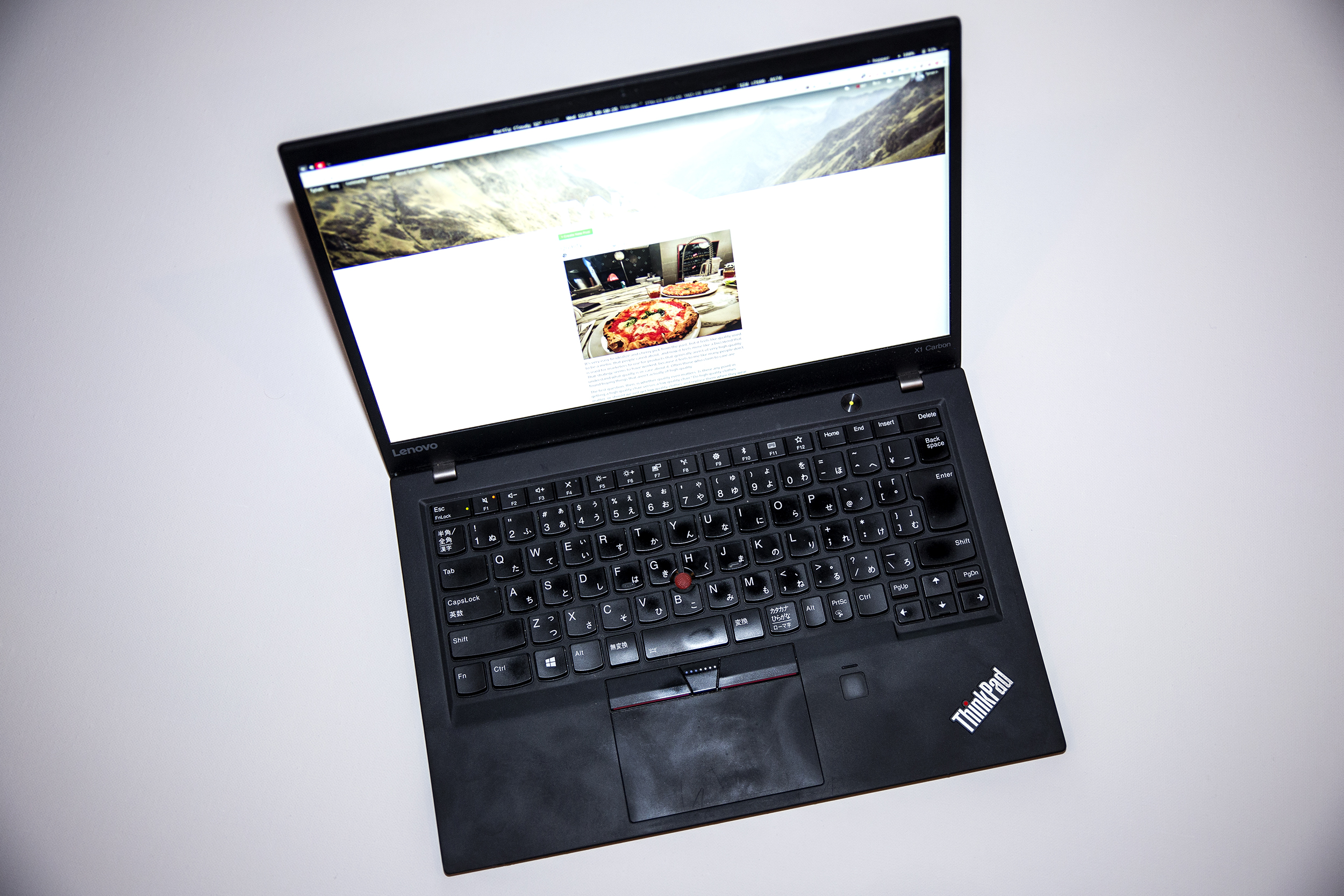 I still have the 5th generation, but I am waiting to be able to go back to Japan to buy the Nano (a slightly smaller and lighter version). The X1 is very high performance, has an LTE sim slot, has a trackpoint, an excellent screen, the best keyboard, and plenty of other benefits.
The port selection on the computer is perfect (2 USB A, 2 USB C, HDMI) and I love that it has a microsd and sim slot. The only non-perfect thing is that the speakers are pretty terrible, but I understand that they are good in newer versions and in the nano.
I always buy Japanese keyboard laptops because I get extra keys that I can remap. I can't imagine a better setup than this, except for a speaker upgrade.
The new 7th generation has processors that are twice as fast as the one I have now, even higher res screens, and speakers that are actually good. I'll upgrade before the next gear post.
Buy at Lenovo Japan (good luck)
CARD Travel Adapter 4-Pro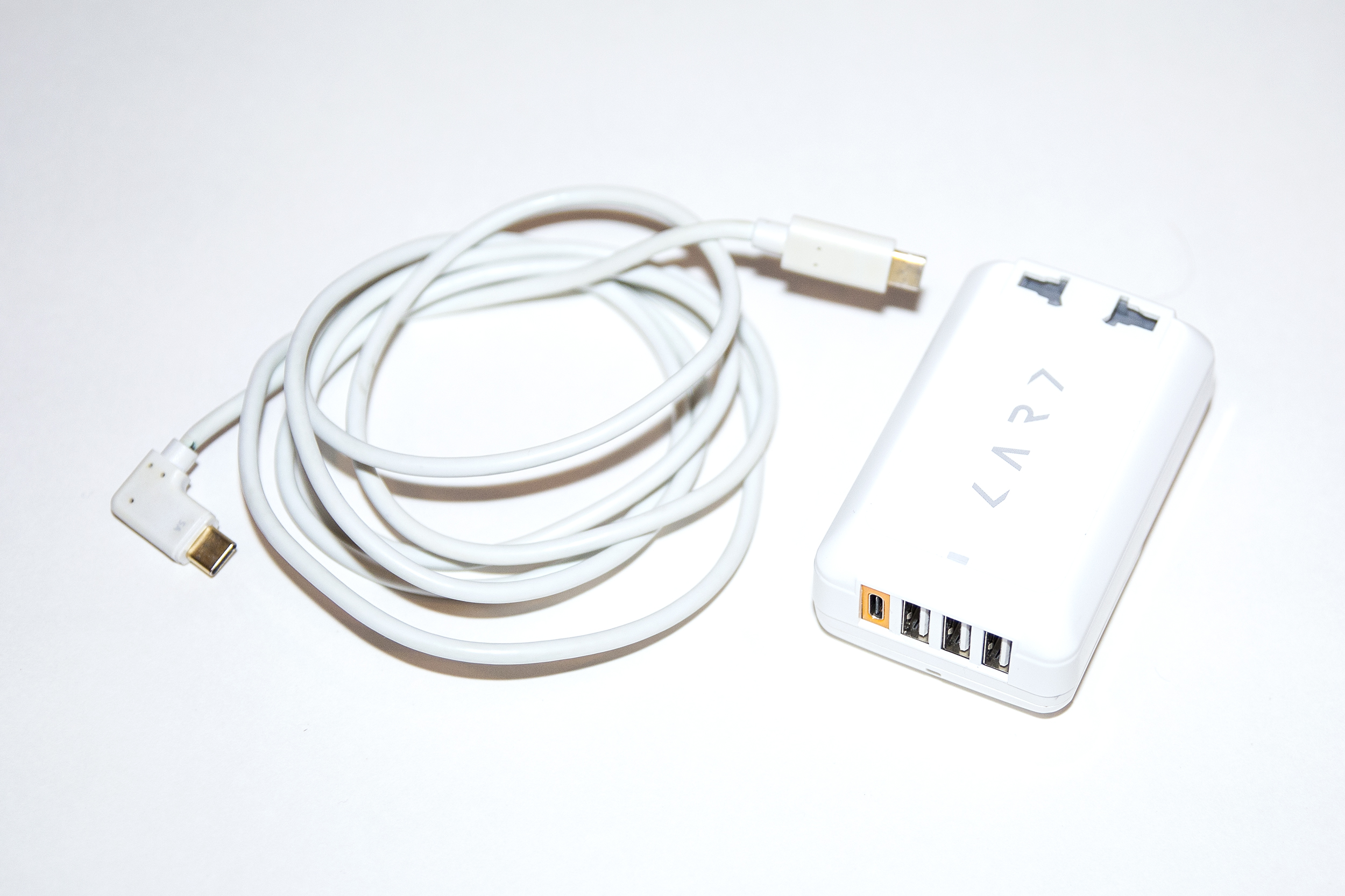 I still love this adapter. It has eliminated 3-4 other items and actually performs many of their functions better.
First, it's a 45W PD USB-C charger, which charges my laptop and my phone. It also has three extra USB-A sockets, so you don't need a separate USB charger. On the back side it has three different plugs that adapt to fit every country, so you no longer need a travel adapter. And the socket on the front can accept any plug as an input, so it's an anything to anything adapter. Plus that socket is always empty, so the device also serves as a power splitter.
As far as I know there's no other device like this. There is a new charging technology called Gallium Nitride (GaN) that can make chargers much smaller, but even the smallest plus the smallest accompanying accessories isn't smaller than this. I do hope they remake it wih GaN.
Two hidden benefits to this are first that it's much harder to lose than a travel adapter, and second that the European plugs stick better in a lot of airplane sockets. On the back it has a cover that holds a spare fuse. I threw it away to make the unit smaller and easier to use.
Buy at Amazon
Hokonui Q5 10000mAh Power Bank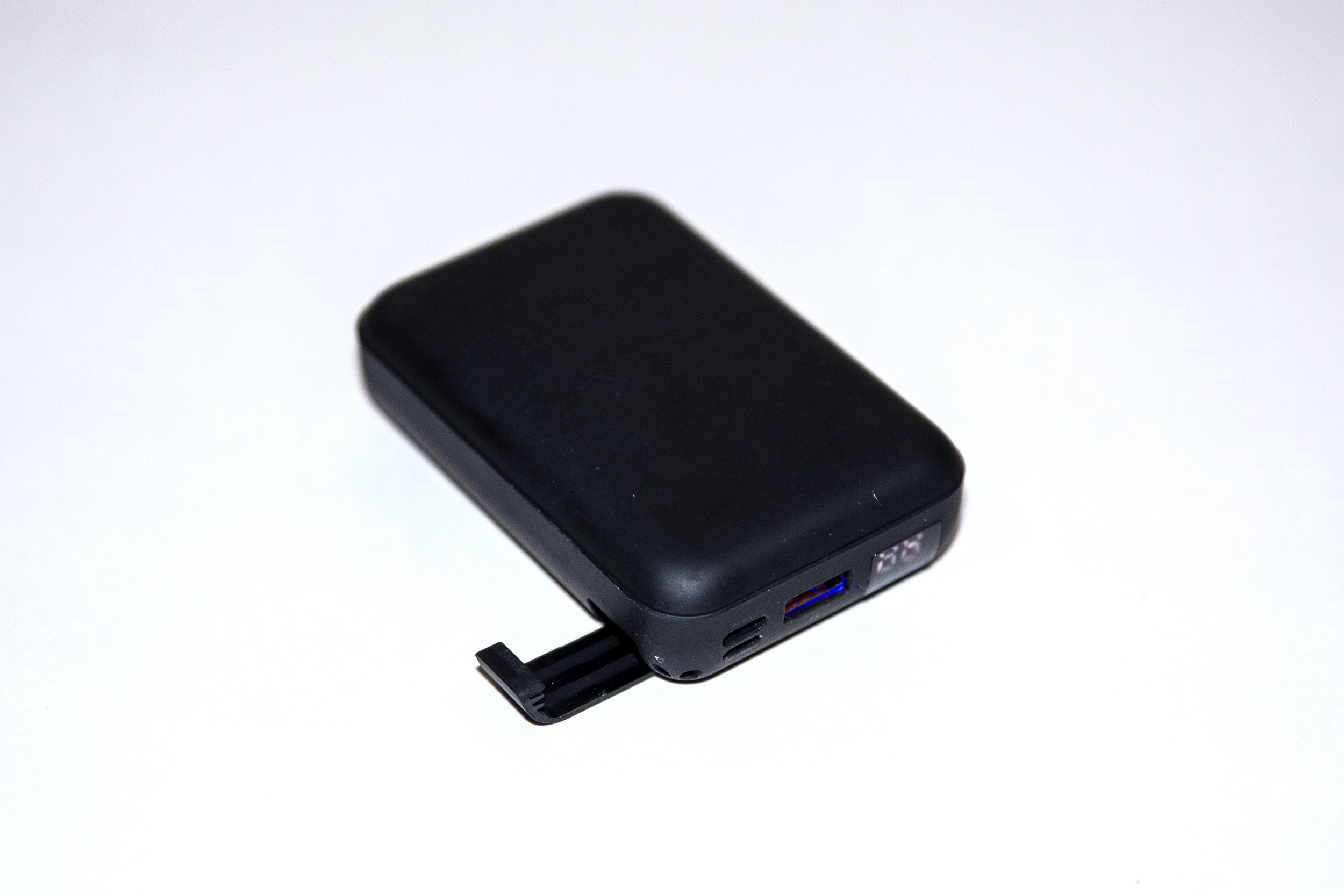 I spent an embarassing amount of time finding the lightest 10k mAh wireless power bank, and I think this is it. I bought a few other bigger ones this year and each time went back to the Hokonui
It works as it should and has a cool pull-out phone stand that I actually use quite a bit. The only downside is that it doesn't seem to do well with low power qi devices. I couldn't get it to charge my toothbrush.
Buy at Amazon (out of stock)

Sony WF-1000XM3 Active Noise Canceling Earbuds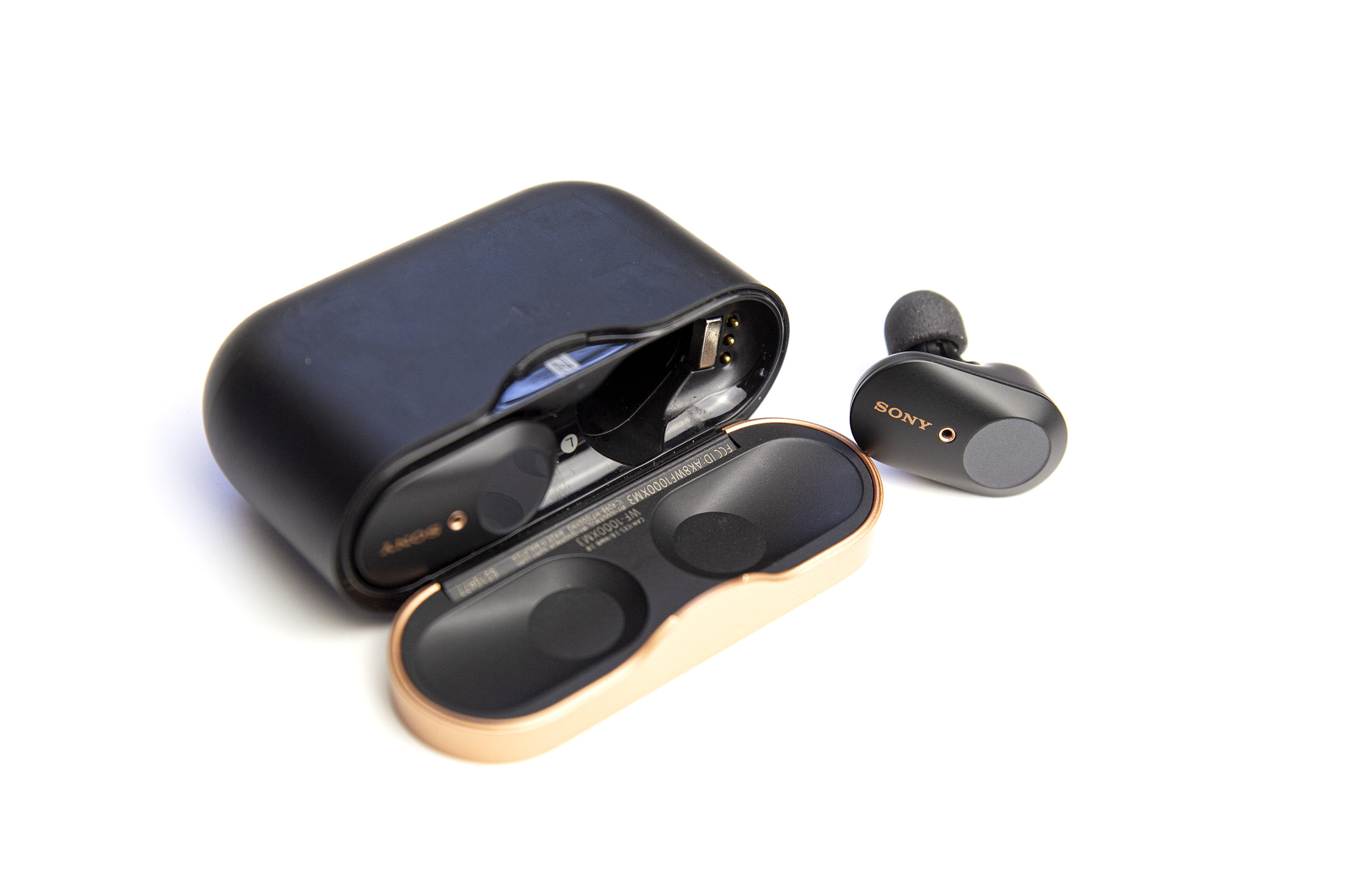 After many years, I finally left my headphones at a TSA checkpoint and lost them. I eventually got them back, but in the meantime I took the opportunity to buy a bunch of true wireless active noise cancellation headphones. I assumed that they wouldn't block more noise than my custom in-ear monit
ors from 1964 Ears, but wanted to try anyway. At first I was proven right. The Sennheiser, Panasonic, and Technics earbuds all had really good sound quality but such poor noise cancellation that I couldn't reliably guess when it was on or off, even on a plane. My last pair to test was the Sony set and I was blown away at how well they block sound.
They are comfortable, though not nearly as comfortable as the custom in ear monitors. The battery life is good, the sound quality is very good, and the ANC is great. I still carry my custom IEMs in my bag and haven't decided which will ultimately win the battle, but if I were just going off value, the Sony's are an easy win.
Buy at Amazon
Cables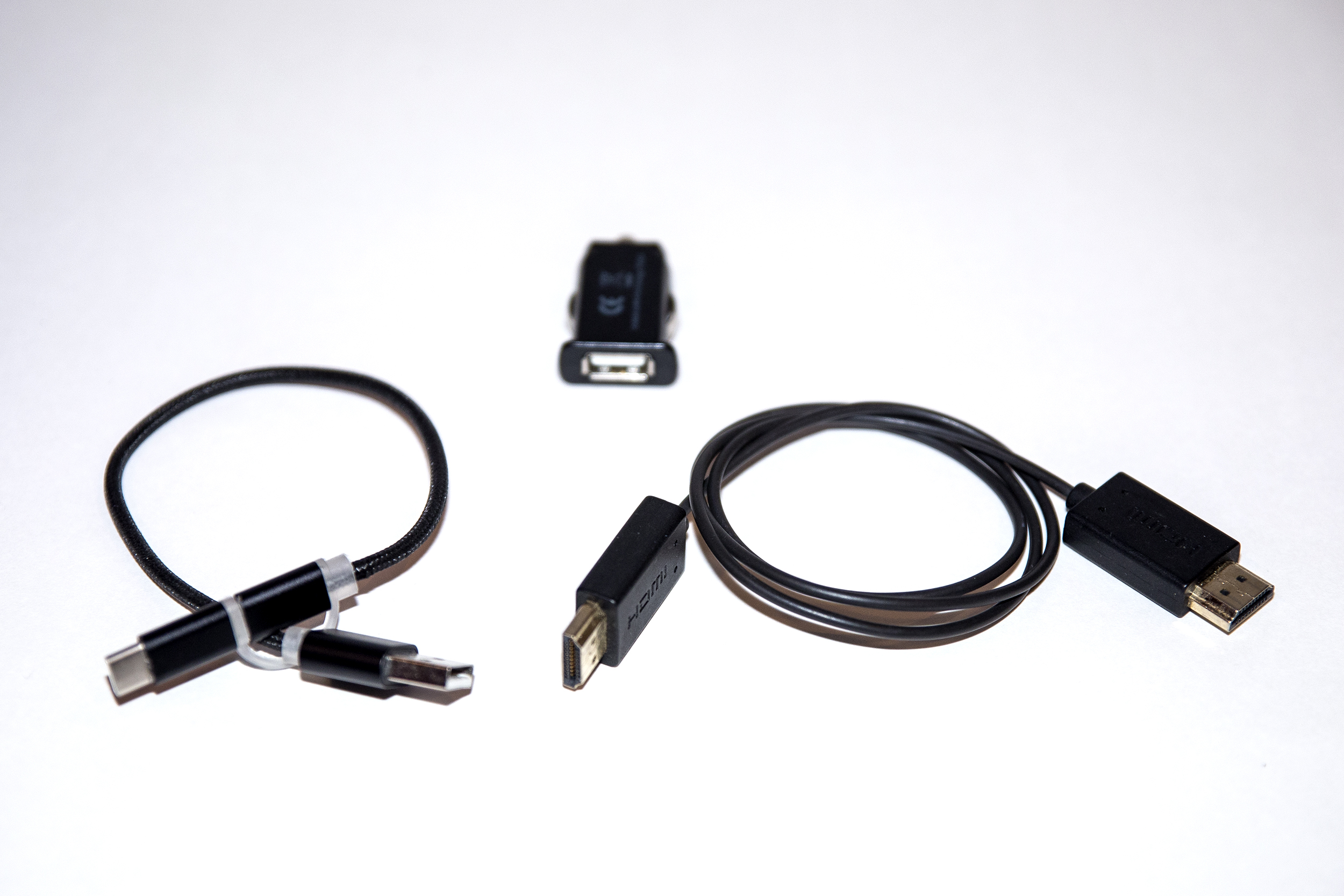 Here's my collection of cables. The first is a very thin HDMI cable. I've had mine forever, but I think it will probably be taken out of my bag soon because I rarely use it. The car adapter is such a genius invention that I have no idea why it was discontinued. It's flat and compact and puts out 2.4A. I hope I never lose it. The third cable is just a random USB to micro / C cable.
Incense Holder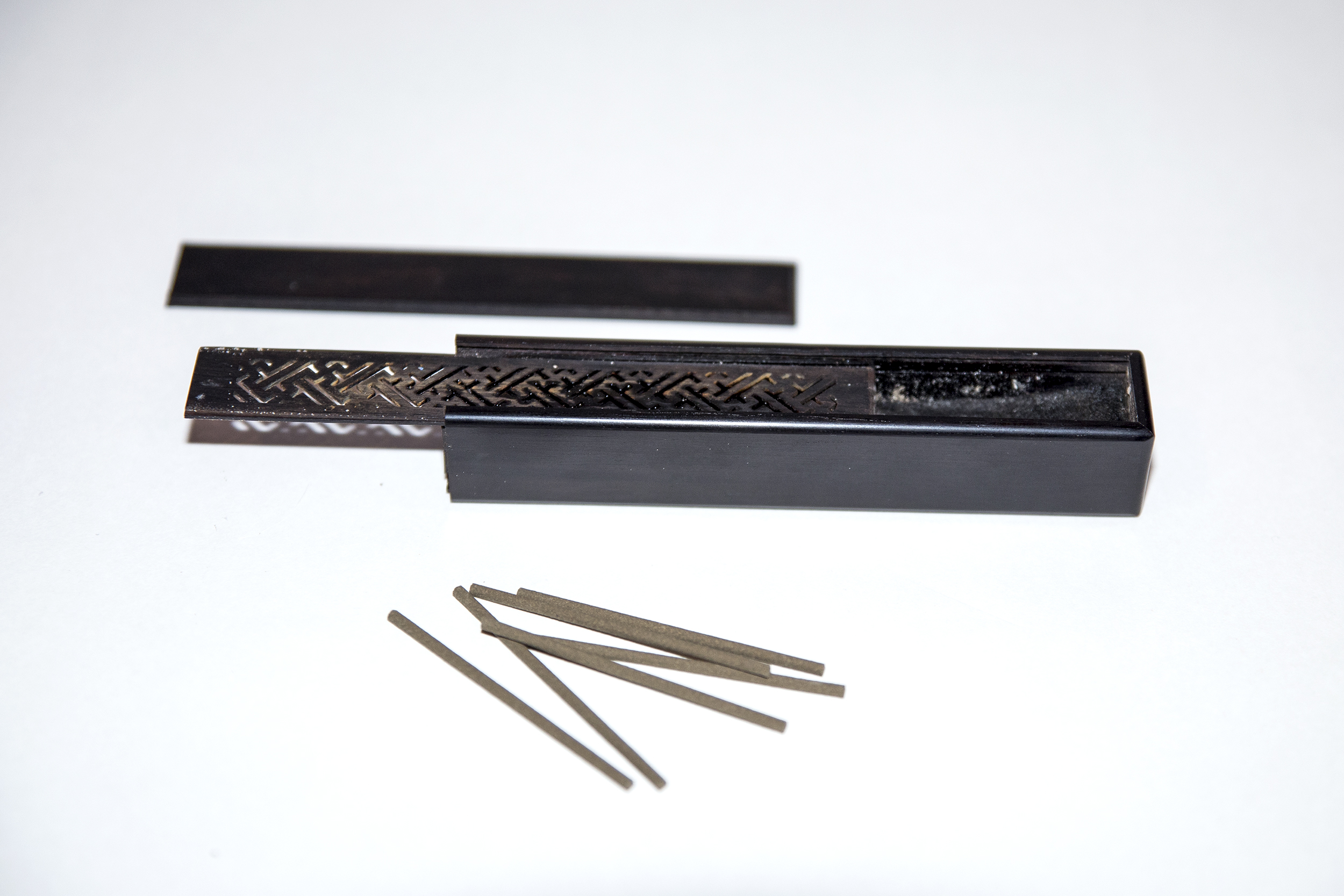 During a two or three hour tea session in Shanghai the girl making the tea handed me a long thin wooden box and told me to try to open it. It took a couple tries, but when I got it open I saw that it wasns't just a puzzle box, it was an incense holder. I bought it, not because I ever burn incense, but because it was such a cool little box. Fast forward a year or two later and now I'm really into incense and carry the incense holder around everywhere. I didn't think that I liked incense all that much, but through some experimentation I found Jnkoh Juzan, which smells amazing.
I don't know how you can find the incense holder, unfortunately.
Bolt Lighter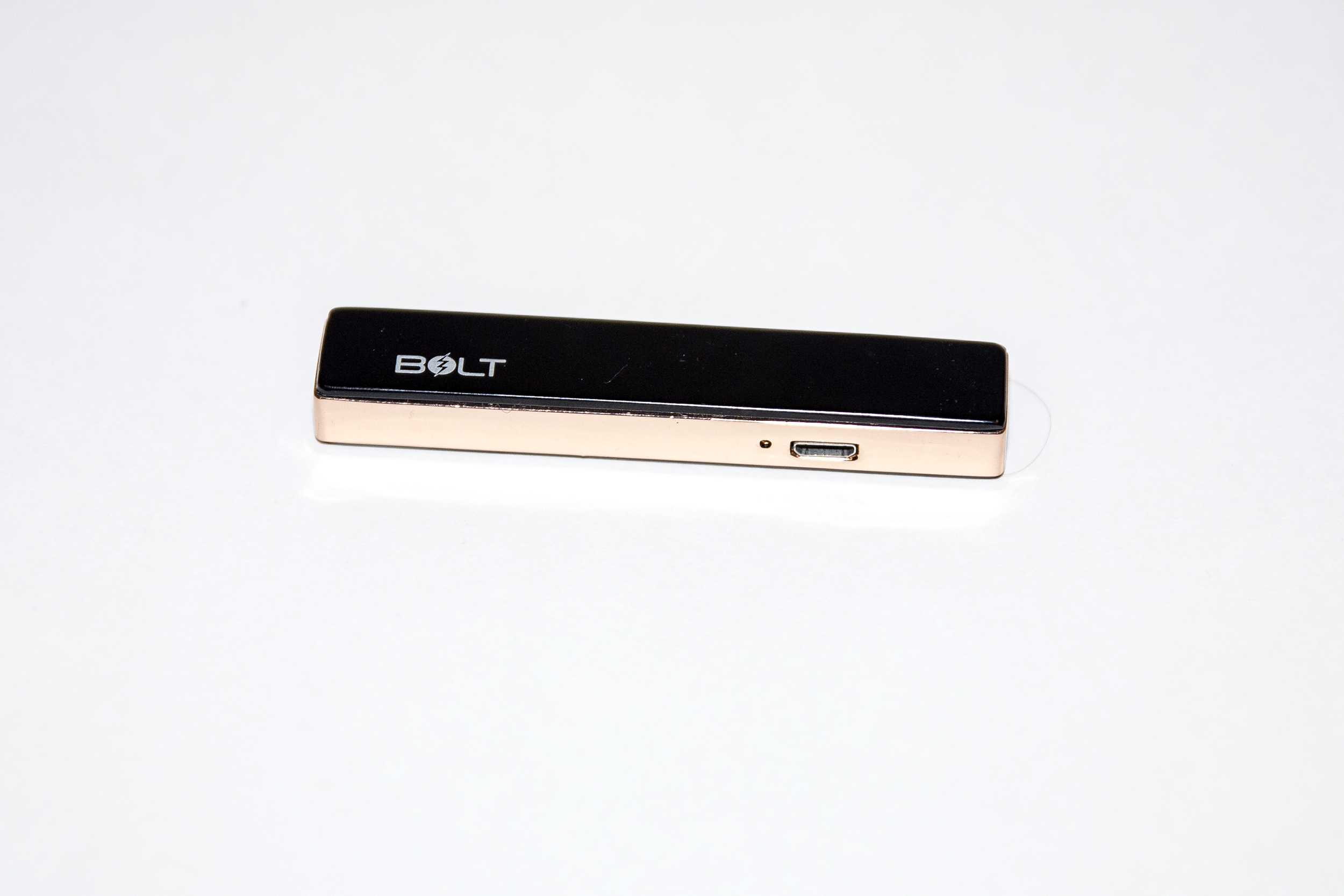 To make the incense easy to light while traveling I bought a Bolt USB cigarette lighter. It's rechargeable by USB, works pretty well, and is nice and compact.
Buy at Amazon
KeySmart SC1 AirKeys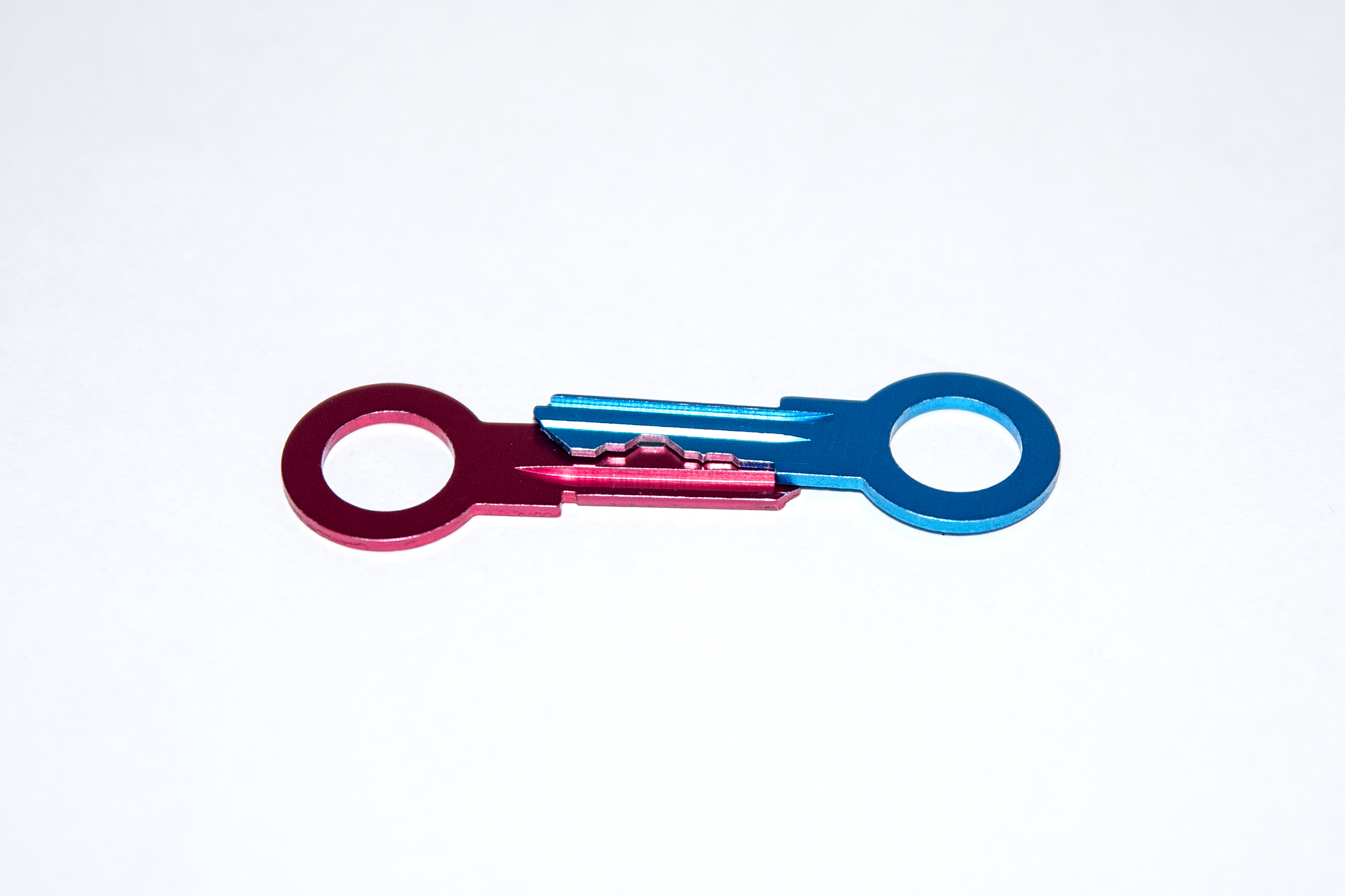 With all of our shared properties around the world I've ended up with a decent collection of keys. In some places we have key lockers or electronic locks, but I like to have physical keys just in case. They were starting to get a bit heavy so I replaced all of them with aluminum keys, which are far lighter. Do I really notice the difference in my backpack? Not really, but every little bit adds up. You can get these at Home Depot or Lowes and the MinuteKey kiosks in some of those stores also have some aluminum keys.
Bonus – Oculus Quest 2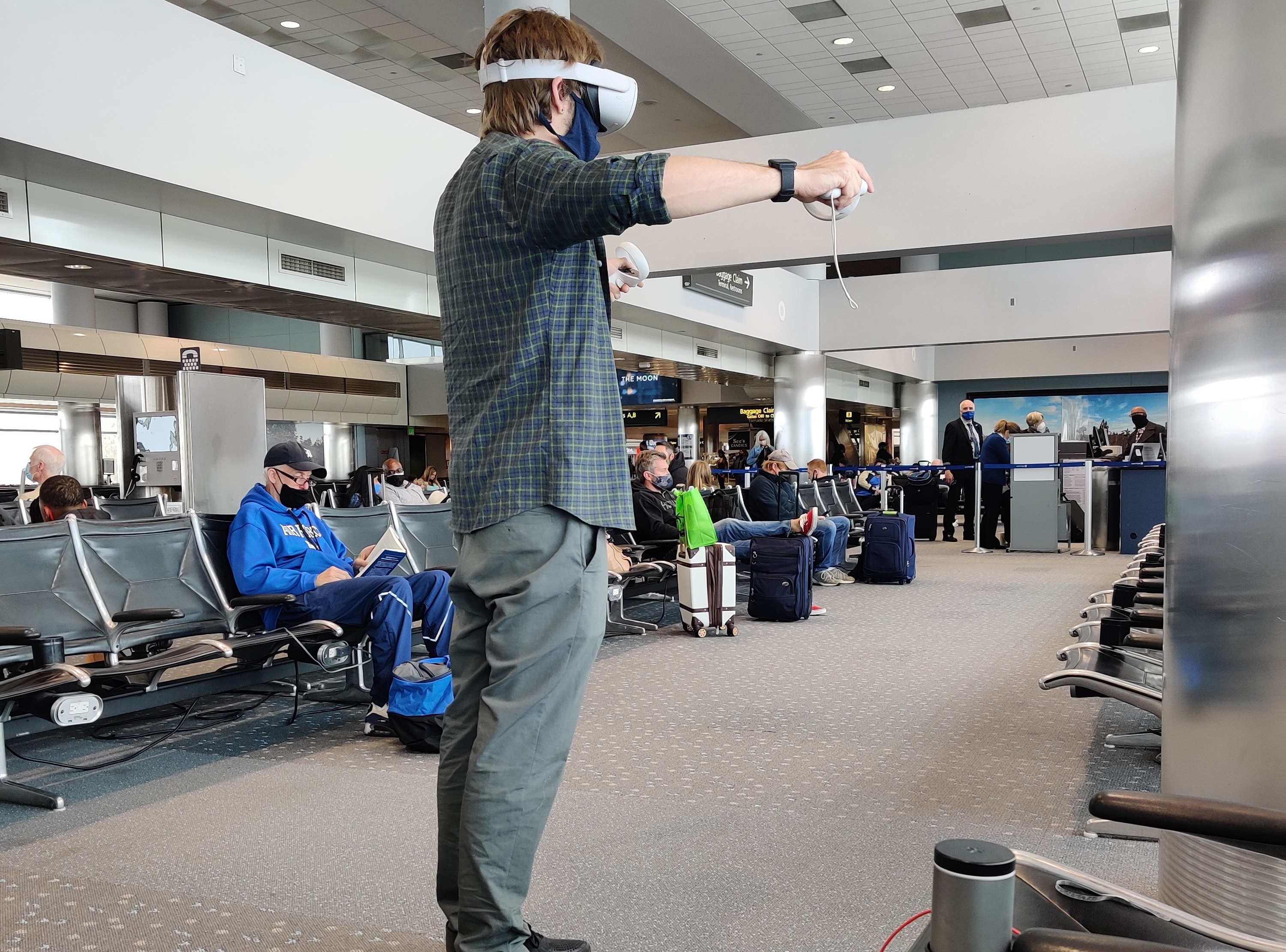 I don't really think I'll still be carrying this a year from now, but for the past few trips I've brought my Oculus Quest 2 along with me on trips and I love having it. I've played Walkabout Minigolf and Population One at the gate during a layover and Tetris Effect and Pixel Ripped 1995 on the plane. Tetris in VR on a plane is a really great way to make the hours go by. I also experimented with watching TV shows on the plane in VR and it's a pretty wild experience to feel like you have a whole theater to yourself.
I forgot to get a photo of the oculus, so instead I have a photo of me playing Population One at a gate.
Buy at Amazon
Summary

There were only 3-4 changes this year, but that probably means that next year will have more, as there will be more options for upgrades when I start packing and looking for improvements. I also have a few ideas for 3D printed things that could make life a little bit easier. I'm glad that this year I switched from a rather niche headphone to an inexpensive one. Usually my gear post gets a little less practical for the average traveler each year.