Welcome to the 2016 Gear Post! This is my most anticipated post of the year, which means that it's the one I'm harrassed about the most. Due to popular request, I did individual photos for each item, which takes considerably longer to do. My curent backpack weight is around 10.5 pounds, and as you probably know, this is everything I take with me to 20+ countries per year. A huge thank you to the people who buy items through my Amazon links (which fund more experimentation for the next year) and to all of the companies that give me free products to evaluate.
If you are one of the many travelers who bases your own packing list off mine, consider linking to this post.
CLOTHING
My main criteria when choosing clothing is versatility. I need clothing rugged enough that I can blaze trails on the island, yet formal enough for nice dinners. For many years this balance was impossible to strike, so I opted for rugged clothes that got the job done but made me look like a confused alpinist. Now such great options exist that most people don't realize just how versatile my clothing is.
I don't travel full time, but I keep the same wardrobe even when I'm at home. I have one dress shirt, one t-shirt, one pair of pants, one pair of shorts, two pair of underwear, and a few pairs of socks. This has been my clothing allocation for the past seven years or so, and it feels normal. No one really even noticed, and I've suffered no negative consequences from having such a small wardrobe. On the other hand, I never have to think about what to wear, which makes my life very convenient.
Everything I wear is wool. Even if you don't like the clothing that I've chosen, I suggest that you search within the domain of wool clothing to find something you like. It's durable, warm when it's cold out, warm when wet, cool in the summer, it repels stains, and it takes forever to smell bad.
1. Wool and Prince Shirt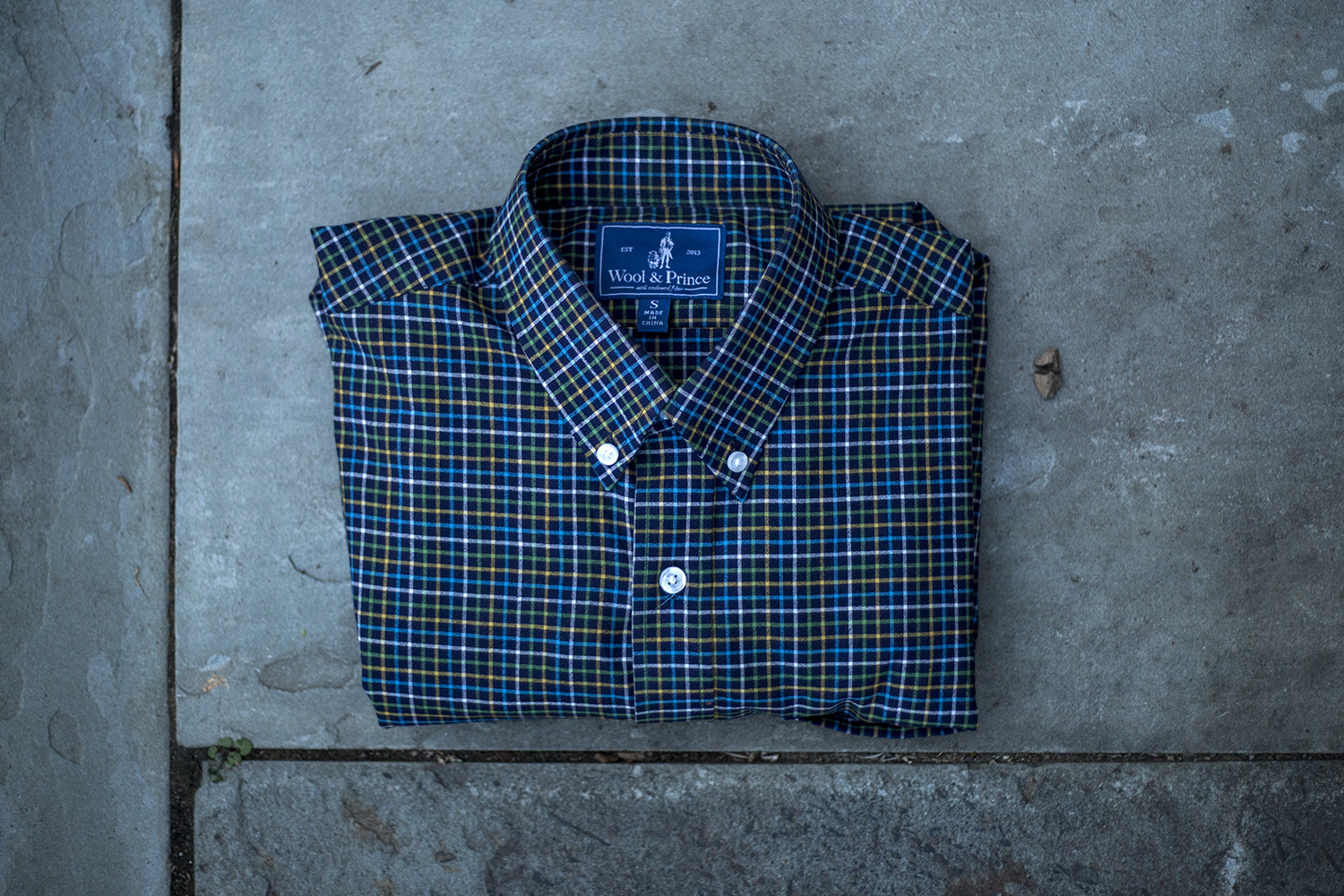 The Wool and Prince button-down shirt was the shirt that finally enabled me to look like a functioning member of society. It has enough range of motion for me to be active, but it looks crisp enough for fancy dinners. The fit is great, the quality of materials is excellent, and they keep making cool new patterns every year. These shirts are expensive– $128 as I write this, but one shirt can be worn every day of the week, which makes them a good value in my book.
2. Makers and Riders Wool Jeans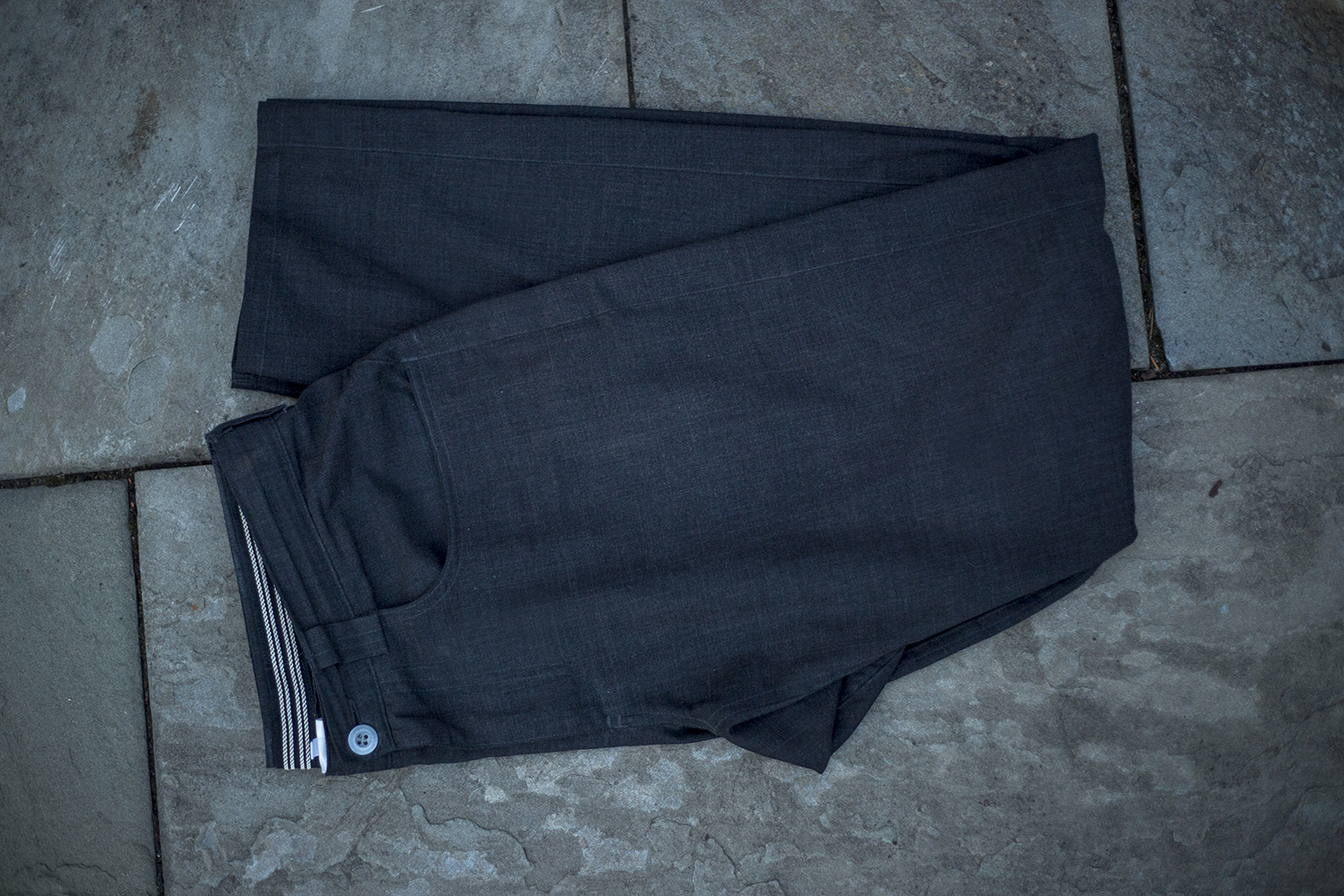 Finally, a pair of pants that I can recommend that you can actually buy! I first saw these worn on a cruise by my friend Kai. They looked great and ha raved about them. I intended on buying a pair when I got back, but I was pleasantly surprised by a cold email from the founder offering to send me a pair. I put them on and haven't worn other pants since. Unfortunately I also got industrial glue on them and have a small permanent stain.
The material is really great– it seems to be even more durable than my old Versace jeans, probably because it's 50% Wool and 50% synthetic. I also think the charcoal color is a bit more versatile. I recommend them completely, although I do hope in the next version they make the back pockets a little bit deeper so that they can securely hold a passport. I'm also concerned that the lightweight mesh that lines the front pockets might not hold up to extended wear, but that hasn't caused any problems in the six months I've been wearing them.
3. Wool and Prince Shorts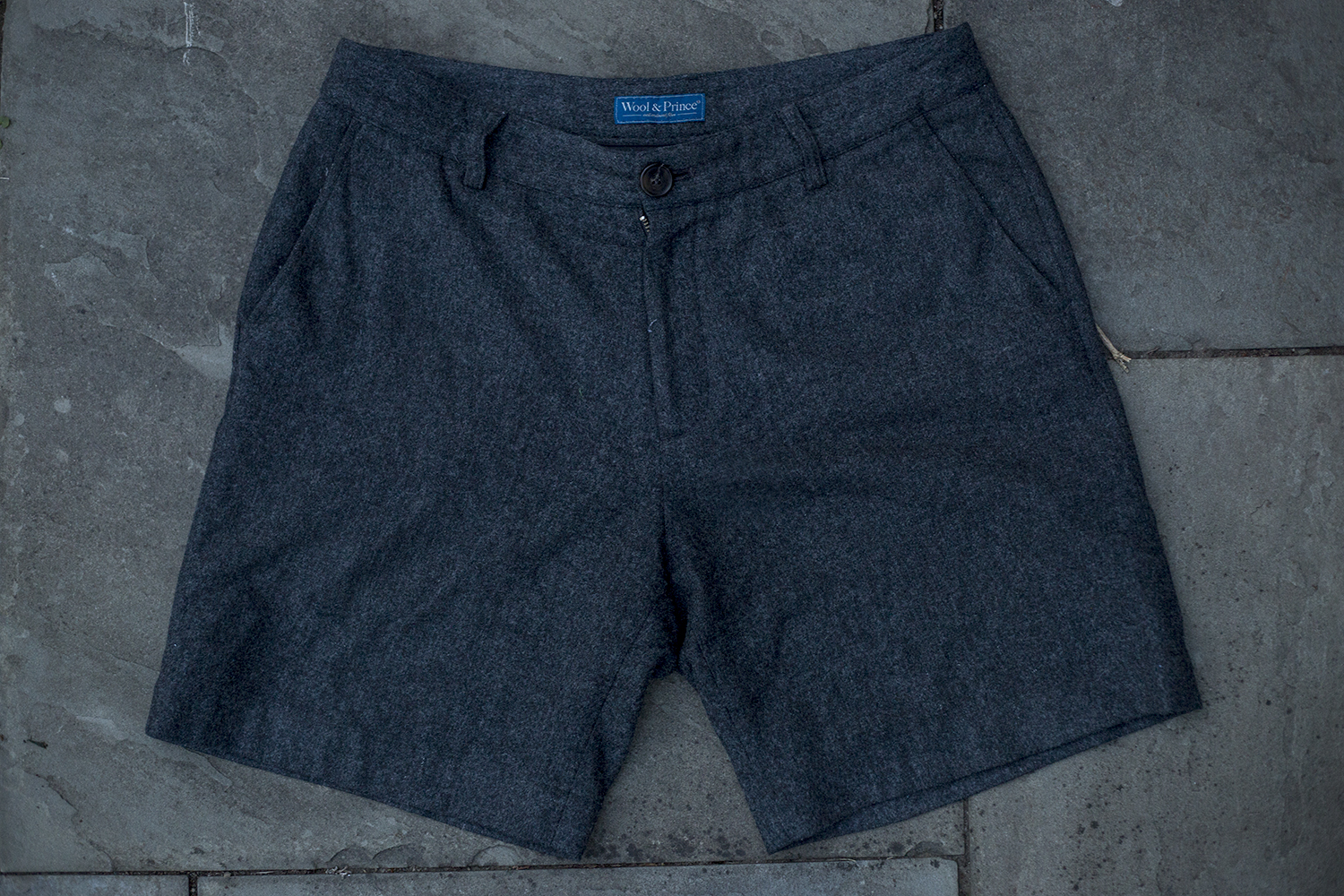 I have some issues with these shorts– I wish they were a thinner material, and my first pair wore out pretty quickly. But I keep them because I can wear them both as gym shorts and with my button-down shirt in hot weather. They don't make them anymore, though, so you're on your own until I find something new next year.
Discontinued
4. Icebreaker Anatomica V-Neck shirt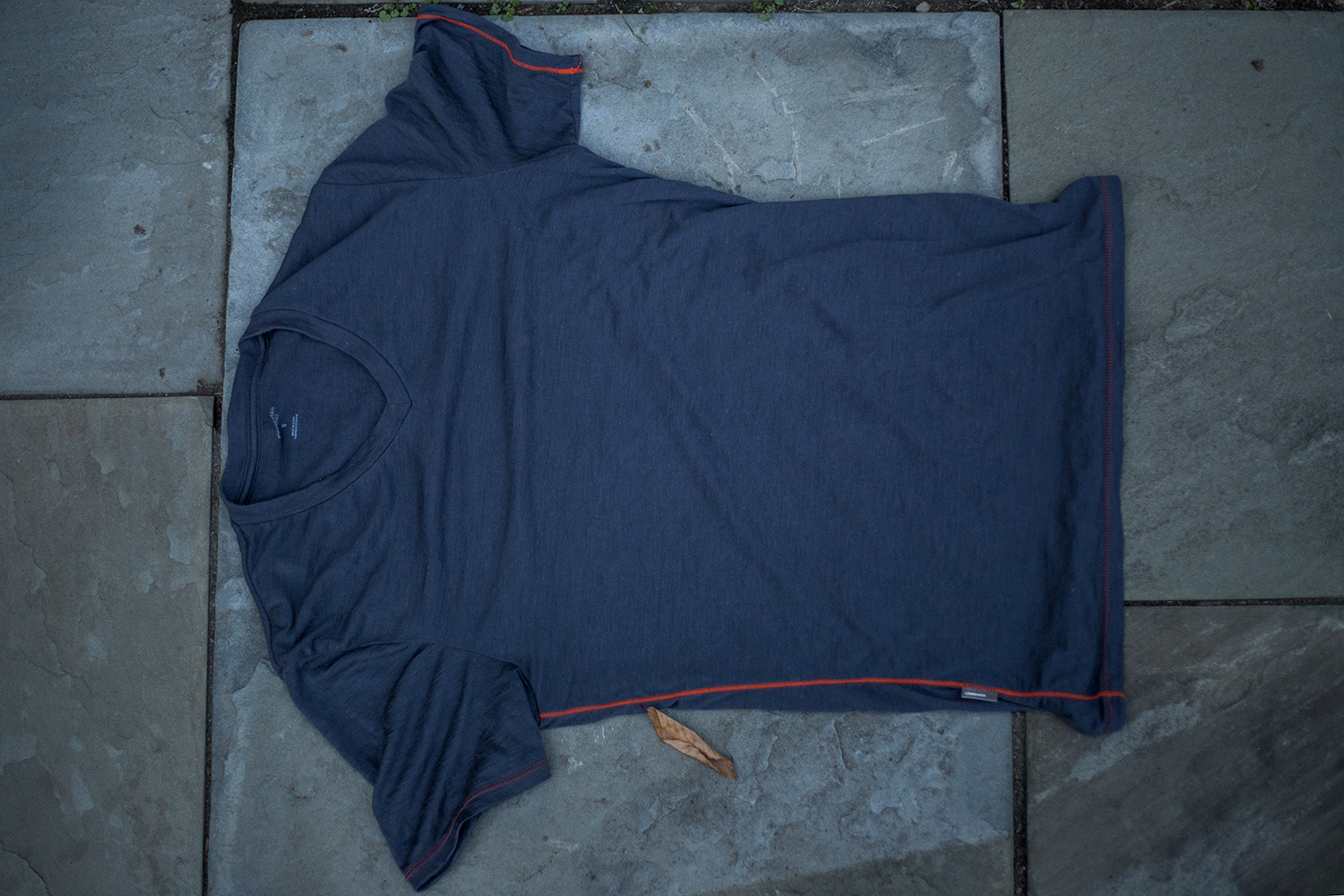 This shirt has been on my list forever. I used to wear it as my only shirt before the Wool and Prince one was created, but now I mostly wear it to the gym. I do like that it's stylish enough that if I'm drying my other shirt I can wear it in most scenarios.
5. Icebreaker Anatomica Briefs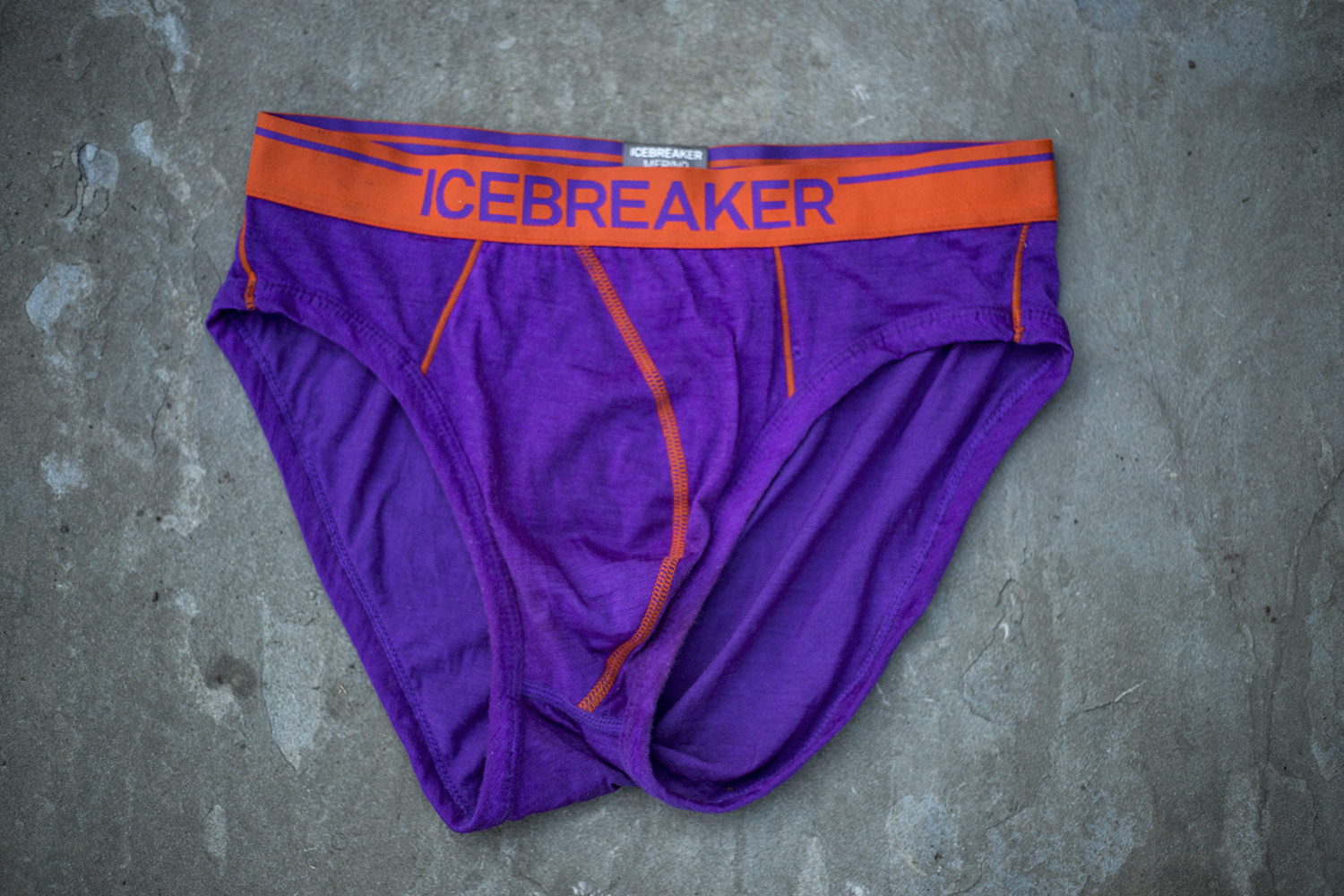 I have two pairs of these, and I love how quickly I can wash and dry them in the shower. They're comfortable and minimal, but they do tend to wear out once per year. I guess 180 wearings of each isn't the worst lifespan, though.
6. Smartwool Hide and Seek Socks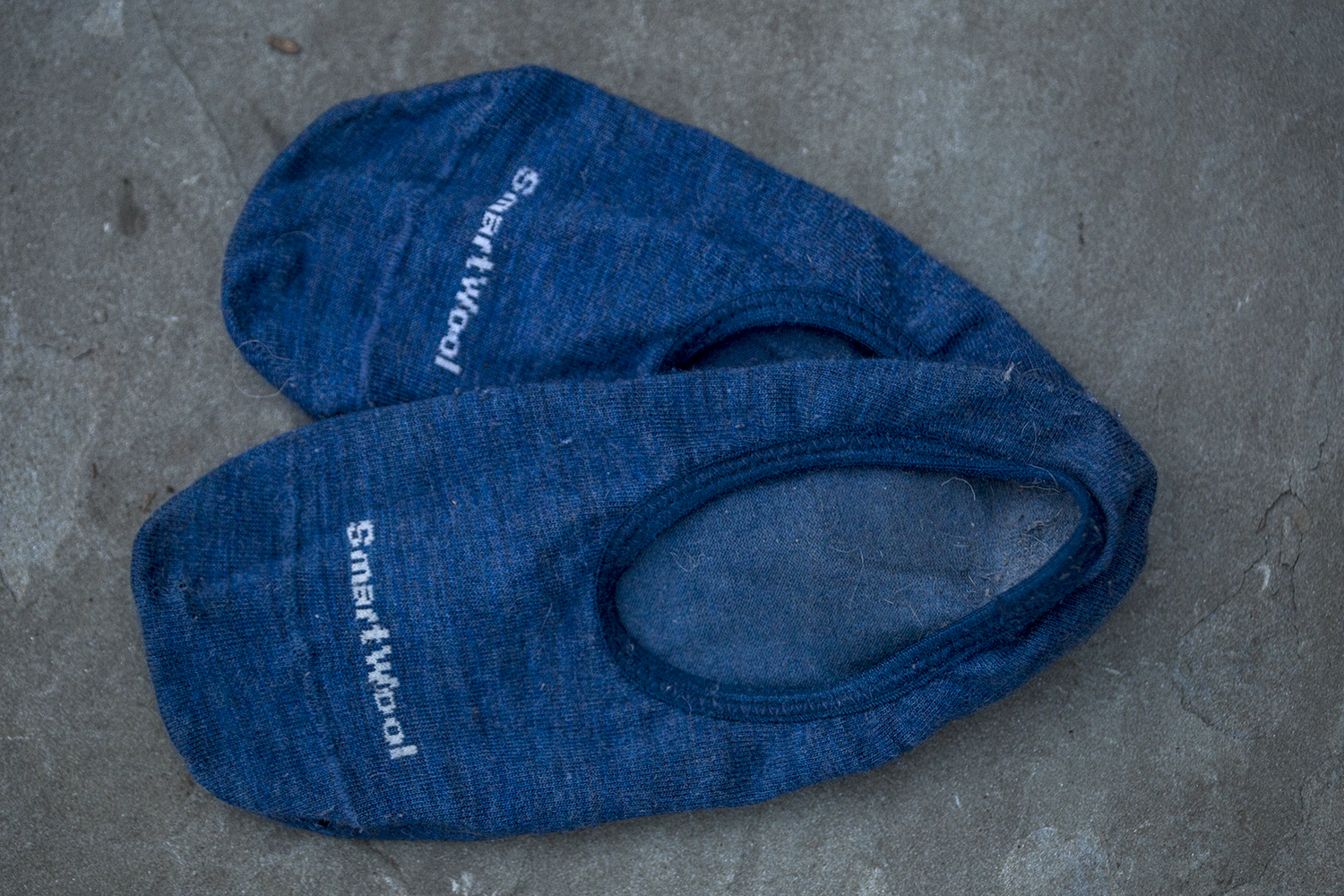 These are technically for women, but you can join the growing revolution of men who wear them too. They're super easy to get on and off, and the large foot opening makes them much quicker to dry than any other socks I've had. I personally hate socks, but I find these acceptable because they're so easy to deal with.
7. Montbell Plasma 1000 (Japanese)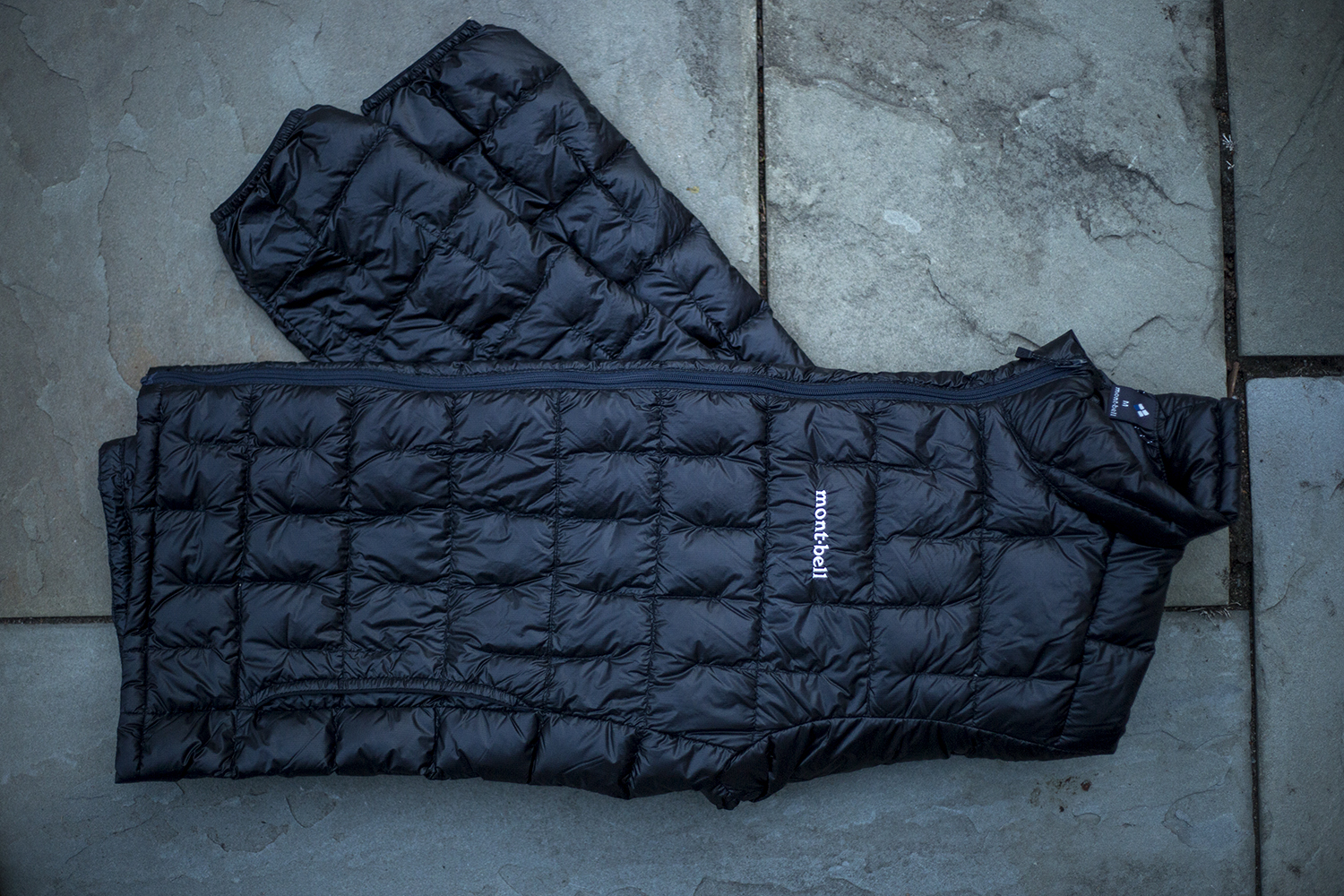 Because it was on sale, I previously bought a women's aqua-blue Montbell Plasma. Several people told me that it was a terrible color for me, so I decided to buy a new one when I was in Japan. Montbell is actually a Japanese company and the dollar is strong, so it's cheaper if you buy it there (and you can get your tax back if you buy it in Marui in Ikebukuro).
But besides being cheaper in Japan, they also have pockets in Japan. Cool!
Whether you get the pocketed one in Japan or the regular one here in the US, this jacket is extraordinarily light and warm enough. I wear it all the way through the winter and it's kept me warm even when skiing. There are warmer jackets, of course, but I've found that there are few normal situations that require them.
If you want a slightly cheaper option, go with the Montbell Ex-light. It's the same warmth, but a little bit heavier.
8. Patagonia Alpine Houdini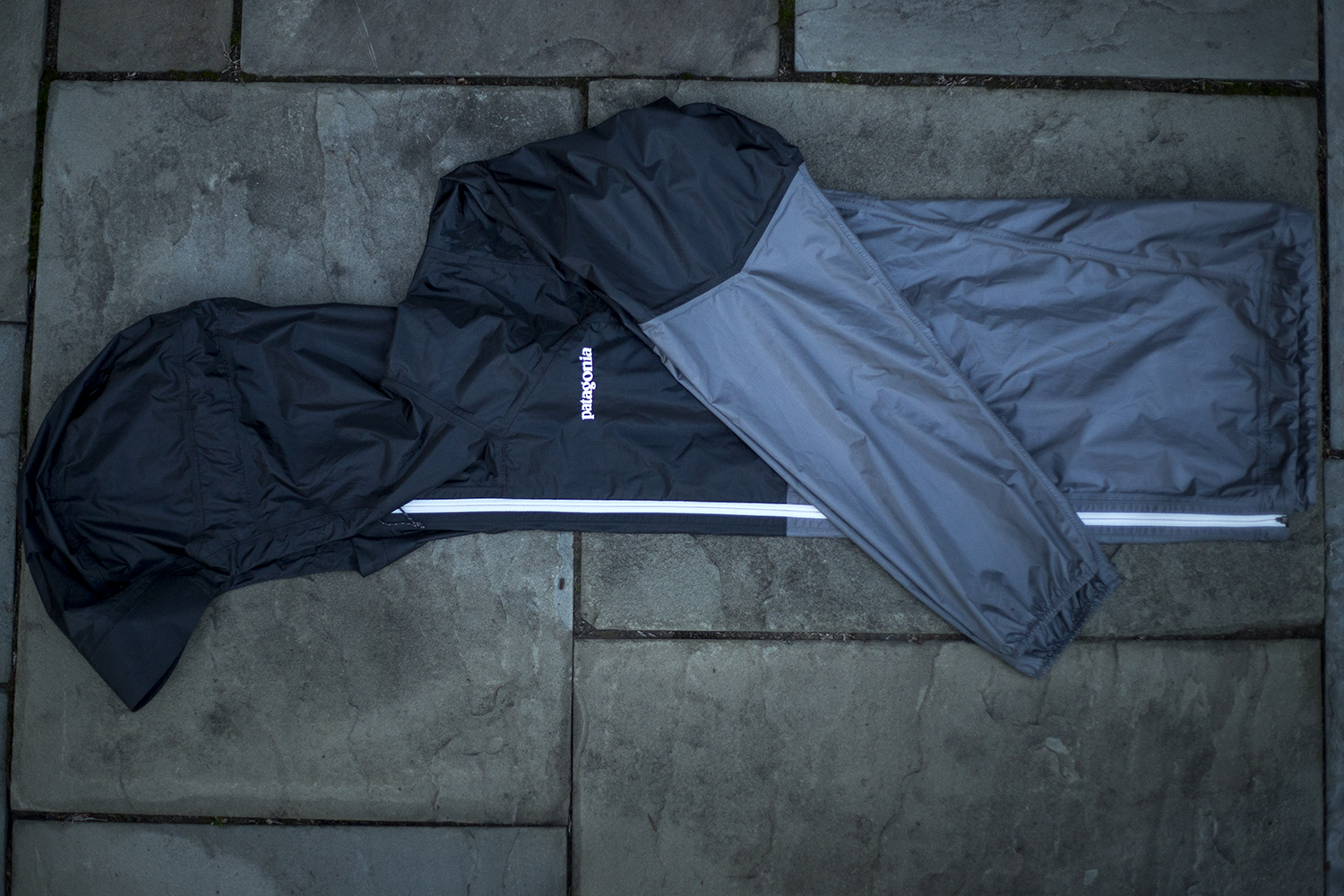 I originally bought the Montane Featherlight Smock because it is the lightest rain shell in the world. To save weight they use only a half zipper, so that you have to pull it over your head to put it on or take it off. It worked great, but proved to be a little bit annoying to deal with.
Instead I got the Patagonia Alpine Houdini, which is 6.6 ounces, a full ounce heavier than the Montane. I like that it has a really robust hood and stuffs into its own pocket. Unlike most gear like this, the fit in the pocket is really tight, so you get to absolutely minimize the amount of space it takes up when stored.
9. Wool Buff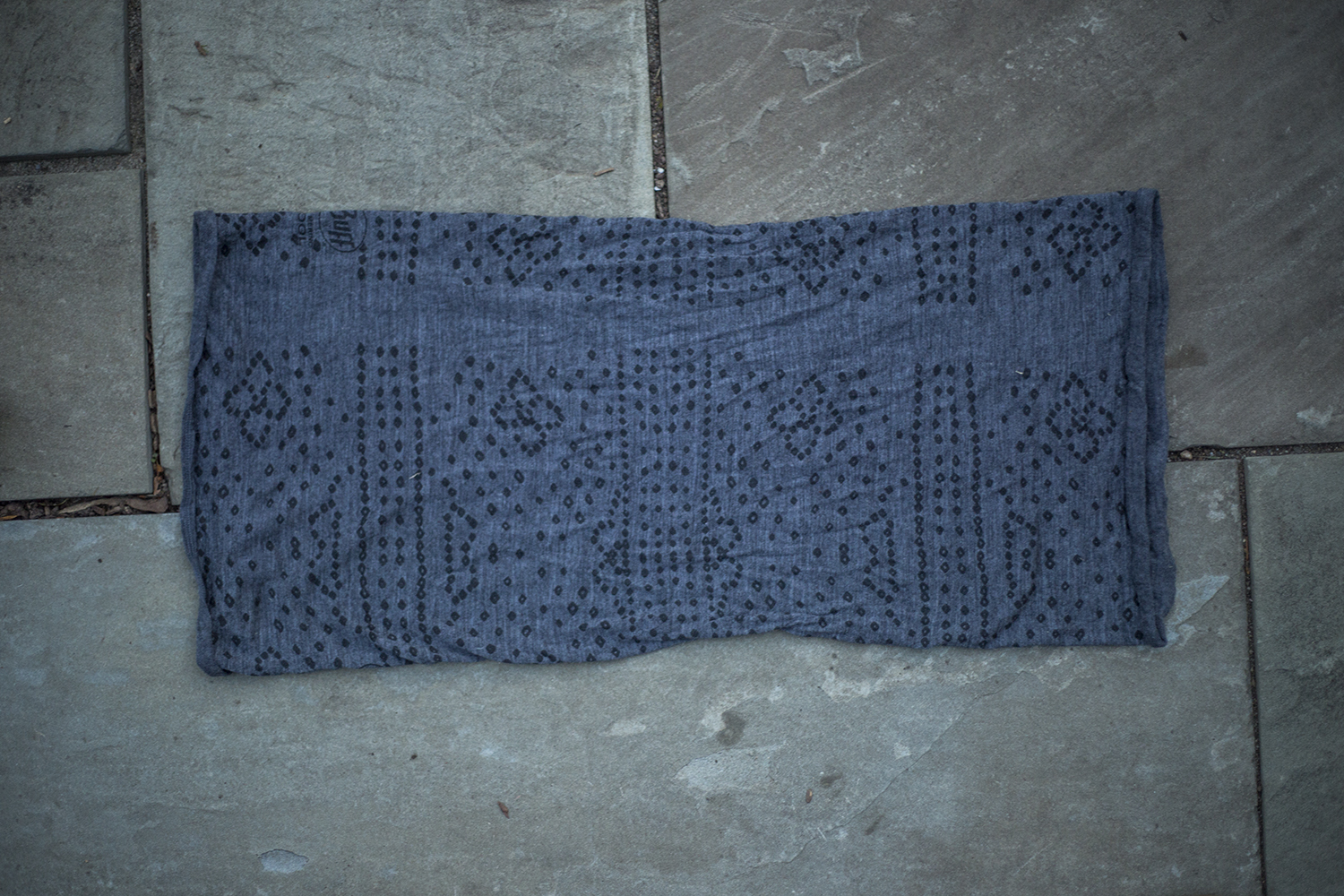 The wool buff is just a tube of soft wool, but it can be used as a neck warmer, hat, or tube top (last claim is unverified). I've also used it as a towel in a pinch, and as a pillowcase. Usually, though, it serves as a hat when it's cold out. The method of turning it into a hat involves doubling it up, so it's actually quite warm.
10. Bathing Suit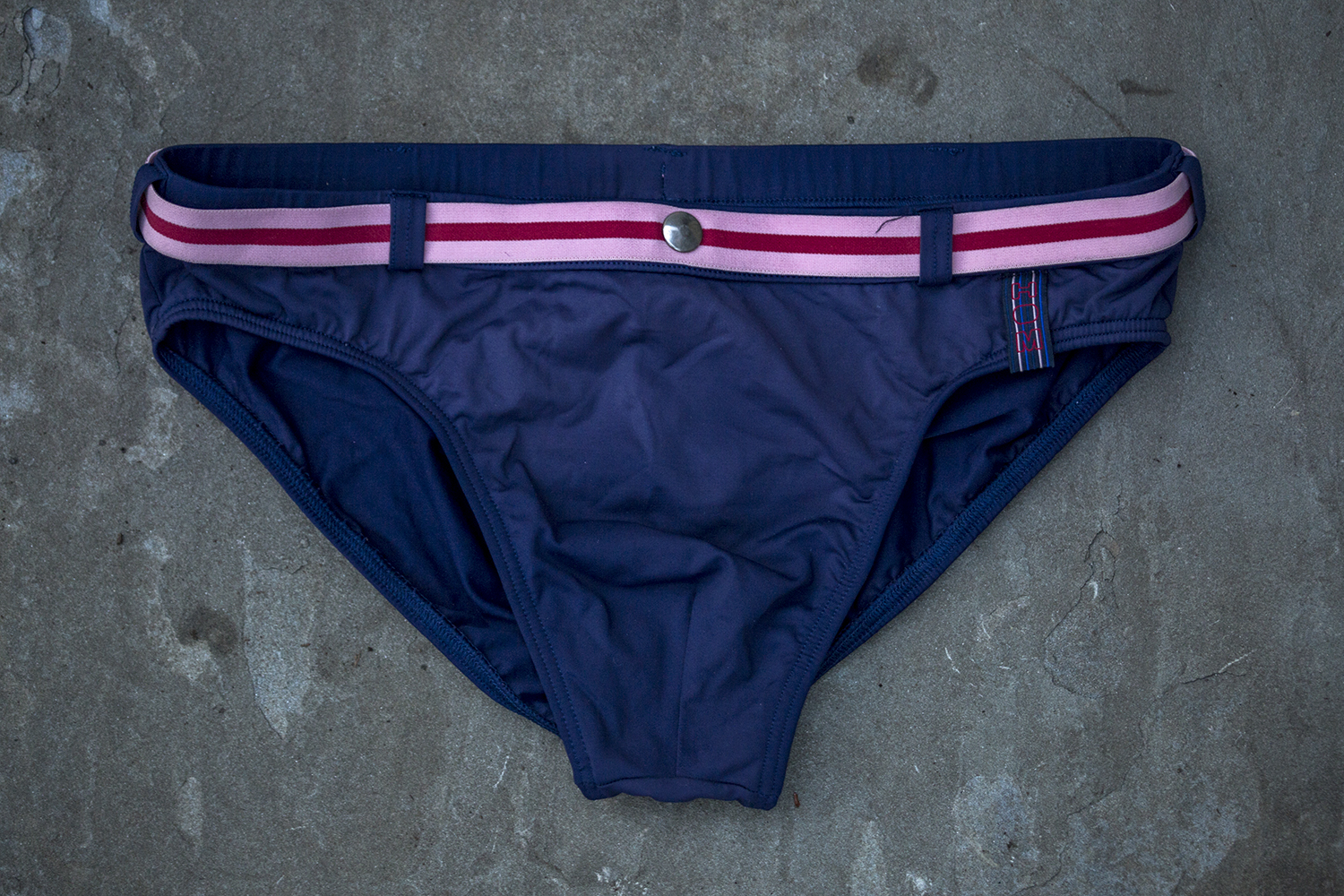 Maybe not the best recommendation, but I generally just try to get the most hilarious brief-style bathing suits. They are ridiculed in America, accepted as normal in Europe, and considered slightly offensive in South America. I like that they take up the bare minimum amount of space.
The most hilarious versions are available at PistolPete's (NSFW)
11. Omega Seamaster GMT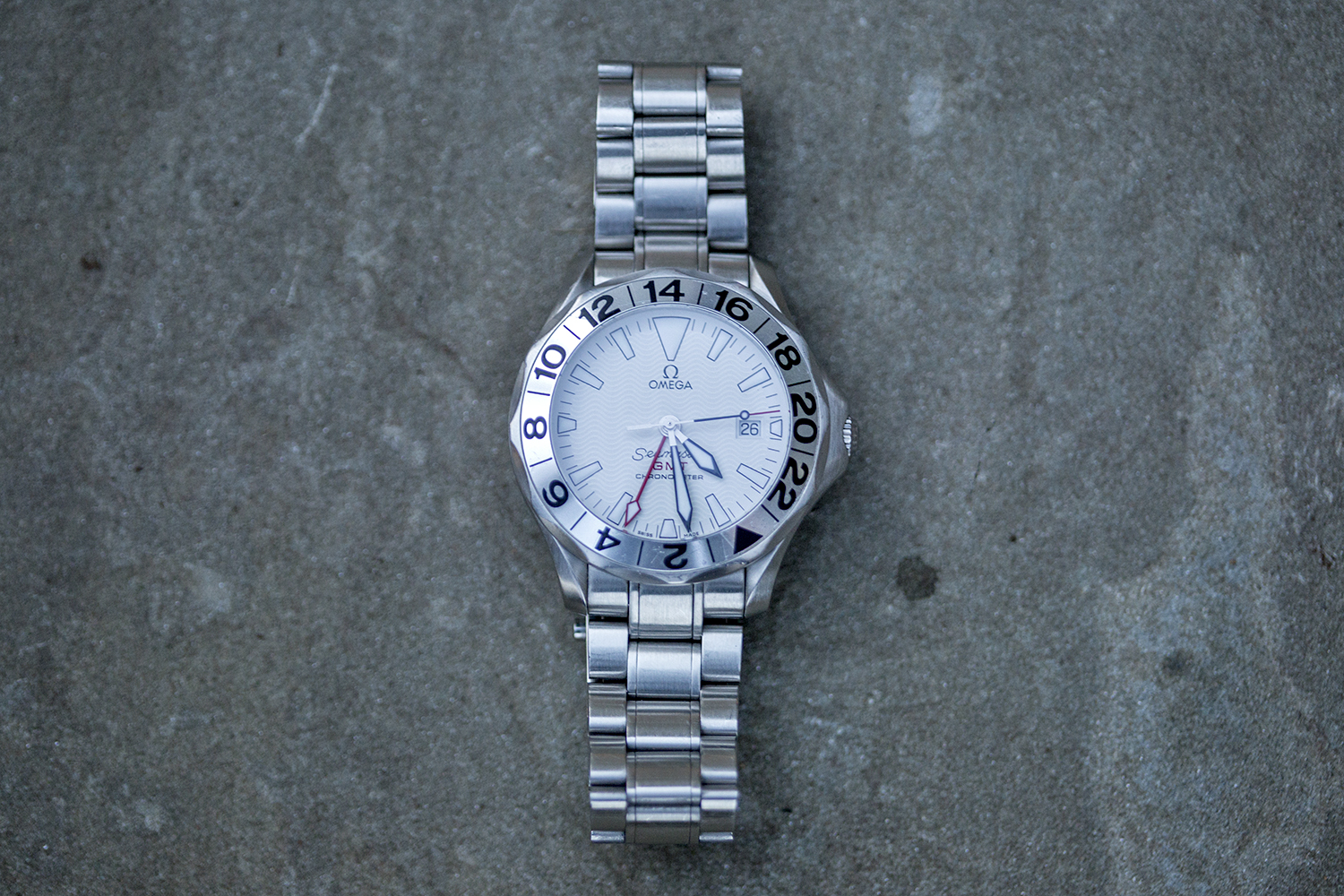 I love my Rolex Datejust, but three round the world trips within the same amount of months had me wanting something that could keep track of multiple time zones and make those switches easier. I did a lot of research and discovered the Omega Seamaster GMT.
Omega is right up there with Rolex in terms of quality and durability, but their GMT watch is much less expensive than Rolex's GMT.
GMT watches have a fourth hand that goes around the dial every twenty-four hours. It is set independently from the standard three-hand time reading, so you can always have it set for your home time.
The middle detente on the crown allows you to change the current hour in one-hour clicks without changing the minute or seconds. So when you change time zones you pull out the crown, click a few hours over, and then screw the crown back in. The small red hand stays the same and shows your home time.
This watch is also rated for 300M, so it can be worn for scuba diving. The bezel has twenty-four hours marked on it, meaning that you can rotate it to track a third time zone. I also use it as a timer by moving the arrow to the minute hand and then seeing how far the minute hand has moved away when I'm done timing.
I'm a big fan of automatic watches because I like that they never need new batteries, are extremely reliable, and look great. At the same time, there's nothing wrong with just getting a quartz watch. Having a cool automatic watch is basically just an indulgence.
I'm not convinced by all of the smart watches that are available these days. I had one of the first ones back in 1999 (Ruputer), and I like the concept, but I don't think the additional functionality is worth having an extra device to charge.
12. Ray-Ban Polarized Folding Wayfarer Sunglasses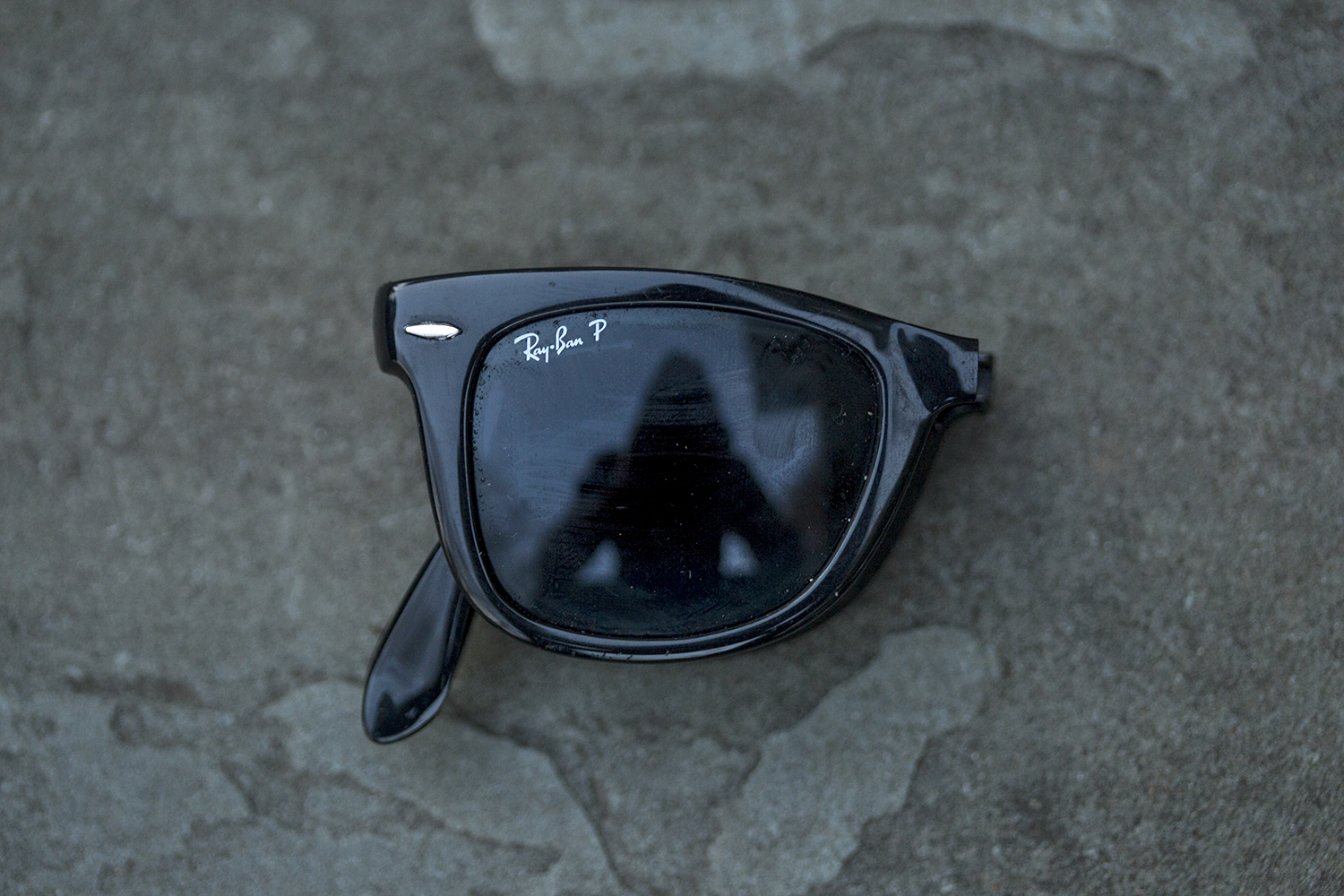 These have been on my list forever, and I've still found nothing better. Besides being compact and having high quality optics, I really like how easily they hook on to my pocket when they're not in use.
BACKPACK
13. Minaal Daily Backpack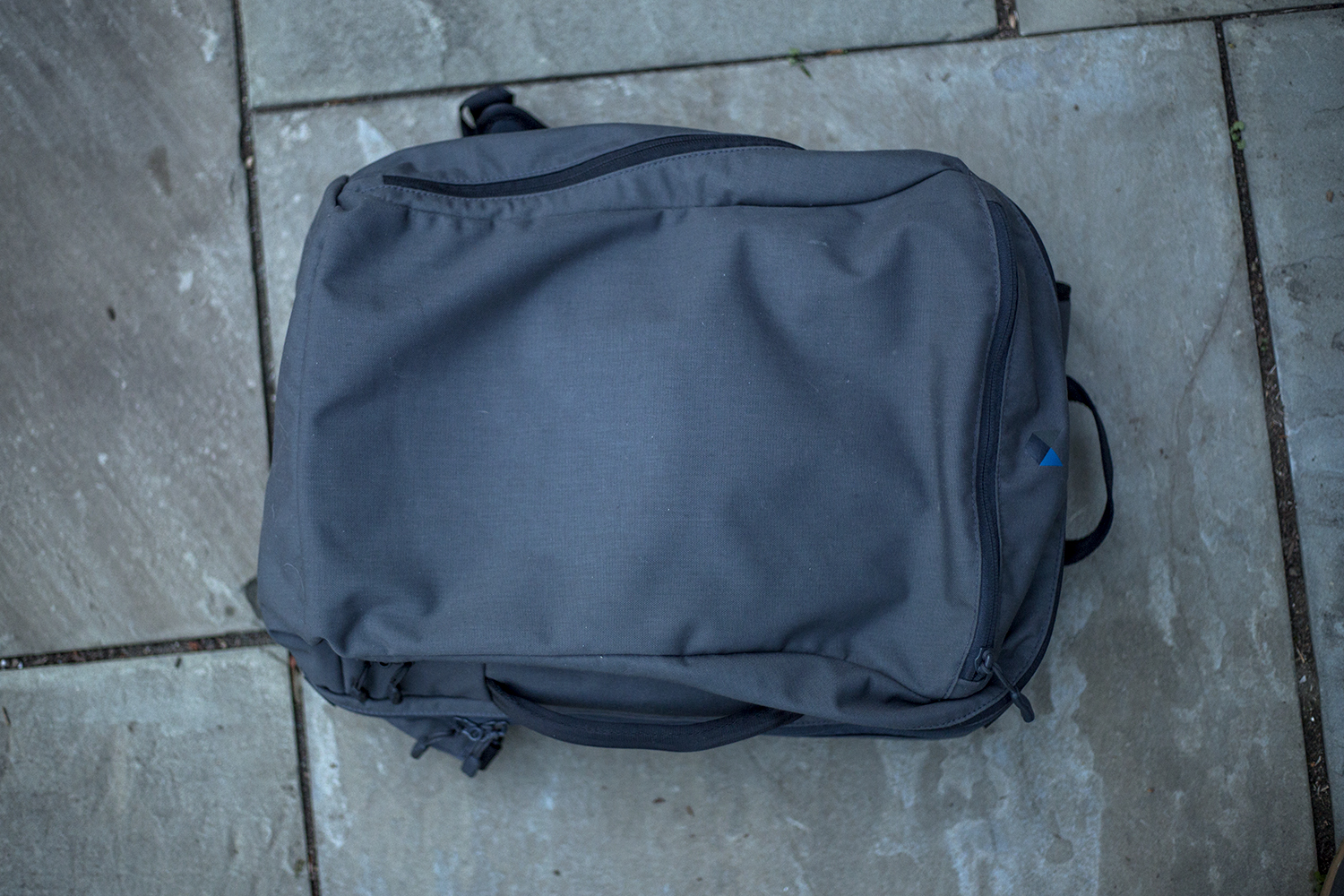 The Tom Bihn Synapse has finally been replaced! I'm friends with the guys who run Minaal, but their default bag was way too big for me. When the new daily bag came out, I was disappointed that it was 21 liters, 10% bigger than my existing bag. But I've been testing out the new Daily bag, and I've switched completely to it.
The best thing about the Minaal Daily is the build quality and attention to detail. It looks and feels incredibly solid, and is a pleasure to interact with. It has clean lines that look great in a wide variety of settings, and can be easily converted into briefcase mode where a backpack wouldn't be appropriate.
I was initially skeptical of the zip-all-the-way-flat feature, but it really does make packing the bag much easier, and is an even bigger boon when living out of your bag. Lay it down flat, unzip the whole top, take anything out of the bag without having to dig or disturb the rest, and then zip back up.
The interior organization pockets are all sized really well. One fits credit cards, one fits passports, another fits documents. Too often pockets are sized without any regard for real-life common objects.
I do have a few complaints, though. While I love having a separate laptop compartment, I don't like the neoprene sling. Laptops don't really need much protection, and I hate having to make sure the laptop slides into the right slot. I also wish that there was slightly more organized exterior organized storage. I understand that they want clean lines, but only the top-front pocket is immediately accessible, and it's just one big pocket.
Overall this is an upgrade over the Tom Bihn because the interior is much better organized and accessible, the materials and fit and finish are better, and the briefcase mode makes it look nicer in formal settings. I'd still love to see a 15-18L with lots of exterior organization, but for right now I'm loving my Minaal bag.
Kickstarter (Available for discount there. They never discount except Kickstarter)
14. Earth Runners Circadian X Sandals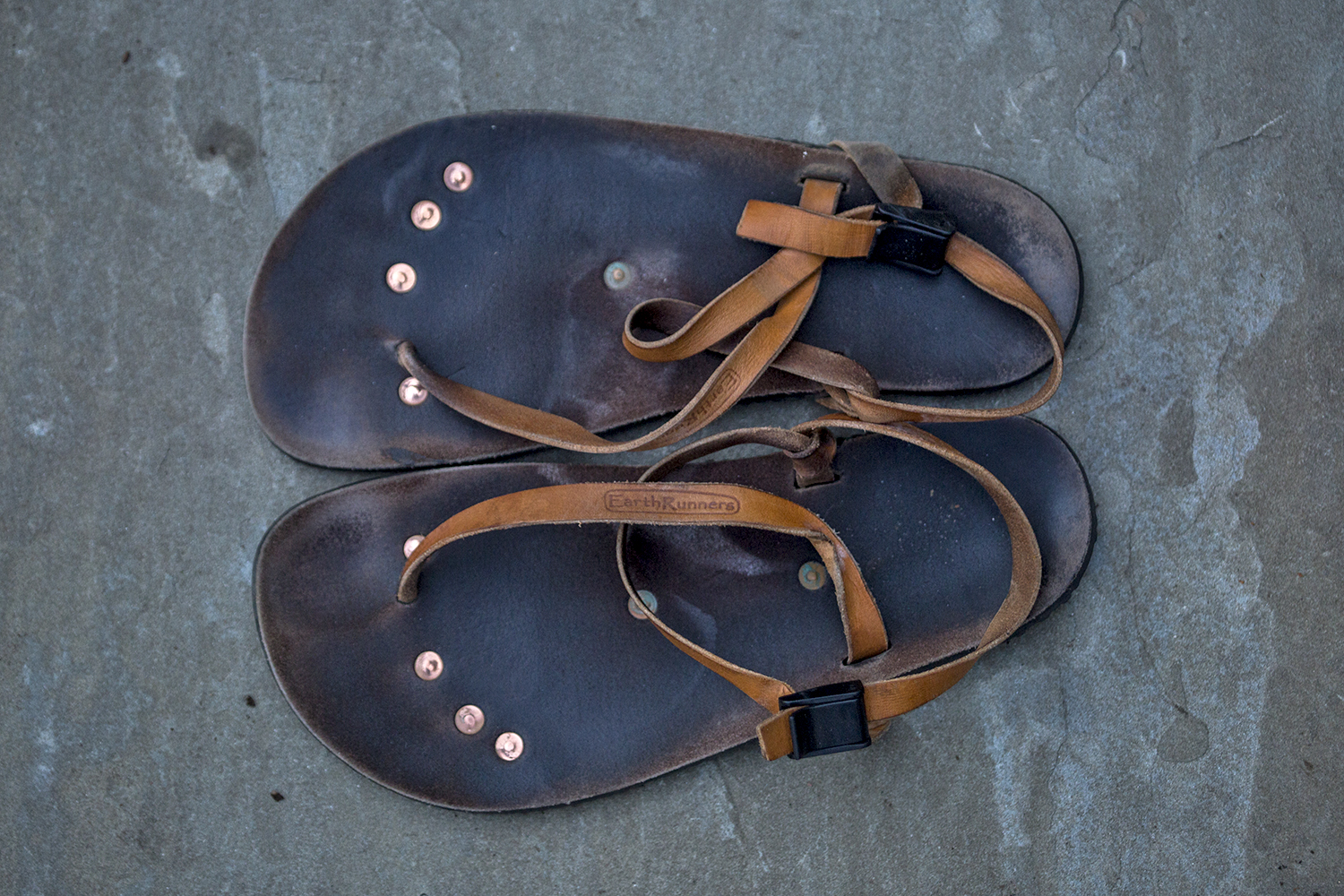 I'm wearing real shoes more and more, but having a slightly larger bag means that I can also carry my sandals. Besides using them in the summer and on the beach, I like having something that's easy to slip on and off. I like the Earth Runners because of the comfortable suede bed, and the very comfortable leather laces. As an added bonus, the copper inserts prevent me from getting static shocks.
15. Vivobarefoot Gobi II Hopewell Shoes
(forgot to take a picture)
The high-end leather Vivobarefoot shoes that I got last year ended up being massively disappointing. The soles separated from the shoe, and even though I glued them back together, they still separated again. I emailed Vivobarefoot and they gave me a 50% off coupon, so I tried the Gobi II Hopewell desert boots.
These are similar to the Hopewells, but I hope that they will last longer. I'm optimistic because they use the tried and true rubber sole rather than the fancy new leather one. So far they've held up perfectly and look just as good.
In general I choose lightweight "barefoot" shoes because I believe that they're better for posture and joints. I also like the wide toeboxes and being able to feel the texture of the ground below me.
TECHNOLOGY
16. Lenovo Lavie 360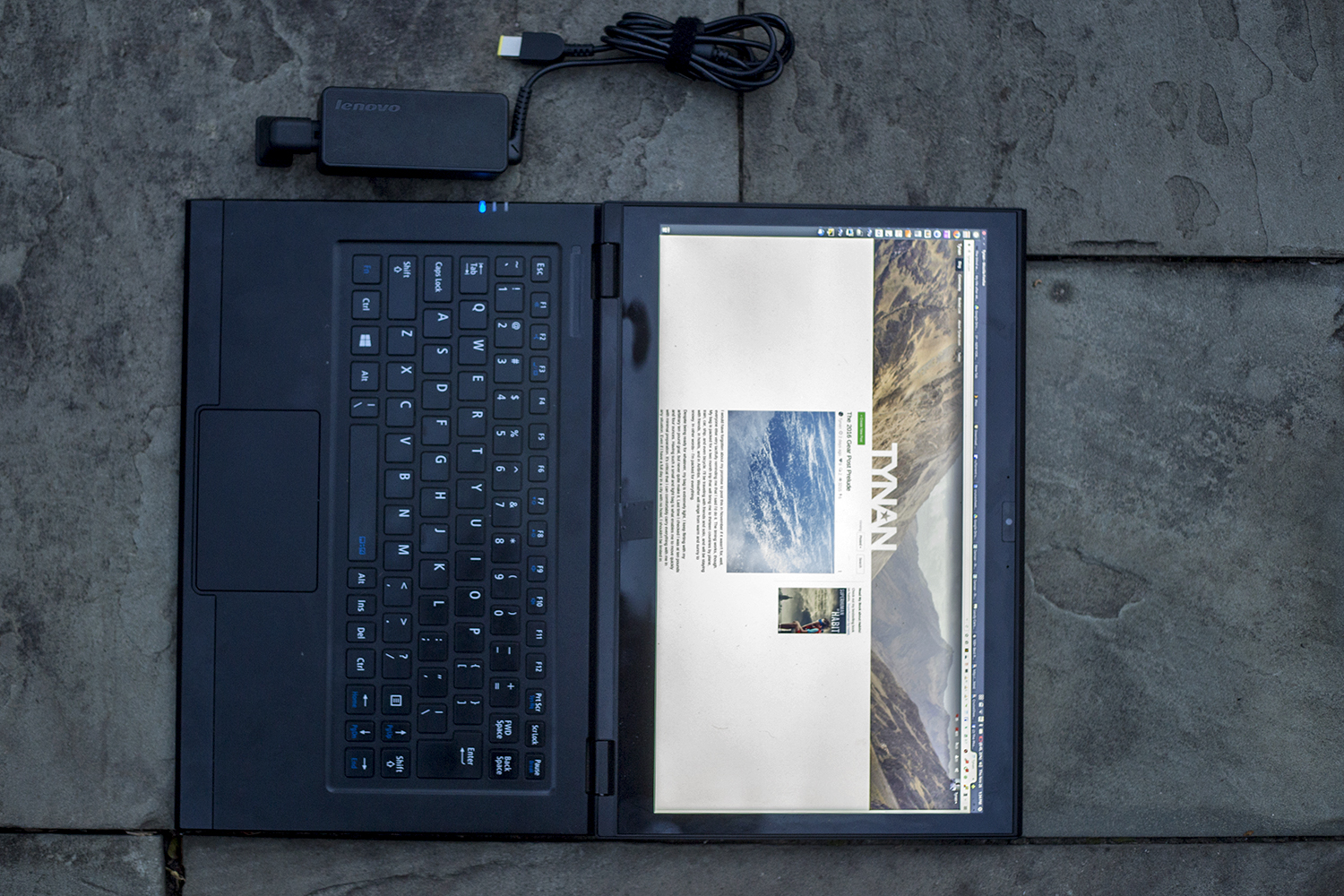 After two years, I finally upgraded my NEC Lavie to a… Lenovo Lavie. Lenovo took took the newer versions of the lightest laptop in the world, made by NEC, and licensed them in the United States.
If you've never heard of the Lavie, you don't know about the most portable full-function laptop in the world. The non convertible version is 1.87lb and the convertible is 2.04lb. For comparison, the ubiquitous 11.6″ Macbook Air is 2.38lb, significantly heavier than the 13.3″ convertible Lenovo. The 13.3″ Macbook is a good 50% heavier than the 13.3″ Lenovo convertible.
The laptop has an i7 processor, 8GB of RAM, and a 256GB SSD. All good stuff. The battery lasts 4-5 hours, which is okay but not exceptional.
I bought the convertible on a lark, but have discovered that it enables a flight loophole. Laptops are banned during takeoff, but tablets aren't. Fold it into tablet mode and no flight attendant will stop you. I've tested this on 8 takeoffs so far with no issues.
I also like that even though it has a US keyboard, it has all of the extra keys that the Japanese version has. You can remap them!
17. LG G4 Phone with T-Mobile Service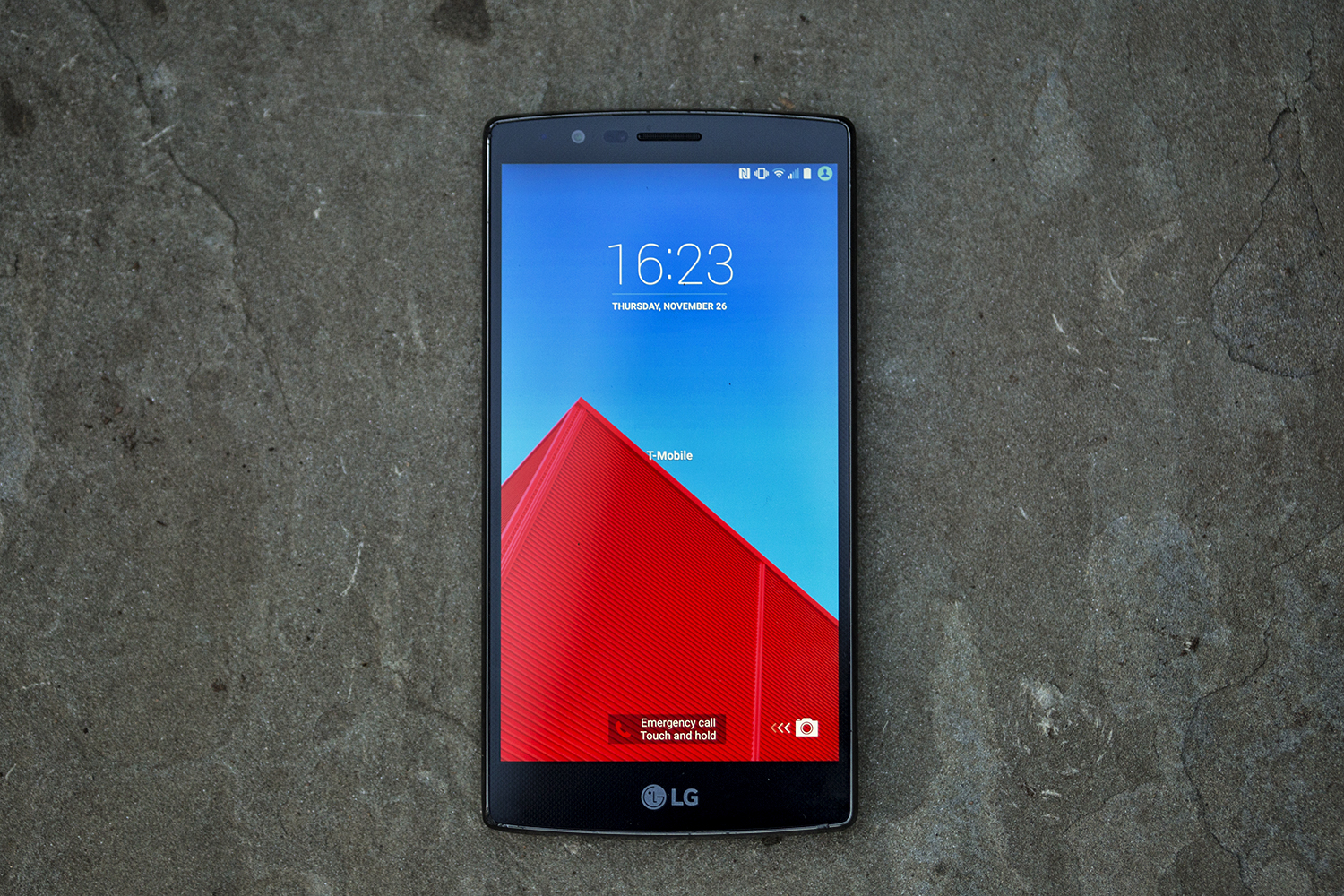 You may notice that my beloved RX100 M3 didn't make the list this year. I just sold it, because I finally have a phone with a good enough camera. The LG G4 has an amazing camera, and it particularly excels at image stabilization and low-light shots. It has a 2.5k 5.5″ screen, which is the same size as the iPhone 6+'s scren, but the face of the phone is 10% smaller, so it fits in the pocket like a smaller phone.
Really, though, any modern phone with a camera you're happy with will do the job.
The real game-changer is T-Mobile phone service. You now get free (slow) data roaming in 120+ countries, including full speed LTE in Mexico and Canada. You can also text to any country in the world for free, and make calls from other countries for 20 cents a minute.
Most phones also support wifi calling, so you can make and receive calls for free anywhere you get wifi. This also includes free texting on some Gogo wifi enabled fights.
Altogether, I love having a great phone with a great camera with amazing worldwide cell phone service.
18. TripMate Elite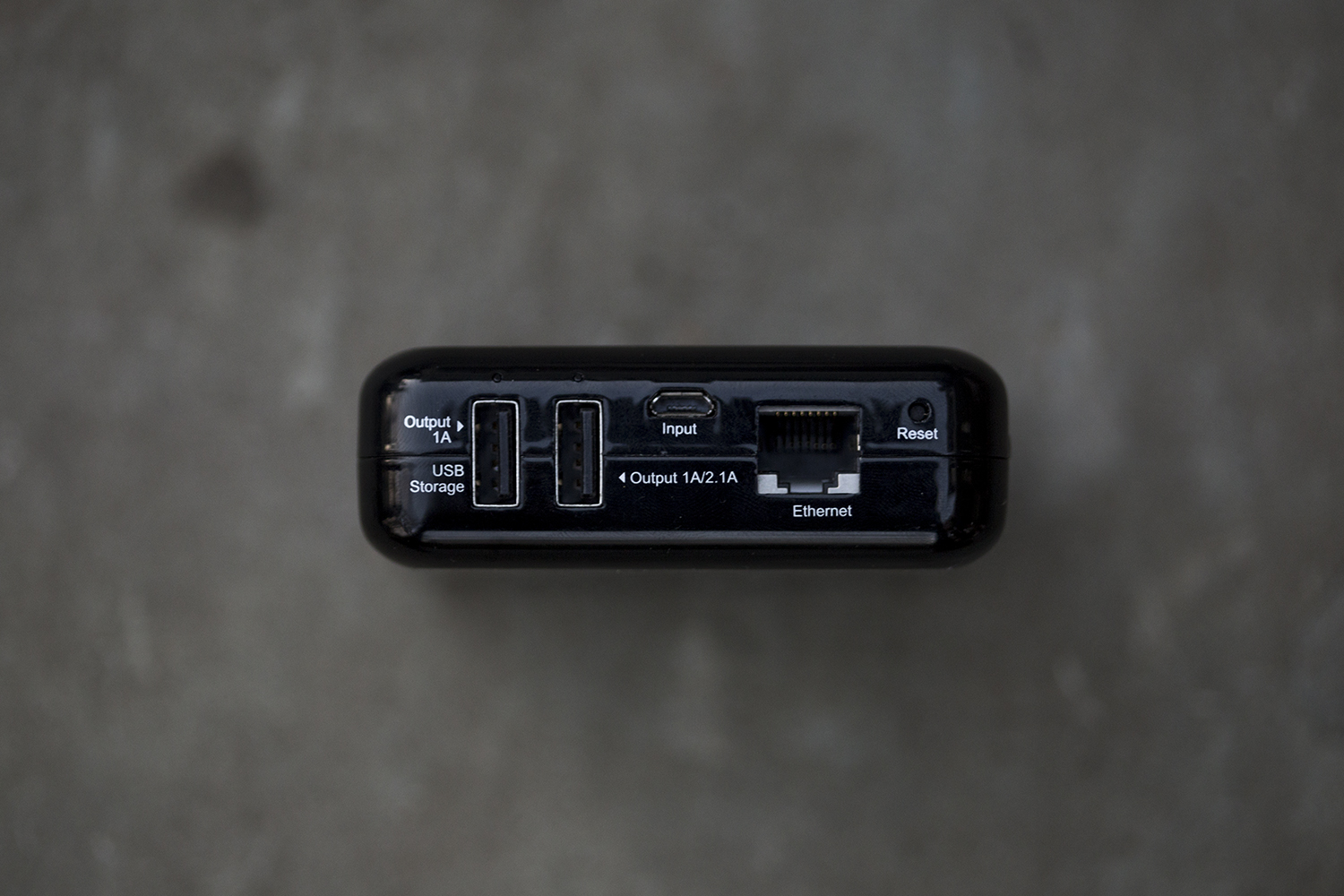 This is a 6000mAh battery pack, USB charger, and travel router all in one reasonably compact package. It has a build in plug so that you can plug it directly into the wall, which means that it's easy to keep charged. Any time you charge your phone using it as a wall plug, it's charging itself, too. And unlike many battery packs, it can be charged and charge your phone at the same time, which is great for short airport layovers.
It can also act as a router, which lets you share internet in hotels, airplanes, or cruise ships. This is perfect for expensive internet packages or hotels that only allow one device on per time.
19. Switchable USB Cables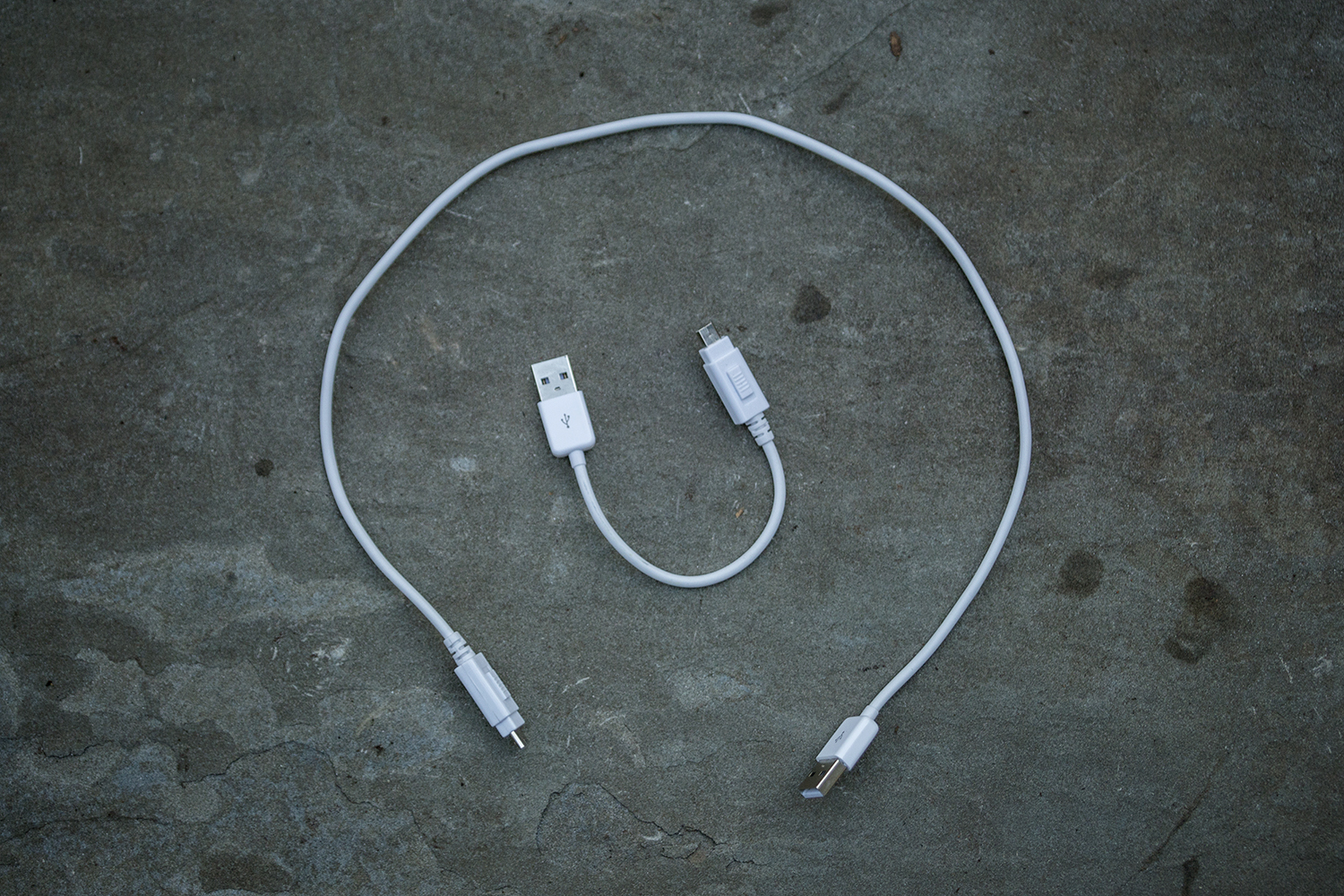 I got these two USB cables in Tokyo (at LABI). One is six inches long and the other is about eighteen inches. What makes them interesting is that they have a switch to disable the data pins. This protects you from snooping if you use a public USB port or a port on someone's computer, plus it generally makes your phone charge at twice the speed. On Android you can download the program Ampere to test this.
The switchable cables in Tokyo seem to be higher quality (and are cheaper) than those in the US, but Amazon sells some that work, too. I have two cables because not having one in the case of a loss is extremely annoying, and because I can then charge two things at once if necessary.
20. 1964 Ears Qi Custom In-Ear Monitors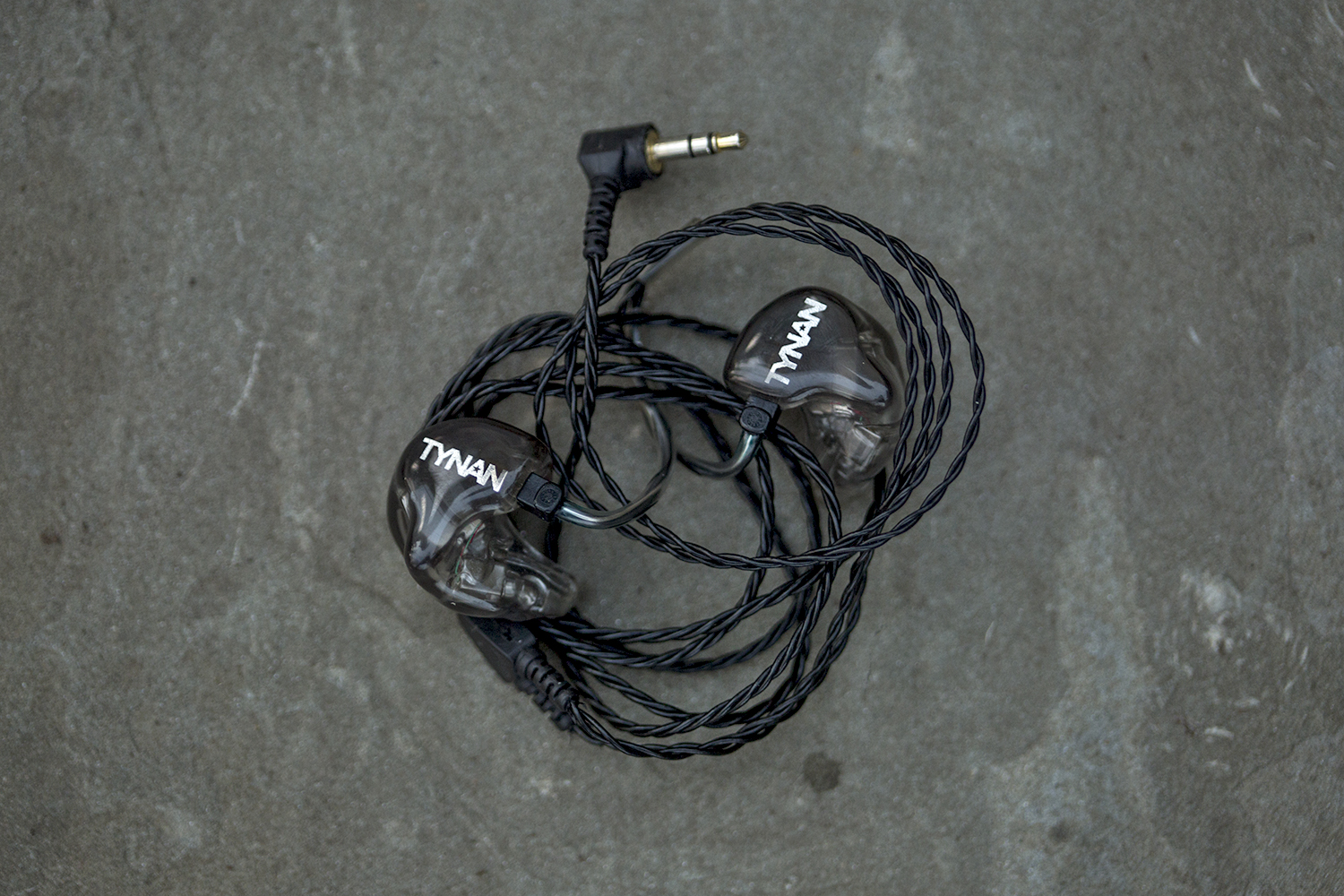 A couple years ago I got custom molded monitors, and I'm still happy to have them. The sound quality is ridiculous, particularly in the lower registers. I've never had earphones before where it seemed like I could feel the bass.
High end universal in-ear monitors are also very good quality, and actually do a better job at blocking external sound, but are far less comfortable for long-term wear. With these customs I often put my earphones in at the beginning of a flight and then leave them in for the entire flight.
If you want to spend less money, the Shure SE-535 and Etymotic Research ER4-P are both excellent universal in-ear monitors.
21. Google Chromecast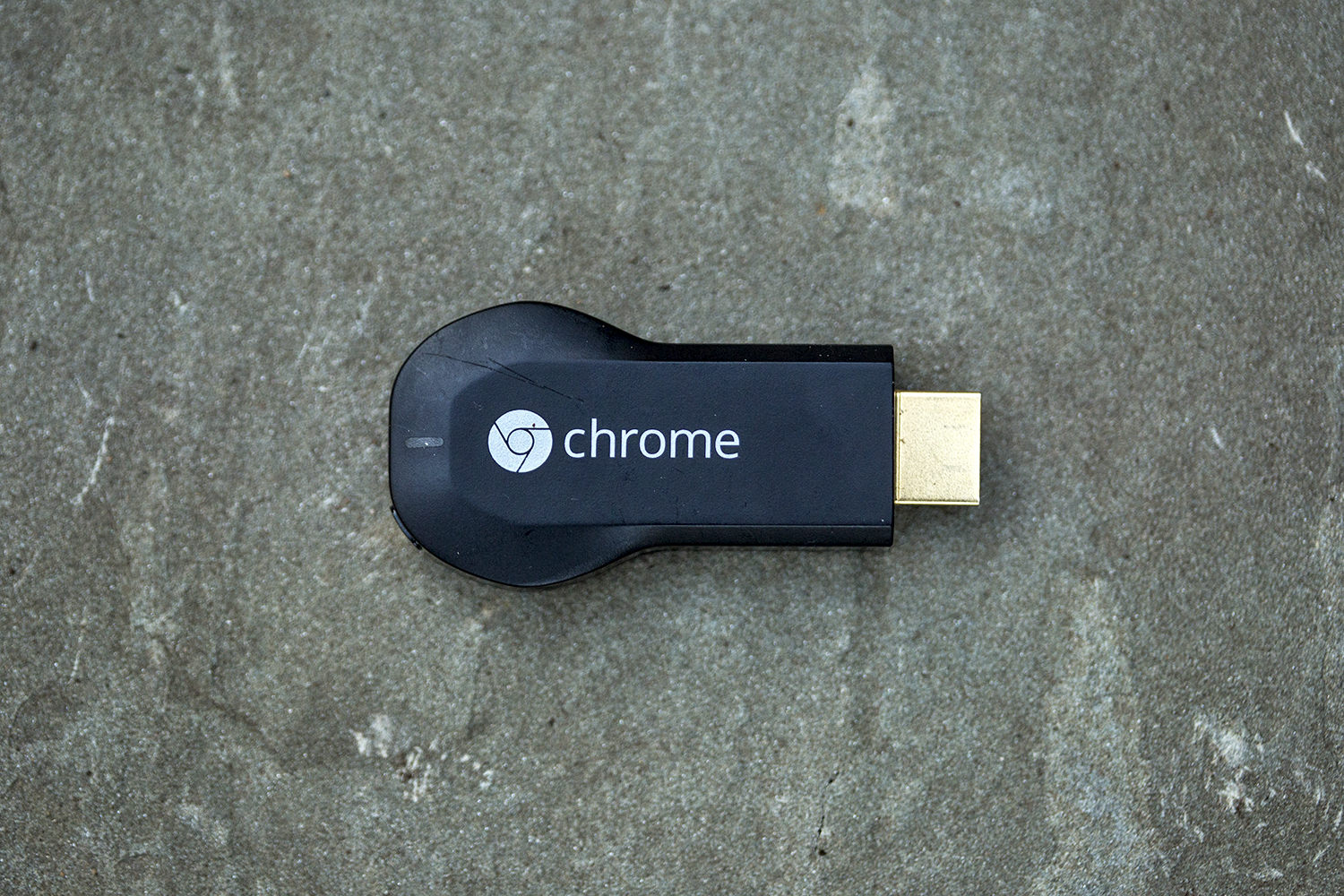 I use Plex on my server and on my laptop, which makes it easy to stream media to a Chromecast. I bring one around with me so that I can play movies (or UFC fights, more frequently) on hotel TVs. You can also cast your browser screen to the Chromecast. This isn't a necessity by any means, but it's nice and compact, so it's worth it to me.
Best Buy (newer version)
22. Griffin Powerjolt Car Adapter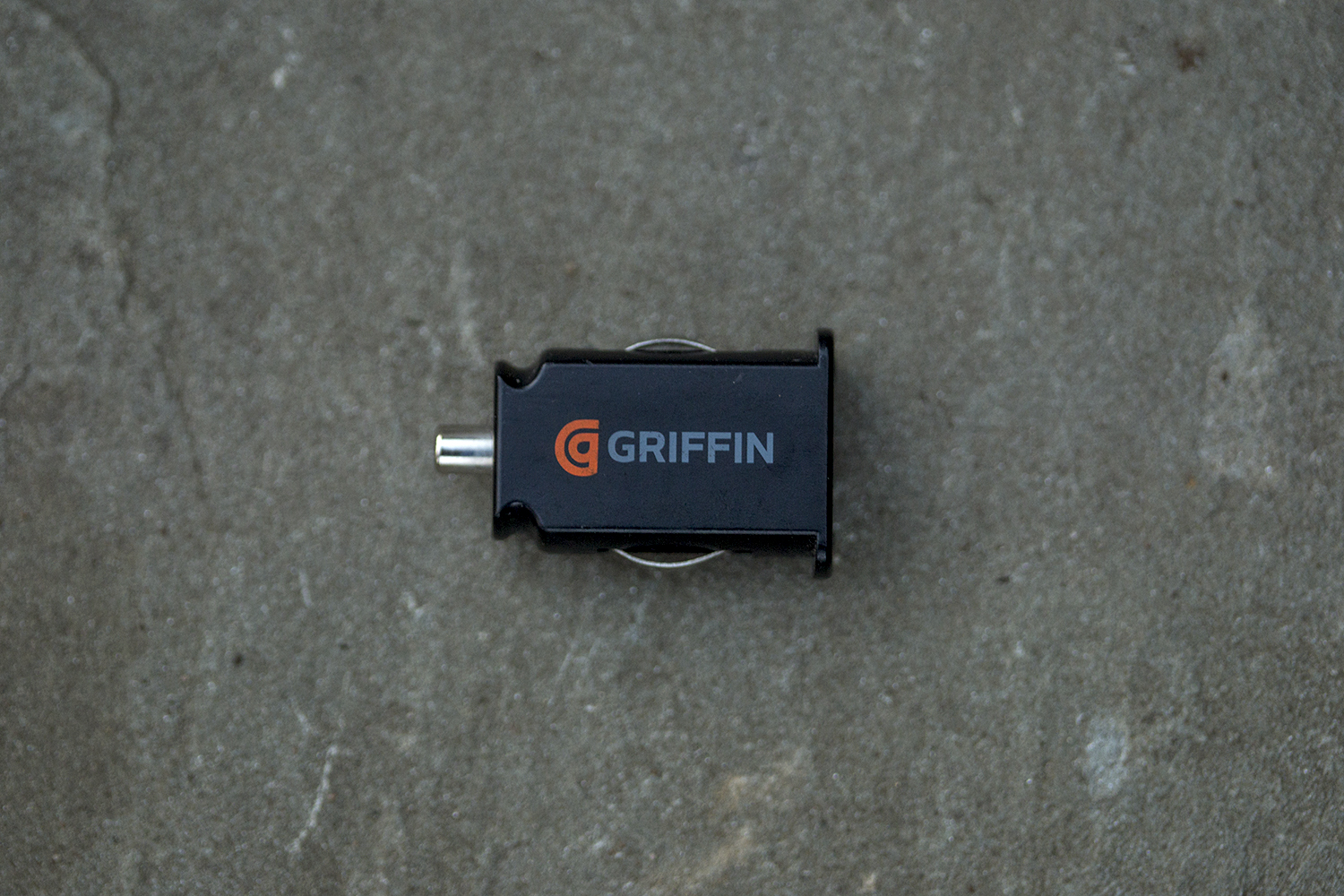 I rent enough cars on trips to justify carrying a tiny car to USB power adapter. Despite being so tiny, it packs two amps of charging power, and it's so small that sometimes I think that I forgot to pack it.
23. Kikkerland Universal Travel Adapter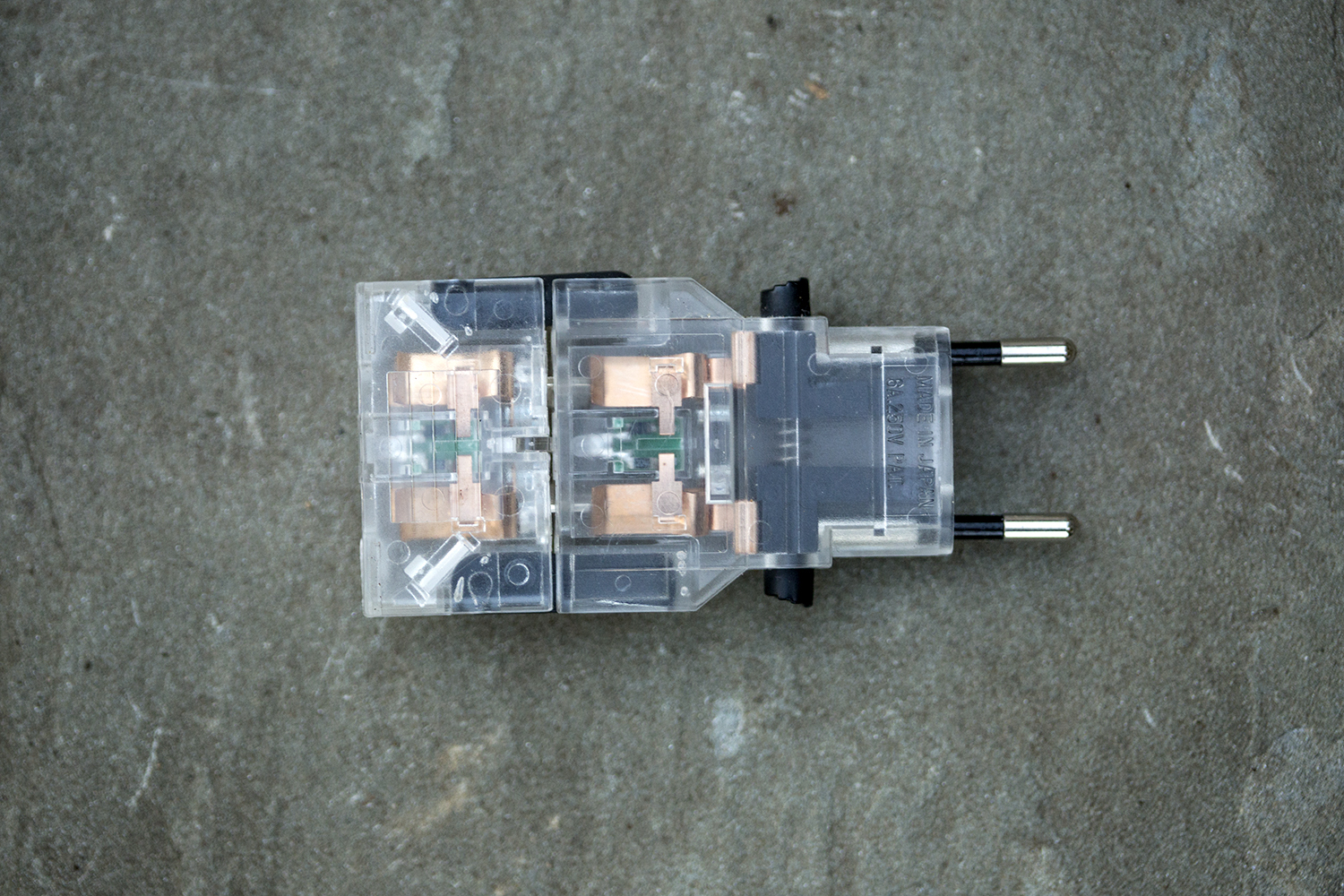 Mine doesn't match the link, but it's basically the same thing. This tiny and flat power adapter can convert any plug to any other plug. It doesn't convert the voltage, but this is largely irrelevant these days. I can't remember the last time I saw an AC adapter that doesn't take 100-240V. Then again, all I charge is my battery pack and my computer, and both of those are fine.
I bought my adapter in LABI in Tokyo, Japan. The only difference is that it's about three times the price and has a blue LED in it that lights up when you plug it in. I like that because I can immediately tell if the socket has power or not. Airports tend to have a lot of non-operable sockets.
24. Yazawa STCS154 Four Outlet Splitter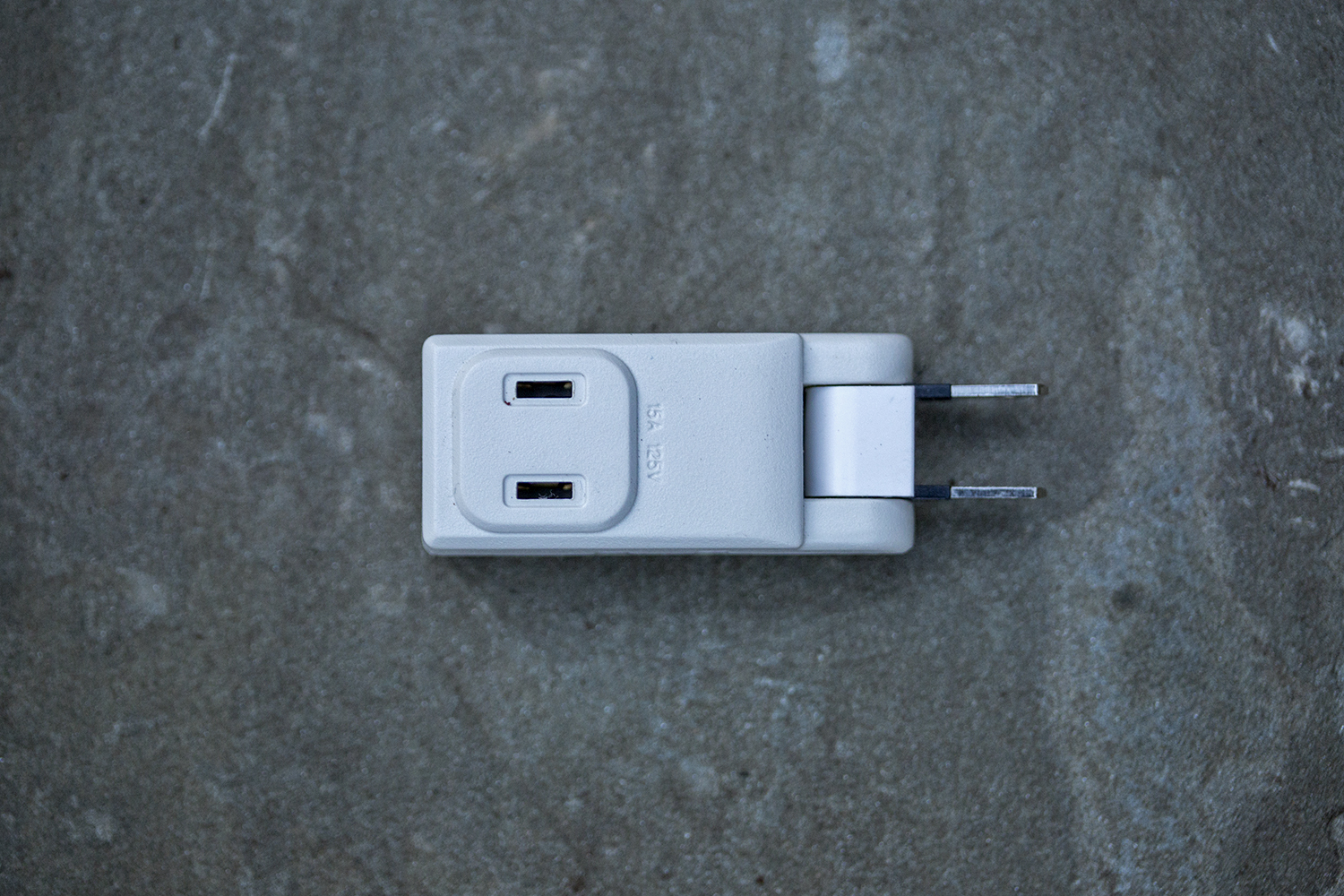 Japan has US sockets except that they don't have the grounding pin. This allows them to make really tiny power splitters like this one. It's not available in the US, but is easily found at stores in Japan or on Amazon Japan. What's great about having one of these is that you plug this into the universal adapter, and then four things (top, both sides, front) can be plugged in with just one adapter.
Only Available in Japan
25. Audio Splitter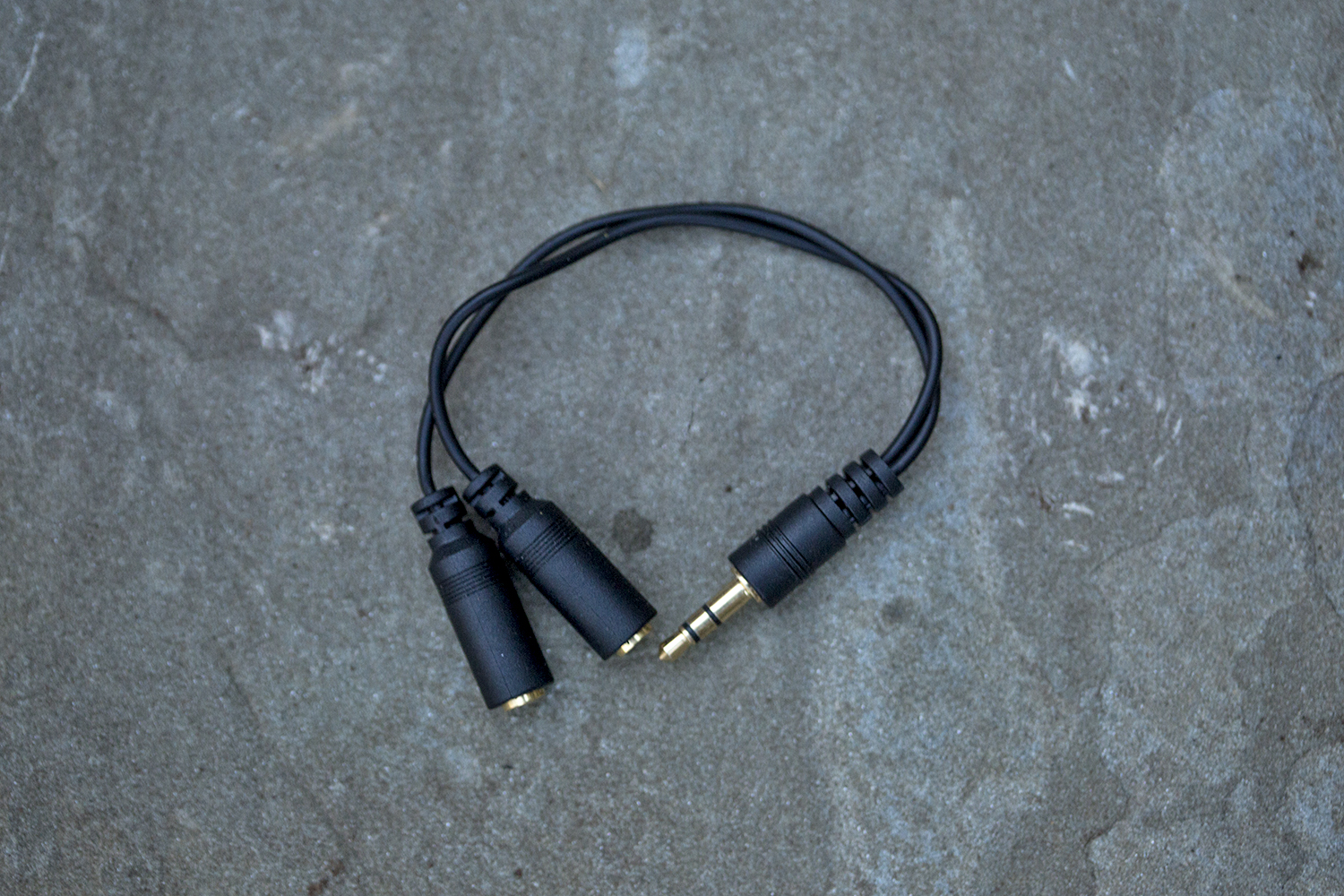 I lost my multi-way audio splitter and replaced it with this one in Japan. There's really nothing special about it. If I cared more about audio splitting and was going to buy a new one, I'd probably get a three-way like this one the most I usually split is with someone to my left and right.
26. SMD Thin HDMI Cable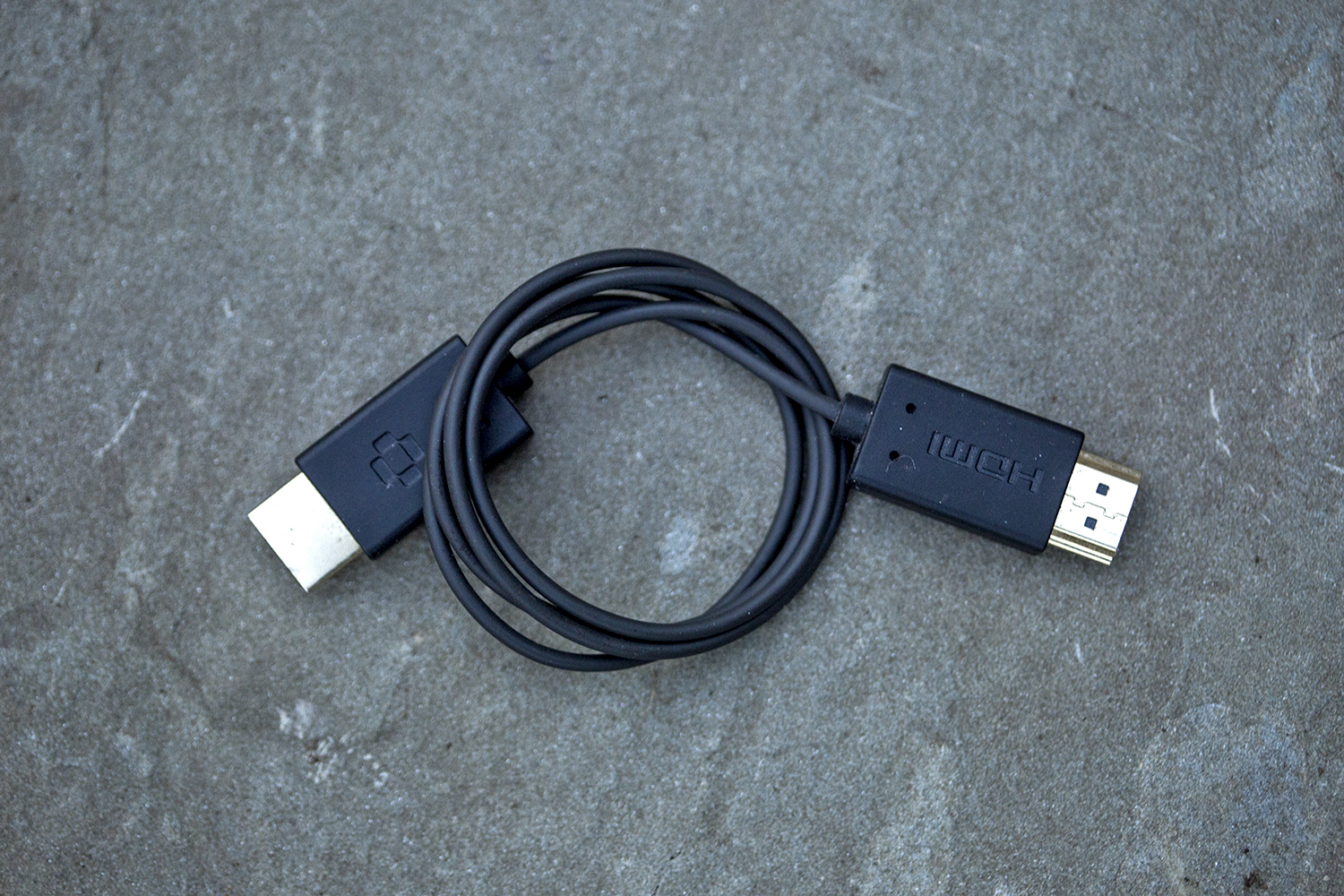 This used to be the thinnest HDMI cable, but now there's one that's 20% thinner. I actually rarely use this now that I have Chromecast, but it still comes in handy once in a while.
TEA STUFF
You can obviously travel easily without tea stuff. It's the one real luxury item that I take with me, because I love tea so much. It's healthy, tasty, helps with productivity, and is a good way to bond with others that I'm traveling with.
27. Miniature Travel Gaiwan Set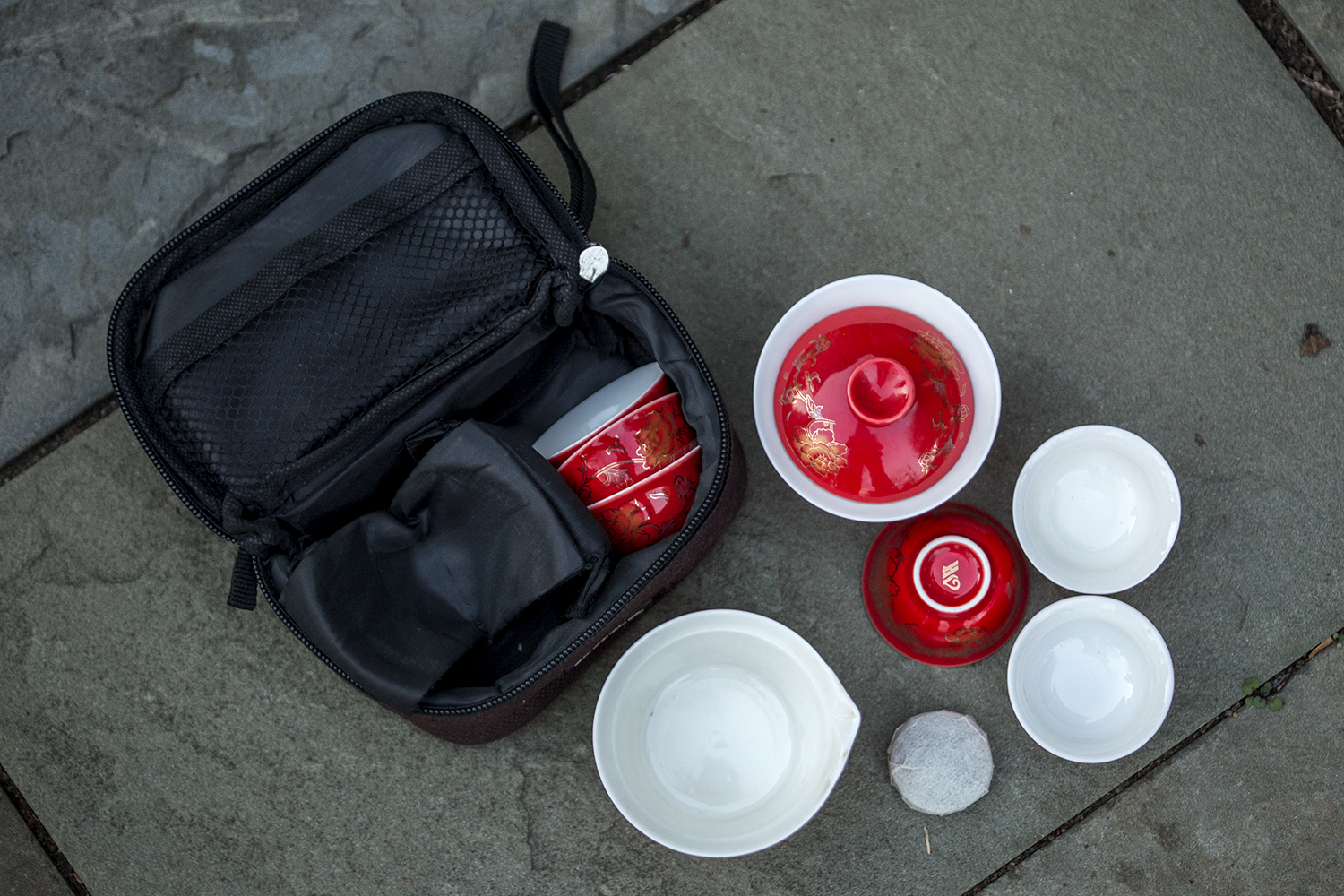 I love this little set to pieces. I bought it in a tea shop in Shanghai on a whim, and have used it hundreds of times. Nothing makes me feel more civilized than steeping some high quality tea 30,000 feet in the sky. Or on a cruise ship, in an airport lounge, or at a friend's house. At the time of this writing there is a set for sale for $3.95 on Amazon, which must be a mistake.
28. Immersion Boiler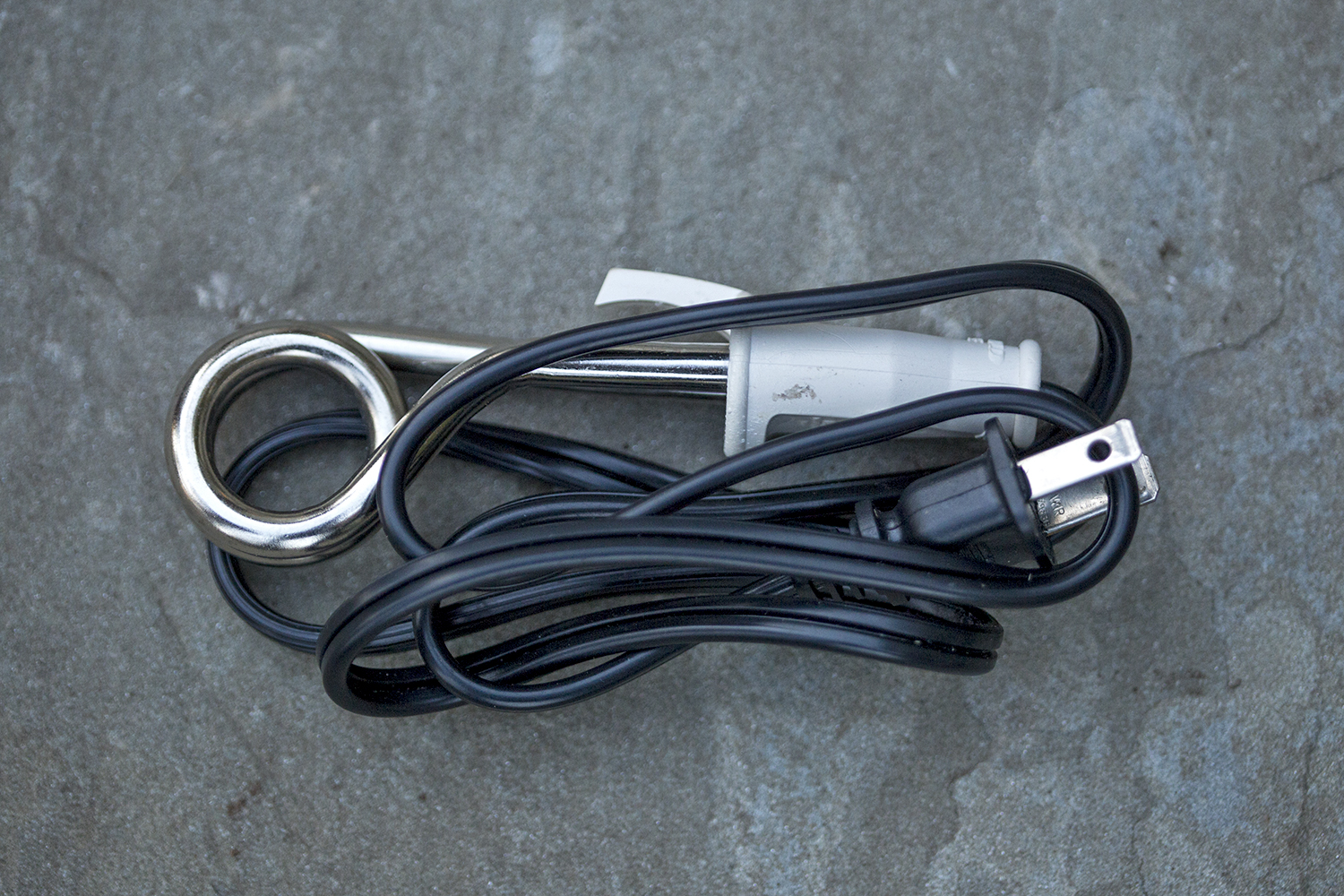 Stick this in a coffee mug or paper cup, wait a while, and the water will boil. The one thing to know about it is that you MUST unplug it before removing it from the water. If you don't do that it will blow an internal fuse and will need to be replaced.
29. Medium Packtowl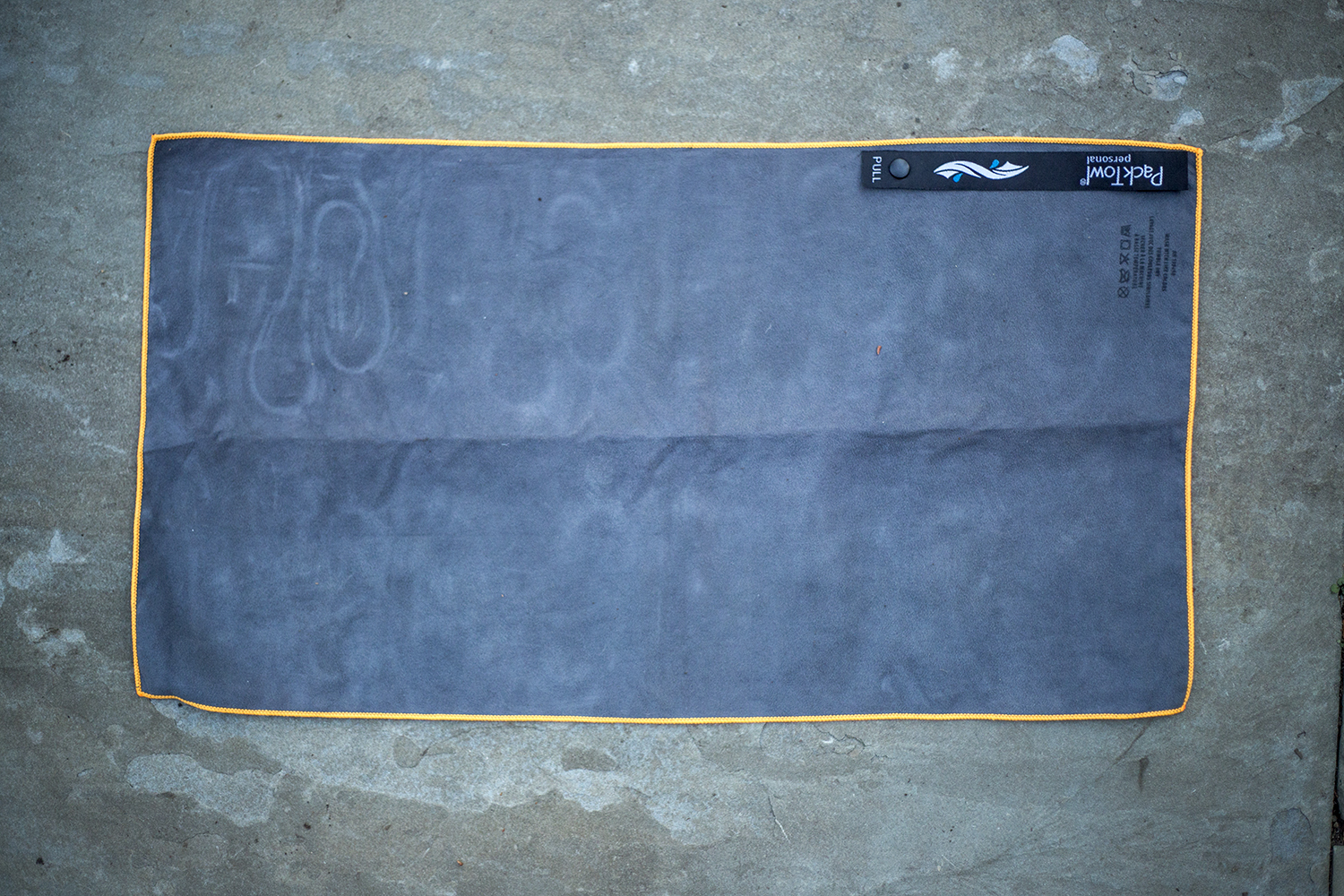 I got this to put below my tea set when I'm making tea so that slight spills don't become a problem. Before I had this and I made tea on airplanes, little spills would threaten to drip over the edge of the tray table onto my clothes. I got medium instead of small so that I can use it for an emergency shower or beach towel once in a while. It's just barely big enough to suffice. It also makes a good felt for playing cards.
TOILETRIES
30. Wahl Travel Trimmer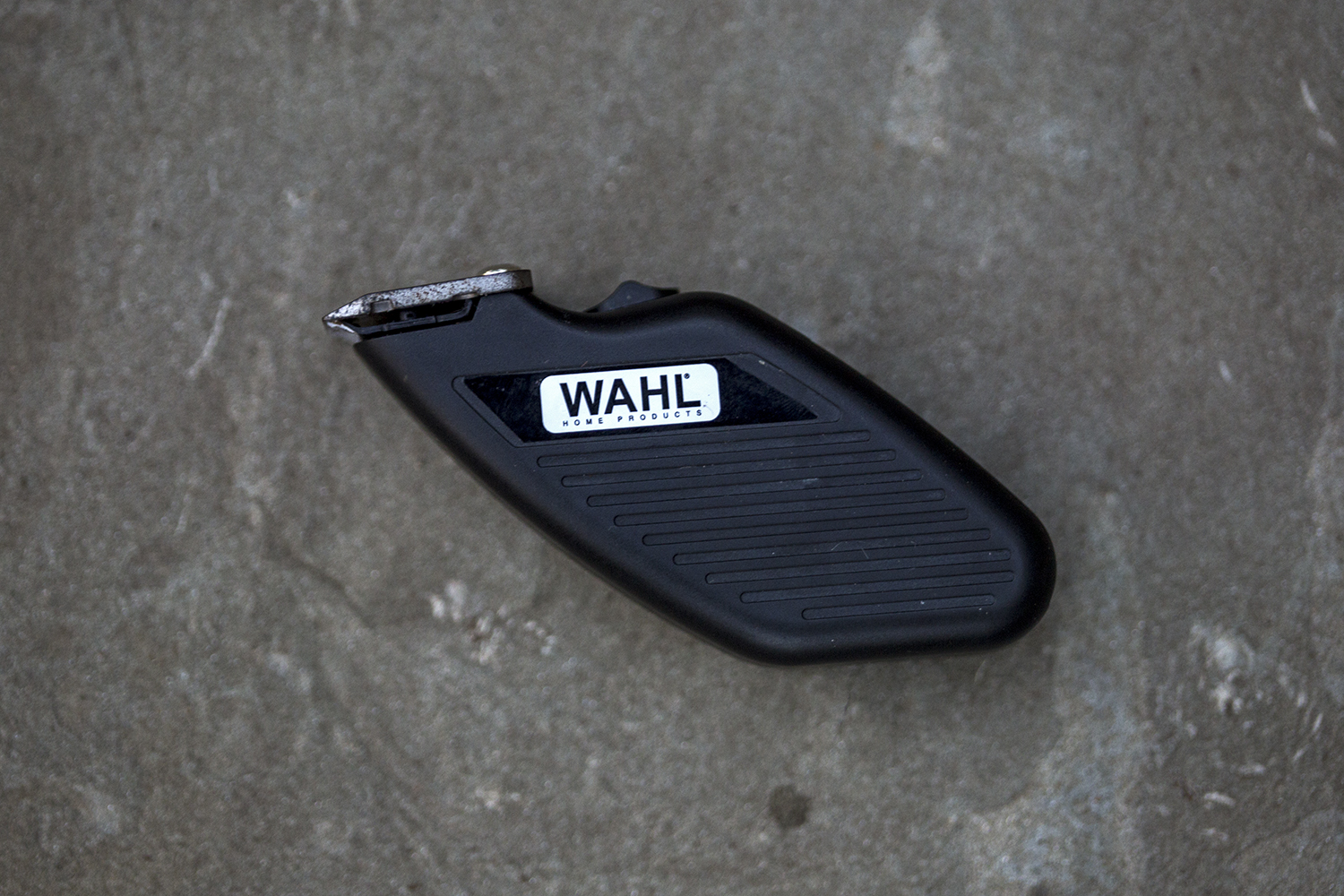 I use this trimmer to keep my beard in check. I used to carry a full razor setup around, but eventually got sick of dealing with it. This one takes a single AA battery and seems to last forever. I don't think I've ever replaced the battery. My only complaints are that there isn't a guard long enough to keep my beard long enough, and that it sometimes turns on by accident in my bag.
31. Tweezerman Stainless Facial Hair Scissors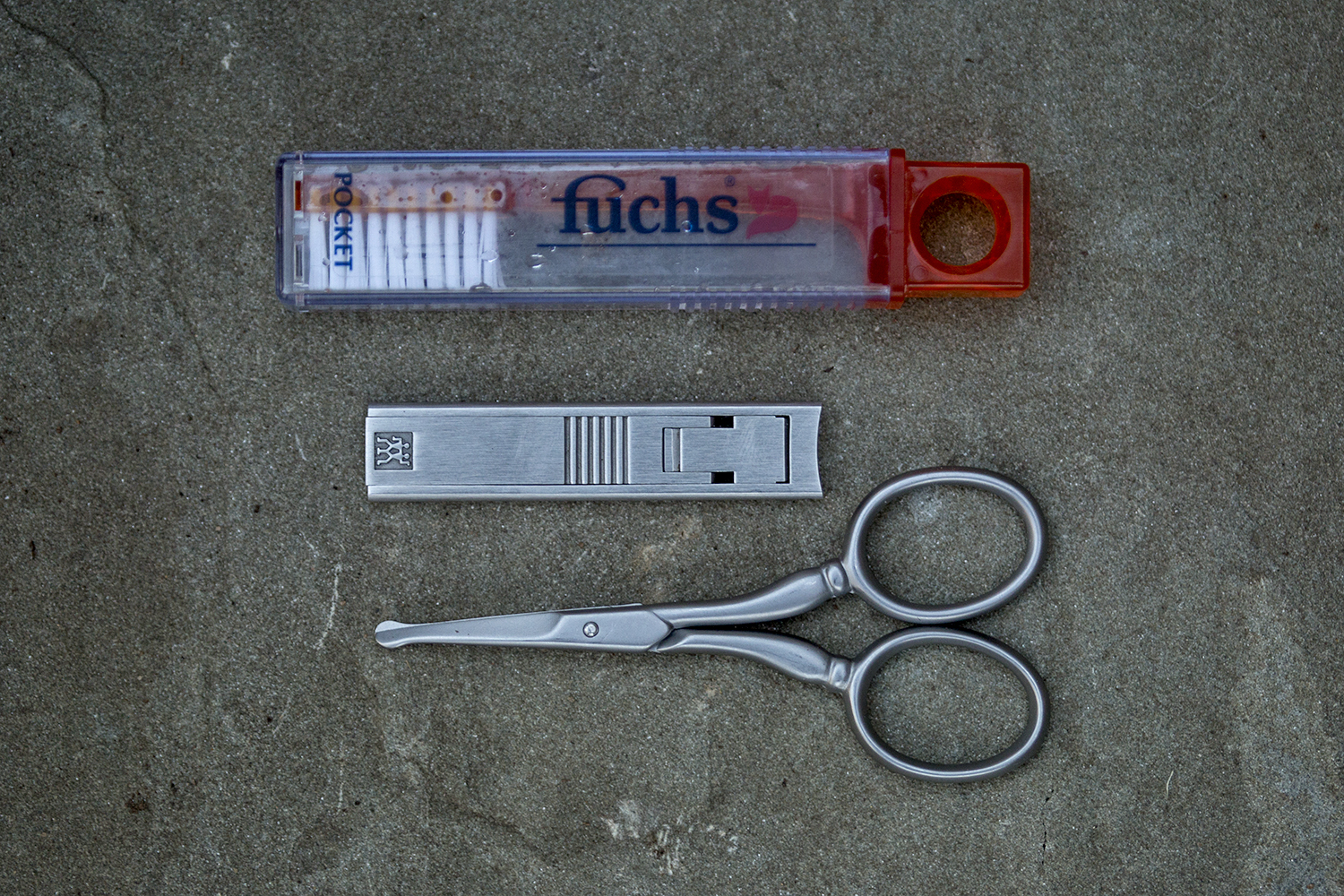 Another beard necessity. I don't have these exact ones but I couldn't find mine and these may be better anyway. I wouldn't need them if the Wahl trimmer had more guards available for it, but for now I use it to cut my sideburns and trim my beard shorter. One word of warning– they confiscated these from me in Shanghai. I told them I was going to ship them, then tried to hide them and walk through the metal detector, but they caught me again and it was really awkward. So maybe don't bring them to China.
32. Henckels Ultra-Slim Nail Clipper
(pictured above)
You can get cheaper nail clippers, but this one is tiny and has extremely sharp blades. despite a somewhat awkward action, I love these nail clippers because they're so sharp and tiny. They're so small that I once lost them for three weeks, only to find that they were in my toiletries bag the whole time.
33. Fuchs Soft Toothbrush
(pictured above)
I've tried a lot of travel toothbrushes and this one is easily the best. In fact, it's the only one that's actually a good quality toothbrush. For a while I was carrying around a rechargeable electric one, but I got sick of it dying every two weeks. There's a compact battery operated one on the market, but it's not very powerful, so I stick with the old analog toothbrush.
34. Outdoor Research Backcountry Organizer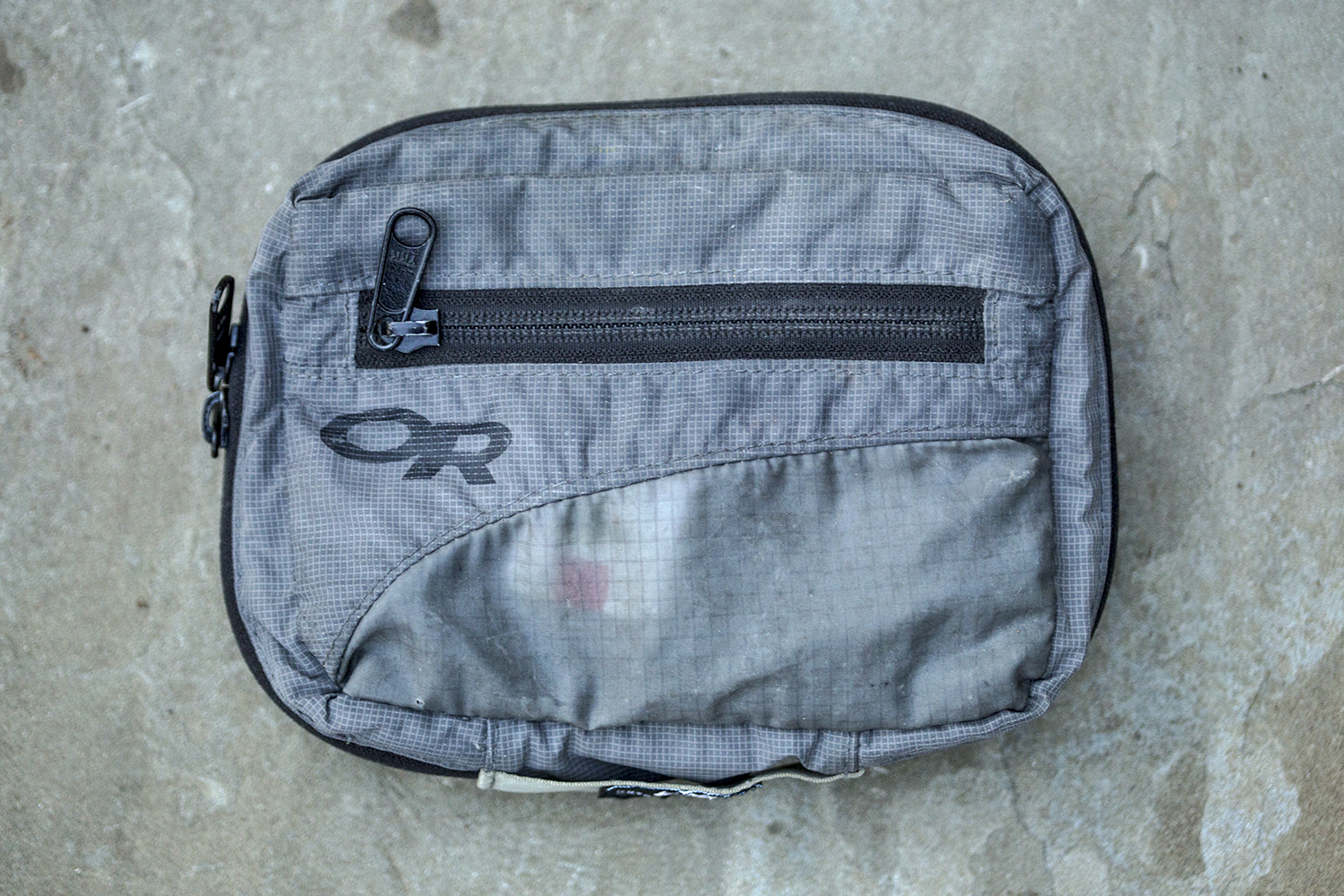 I've had this for years and am not completely sure it's the best small toiletry bag, but I like it a lot. For the few items I have (plus toothpaste and deodorant), it's just the right size. Actually, now that I've given up soap and shampoo it might even be too big.
MISCELLANOUS
35. Vapur Water Bottle .7 Liter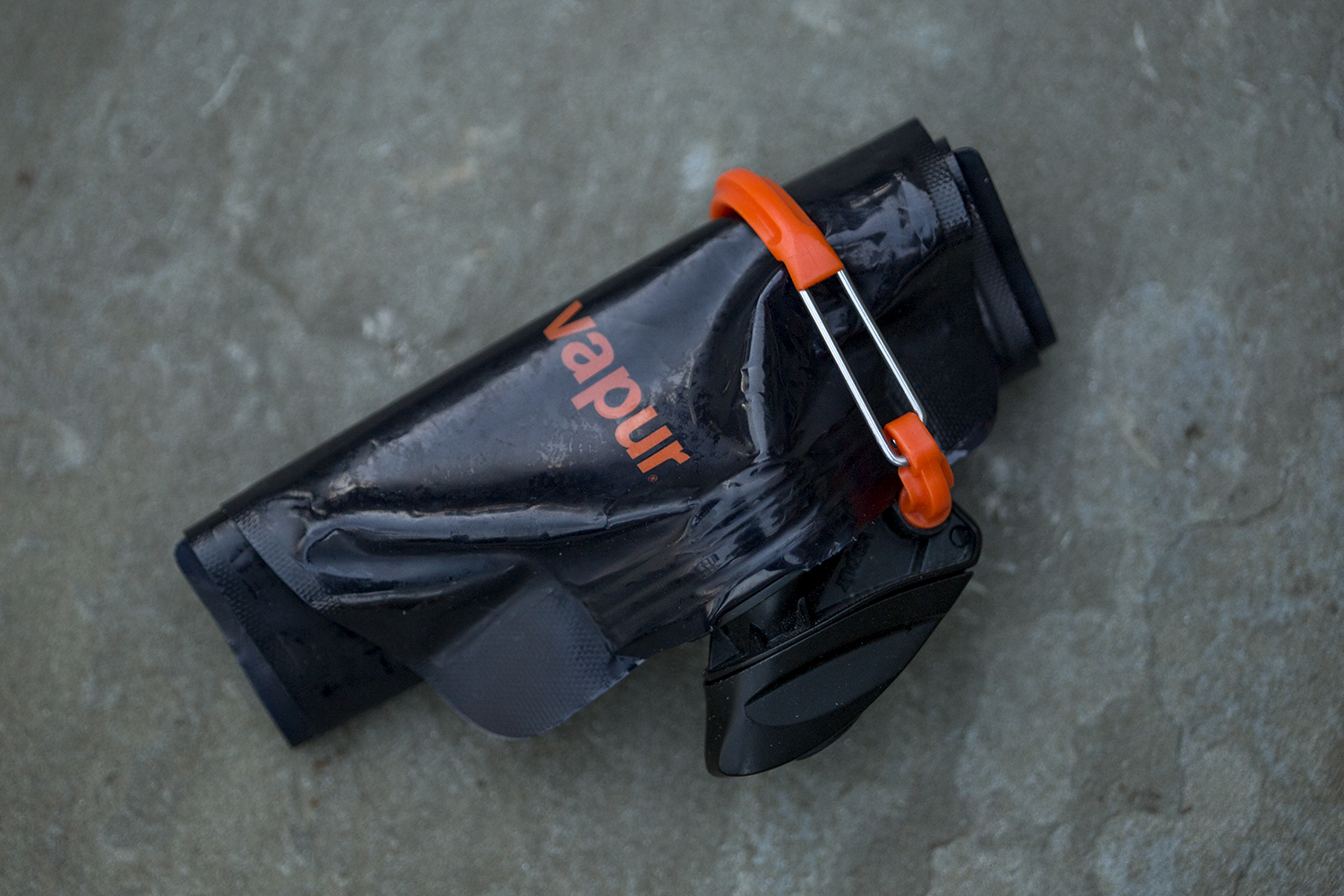 This is more of a water bag, but I guess that name didn't catch on in the Vapur marketing department. I love how small it rolls down, so that it's all but forgotten when I'm not using it. Whenever I get to an airport, my first order of business is to break it out, fill it in the water fountain, and clip it to the strap of my backpack. It's a bit tough to clean, though, so I wouldn't put anything besides water in it.
36. Laser Lite Earplugs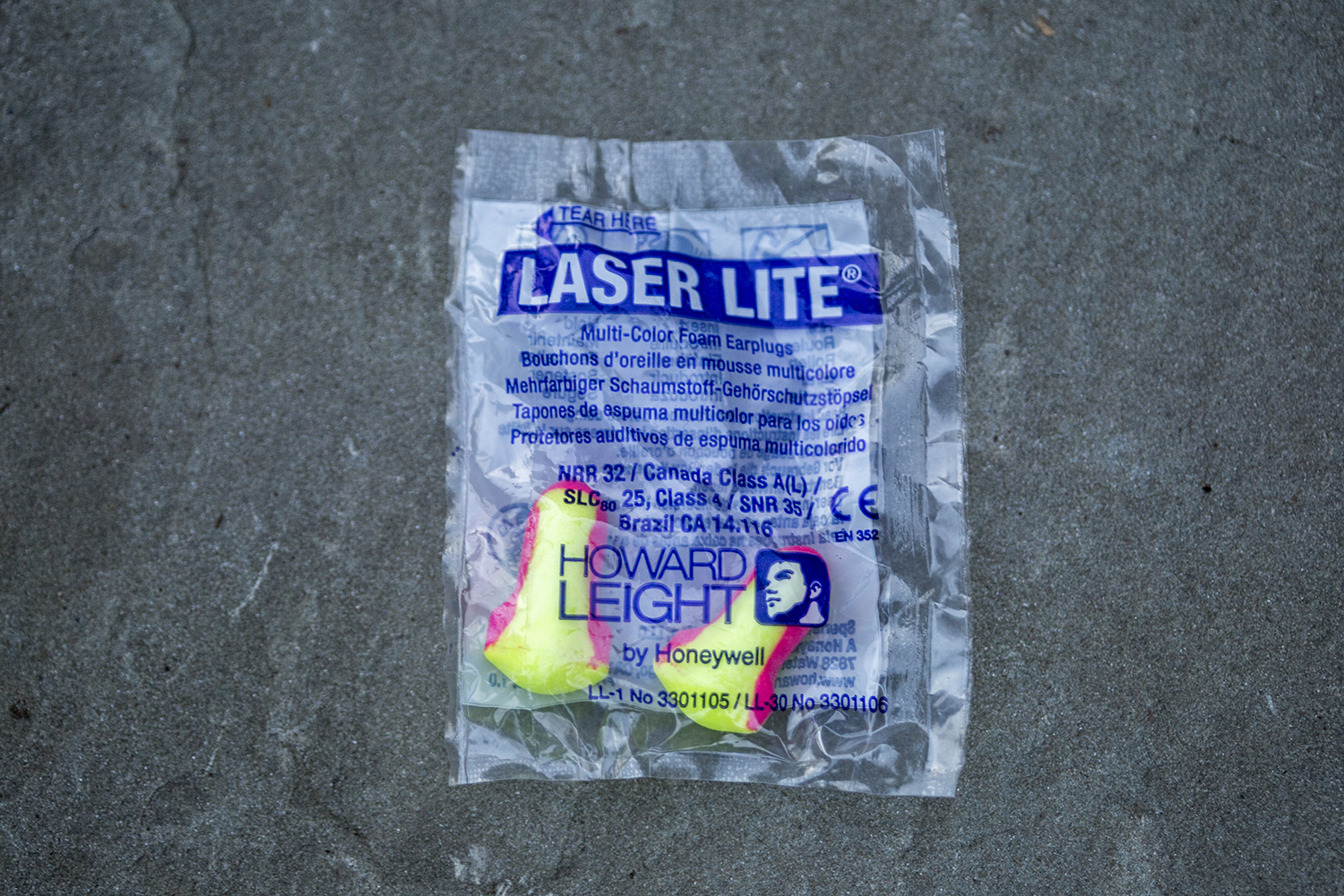 My friend Nick Gray has a habit of getting something other than what I recommend on this list, and then trying to argue that it's better. I have to admit that he got me with these ear plugs, though. They block a bit less sound in the lab than the ones I usually recommend, but they stay in way better and go in deeper. I think this results in less sound coming into my ears as I sleep. I also like that they come in individual packets, so that you can keep a bunch of spares at the bottom of your bag.
37. Sleep Mask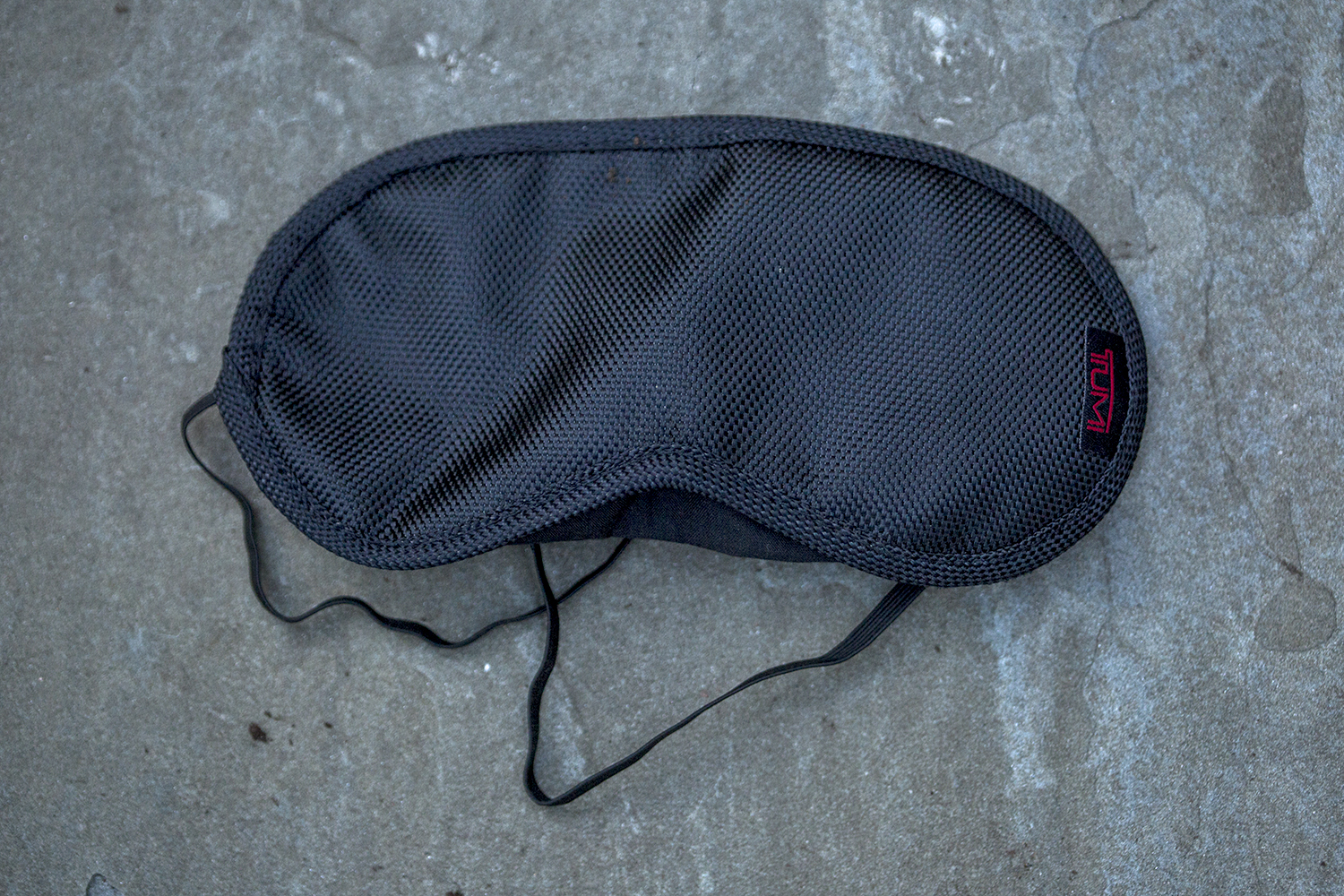 This is just a free sleep mask that I got from some overnight flight. I used to get fancy sleep masks, but I don't use them often enough to really justify the extra bulk. But once in a while I end up in an AirBnb with bad window shades and I need a sleep mask. The buff actually works quite well, too, so this may not make it to next year.
Easy to get anywhere
38. Kem Travel Cards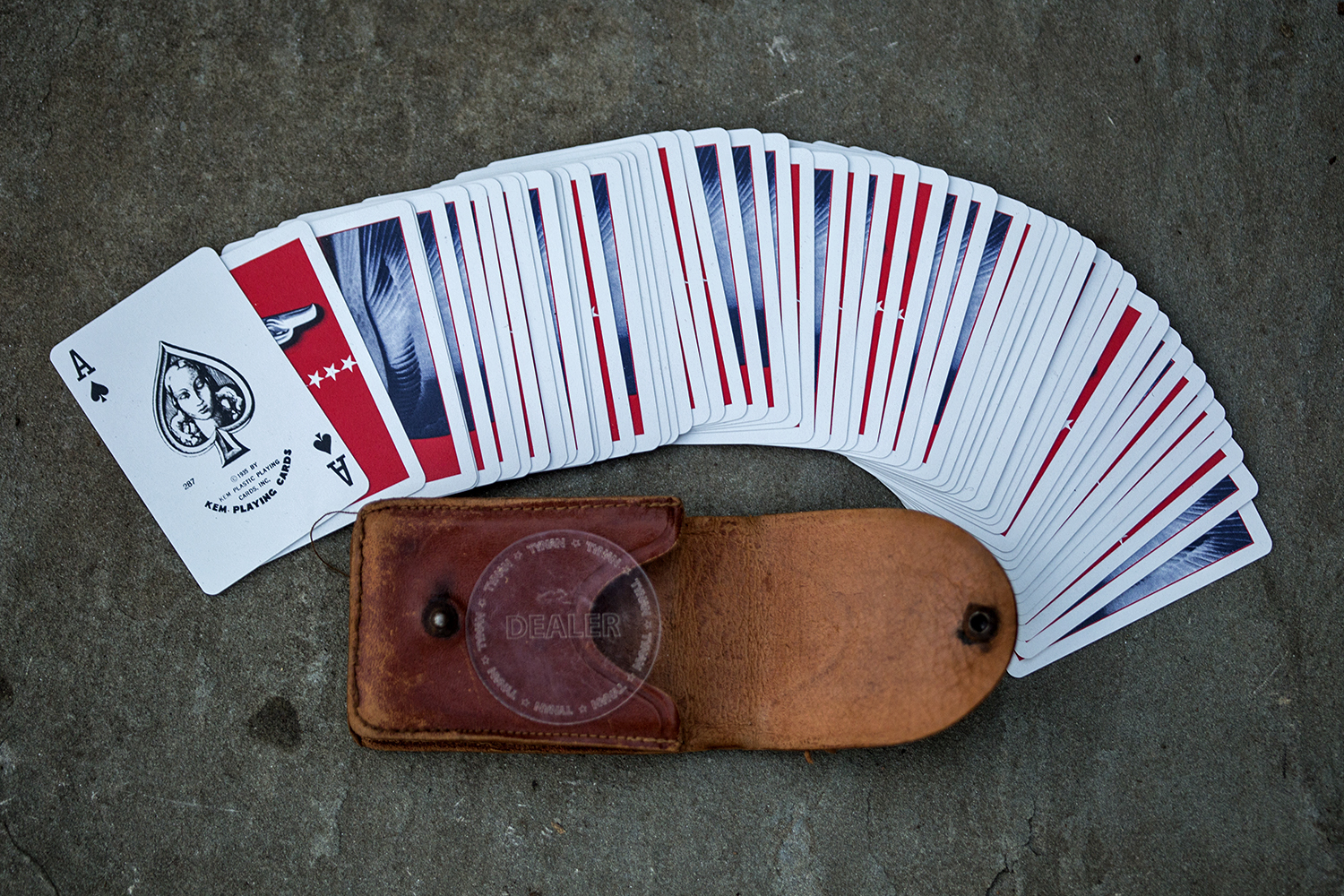 I write about these every year and it really only ends in disappointment since they are nearly impossible to find. They used to show up one to three times per year on eBay and be bought for thirty dollars. Now, because of my readers, they go for hundreds. I play just enough cards to make it worth it to carry these around. And I just love them– they're cards from World War 2 that were made for soldiers and are so durable that they're still in great shape today.
Almost impossible to find
39. Koolstof Carbon Fiber Money Clip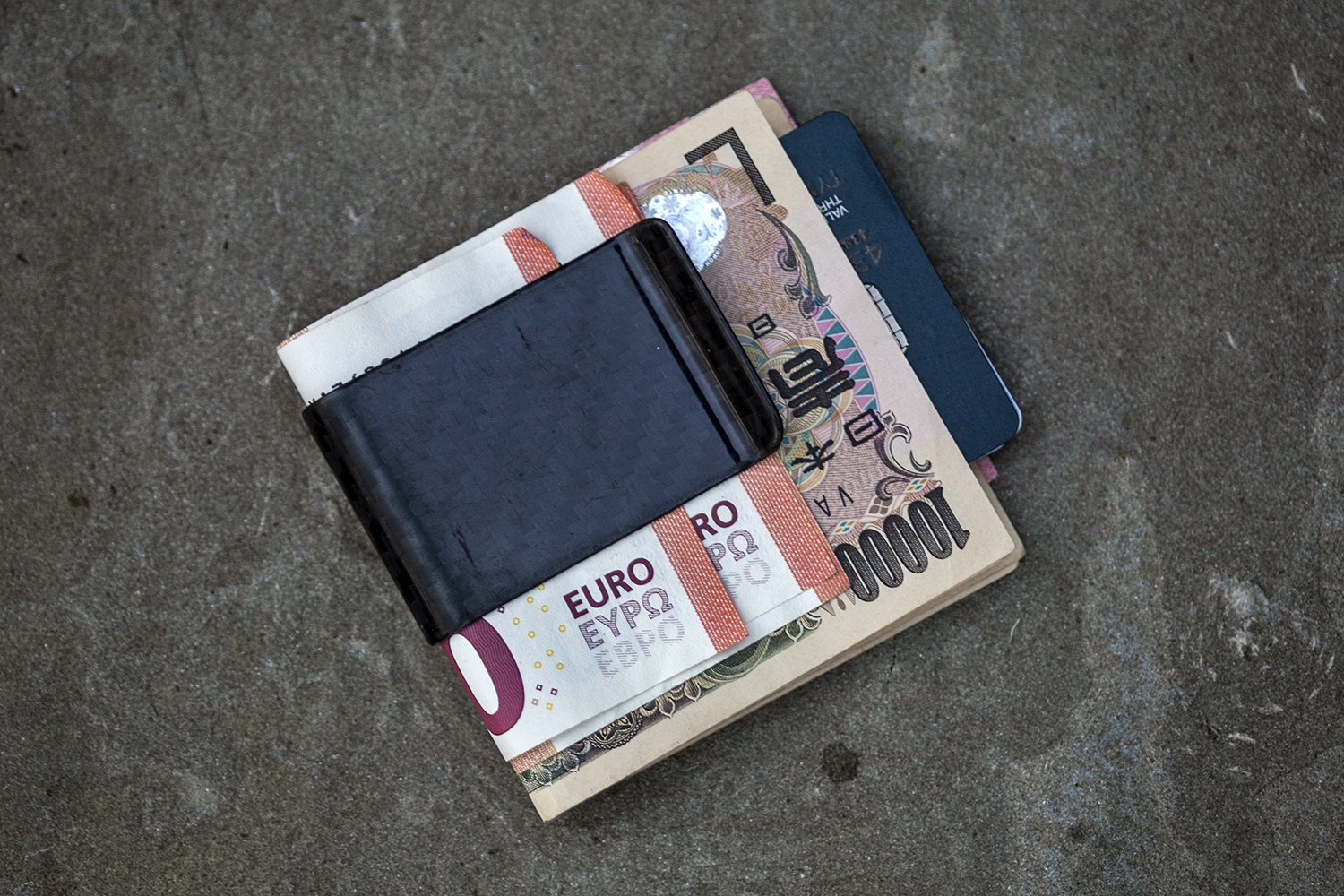 I bought this money clip years ago, and I still love it. It's light, non-metallic, can hold a wide range of bulk, and works with any money size that any country may throw at you.
And that's it! Please share this post with your traveling friends (or people responsible for buying you Christmas presents. It takes me forever to make this, but I do it because it gets so many views. A huge thank you to my brother for taking all the photos (email me if you need a pro photographer) and to my cousins for arranging/folding/smoothing wrinkles.
###
I will probably post next years right after Thanksgiving, too. Feel free to bug me in a year…