We sat in the tiny passageway, exhausted. Our muscles were fatigued from overuse. We were over a mile deep into the cave, hours away from the surface, hours away from food, and hours away from water. Had our curiousity finally gotten the best of us? For the first time ever, I was worried for my life. I couldn't imagine dying, but making it out of the cave seemed even less likely.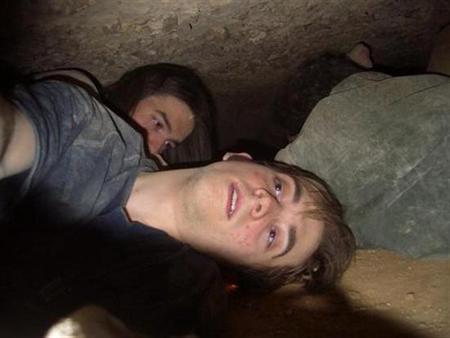 It started months ago. After exploring the small caves at Enchanted Rock, we were eager to tackle something a bit more challenging. A search on the internet led us quickly to Airman's Cave – perhaps the most well known cave in Austin. What we didn't know at the time was that it was also an advanced level cave. Few members of the caving community in Austin would attempt the cave. With an average ceiling of 18″, Airman's cave was a full 2.5 miles long. But we didn't really know that either. In fact, we knew nothing of caves or caving.
To access the cave, we had to take a hike down a dry creekbed and search for it. After wandering around for a while we spotted a large opening on the hill. That was it.
The cave was immediately difficult. Twenty feet into the entrance was a tiny passageway called "The Birth Canal". It was so tight in every direction that I was forced to have my hands above my head at all times. If I put them by my side I would get stuck. Movement was only possible after exhaling.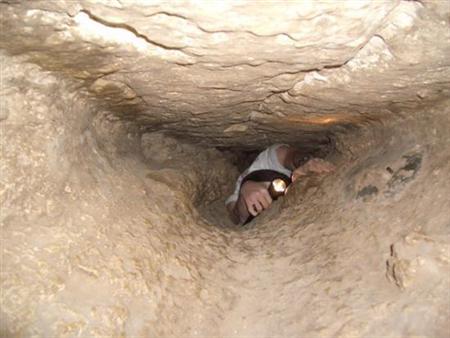 The Birth Canal was a short section of the cave, and provided access to a larger cavern that was big enough to sit in comfortably. Beyond that cavern we were presented with a fork. We chose to go left and soon found ourselves in a dead end containing the bones of a few unlucky animals. Not the best omen.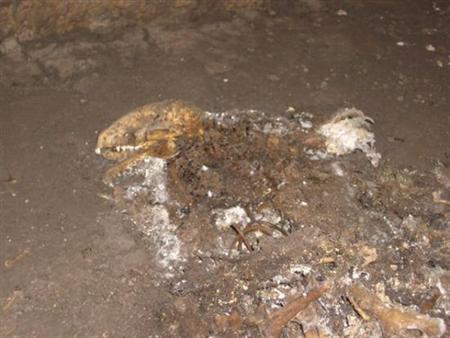 We left the cave, and upon returning home searched for more information on it. The first site we came across showed pictures of people covered in mud, presumably who had made it all the way to the end.
"Wait. That's Greg Geist."
Greg was a 40 something year old science teacher who had become our friend when we were camping out for Star Wars (note to the ladies- I'm super cool). We'd lost touch with him after the movie, and to be honest, hadn't really thought much about him.
But sure enough, we were looking at his web page, and he had successfully navigated the cave. Judging by his knee pads and crazy flashlight helmet, it wasn't his first time either.
Interest in the cave waned over the next couple weeks as we became preoccupied with other adventures.
Then we ran into Greg.
More specifically, Terry ran into Greg on the UT campus. He asked him about the cave and Greg regaled him of his travels to the end of the tunnel. There was a huge room full of crystals, he said, and he would take us there.
We quickly arranged to explore the cave with him. We would have to get there early in the morning because it was an eight hour trek to the end of the cave, and another eight hours back. We agreed on the next saturday at 5am.
I hadn't gotten a full night's sleep, but I'd gotten enough. I rummaged through my pantry and got a couple boxes of granola bars and some peanut butter crackers. I might get hungry. It didn't occur to me that the cave experience was scheduled to preempt all three meals from the day. I packed my fancy flashlight, my digital camera, and the snacks. I put on an old T shirt, some cargo pants, and my combat boots. It was my typical trouble making uniform.
Shortly after arriving at Hayden's house, the designated meeting spot, I stopped at a gas station and bought a couple bottles of water. I might get thirsty.
When I got to Haydens I met up with my fellow explorers. Austin, Terry, Jake, and Hayden were there. I don't remember the specifics, but I know that a couple of them had stayed up all night. Jake had the foresight to bring Craisins, a peculiar dried cranberry snack. Austin had stocked up on water, as had Terry. Hayden didn't bring anything.
I should have known that the day would be a disaster when Greg arrived. He opened up his trunk and pouring out came all sorts of spelunking devices. There were water packs, headlamps, and pads. He was wearing elbow pads, knee pads, a helmet with a lamp on it, and gloves. At the time it seemed like overkill, so we politely took one set of pads between the five of us and assured him we'd be fine. We wouldn't be.
Still dark out, we hiked across the river stones in the dry creek bed. When we arrived at the entrance, we were very eager to begin.
Full of gusto, I took the more difficult entrance to the cave, which was even narrower than the birth canal. Even Greg didn't take that route. We got to the main cavern and went right this time, leading us into the depths of the cave.
Within a few hundred feet I was surprised at the size of the passageway. It was very wide, but the ceilng was only 12-18 inches from the ground. Crawling military style wasn't very comfortable at all. Making the journey even less comfortable were our backpacks. There wasn't enough clearance to wear them on our backs, so we shoved them in front of us.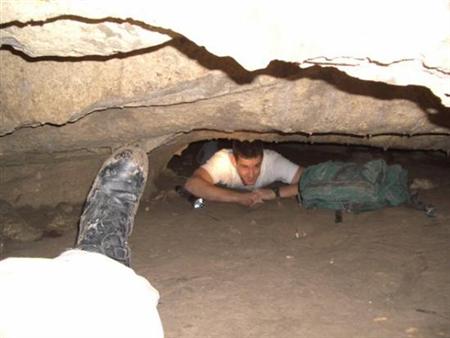 The ground beneath us alternated between mud and sharp rocks. We took turns wearing one or two pads at a time, for which we were particularly grateful when crawling over the rocks.
Our enthusiasm, along with an occasional granola bar, fueled us and we reached the "Aggy Art Gallerie" with relative ease.
The Aggy Art Gallerie is a good sized cavern with a thick clay floor. Over the past 30+ years, explorers have dug up pieces of clay and made sculptures in the cavern. There were animals, cars, and words spelled out, along with more impressive sculptures. One such sculpture was a huge dragon that hung from the ceiling aided by fishing line. Someone had made a light switch with clay wires that created a maze around the other sculptures on the walls, and finally reached a clay bulb overhead. It was a very cool place, and we looked forward to making a tribute to our school bus on the way back through.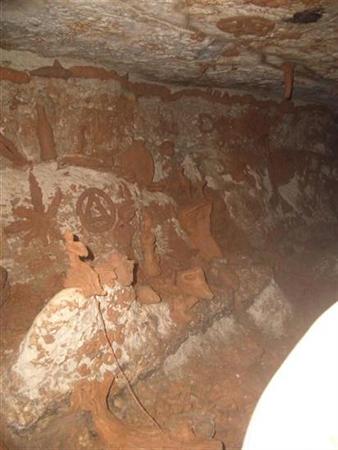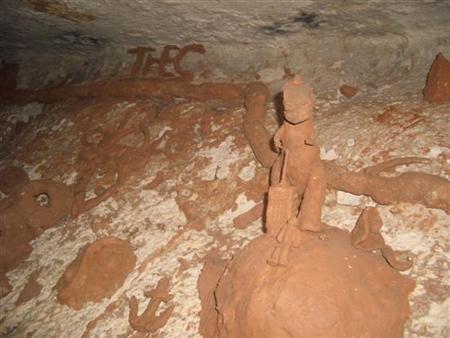 We pressed on through Karen's Crawl, which was the most difficult part for me. Our group was divided between two mentalities. Half of us prefered the short but technically challenging areas, while the others liked the long monotonous passages. Karen's crawl spites you not only with a 16″ ceiling, but also with extremely narrow walls. It's clausterphobia-inducing, and very long. To make matters worse, the ceiling was primarily composed of sharp rocks. On the way in it hurt each time I hit my head. On the way back out I didn't even notice.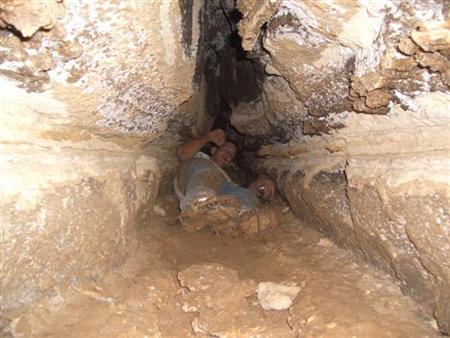 Shortly after Karen's Crawl was Sherwood Forest. I had anticipated a large cave where we could relax, punctuated by tree-like stalagtites. I was wrong. Sherwood forest was wide, but wasn't tall at all. We all took a break and stared at the fossils embedded in the ceiling a food away from our faces. By now we were deep below a shopping plaza. Kinda makes you wonder what's below you now.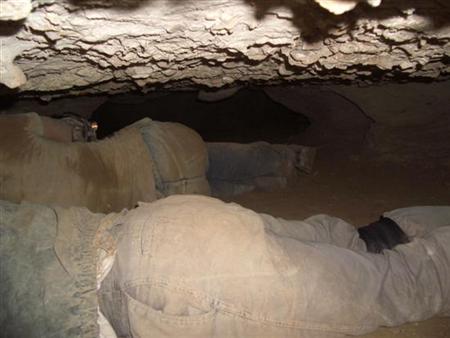 I'd had enough, and I wasn't alone. We had been crawling for a little over four hours and our muscles were sore. In fact, using my arms in any way was becoming a serious struggle. My thighs ached. I was hungry and thirsty. As we snacked on peanut butter crackers and water, we talked.
"Guys… I think we should go back," I started, "Even if we leave now, we still have four hours to reach the surface again. All of my muscles are sore."
There was a bit of chatter and everyone agreed that we should go back. We went home and lived happily ever after.
Well, that's how the story would have been if my friend Jake wasn't along for the adventure. The thing about Jake is that he loves to disagree. He's a good debator, and will take any opportunity he gets. I remember once as an experiment arguing one point of view, and then a week later bringing up the opposite perspective that he had previously argued. As expected, he vehemently disagreed and argued, despite defending that position just a week earlier.
"We're never going to come back here. We might as well push forward and make it to the end."
Damn him.
It was that kind of logic that you can't argue with. If you do, you're a wimp. Predictably, we all agreed that he was right, one by one.
Agreeing that our backpacks were the primary source of our discomfort, we ditched all but one of them in Sherwood Forest and put a few water bottles in the remaining one. Our burdens lightened, we carried on.
Within a half an hour, Hayden had had enough. He wasn't a typical participant in our crazy ideas, and he hadn't gotten enough sleep the night before. Now determined to make it to the end, we left a water bottle for him and continued on. As much as I wanted to make it to the end, I envied him. It seemed like being in complete sensory deprivation might be interesting. But then again, so was our trip.
A little further down the line we reached the "Wire Wiggle". Who comes up with these names? I would have called it "The Satan Squeeze" or something more appropriate. It consisted of a short but steep dip down followed by an incline upwards. The low ceiling made that valley very difficult to squeeze through. Appraently this had once been the end of the tunnel, but some explorers had dynamited just enough so that they could get to the next area. I assume that they were midget children who were coated in petroleum jelly, otherwise they surely would have blasted more.
Finally out of water, we left the last backpack right before the wire wiggle.
We continued through the seemingly endless maze. Greg would frequently entice us to continue by saying that soon we would have more clearance and would be able to "crouch walk". Crawling was making us weary. The crouch walks rarely seemed to come, and our muscles became more and more tired. Occasionally mine would give out, and I would fall to the ground. Our breaks became more frequent, and also less satisfying. Without any food or water left, they did little but give us a chance to catch our breath.
In the back of my mind I began to wonder how we'd ever make it back out of the cave. Making it to the end seemed incrasingly unlikely, and we still had to go back the way we came. If it weren't for my pride, I would have given up. As we sat for our break, only five minutes after our previous break, I considered the very real possibility that I would die.
Someone suggested that we turn back. It could have been me. Every agreed this time, even Jake. Our spirits were low, everyone was worried, and none of our muscles could support our weight. As I had slithered across the ground I watched the little pebbles pass under me. They weren't moving as fast as they had been before. If I pushed and the ground moved four inches behind me, I was happy. Greg was the only one who didn't want to give up. He had been promising us that the end was right around the corner for at least half an hour. The false hope had kept us trying, but we didn't care anymore.
We just wanted to make it back outside.
Greg suggested that he go on ahead and see how far away we were. Surely we were close, he said. Content to not move a muscle, we agreed.
Only a few minutes passed and we heard him yell.
"It's HERE! We made it!"
We got a second (or is it ninth by now?) wind and scampered across the rocks. Sure enough, it was right around the corner. And it was magnificent.
If you've ever seen a geode, then you've seen a small replica of the place we were in. The floors, walls, and ceiling were covered in crystals. Water ran over them and caused them to glisten when prompted by our flashlights. As happy as we were to experience such a scene, we were still exhausted. I wasn't willing to expend the energy required to simply take a picture. It wasn't worth it.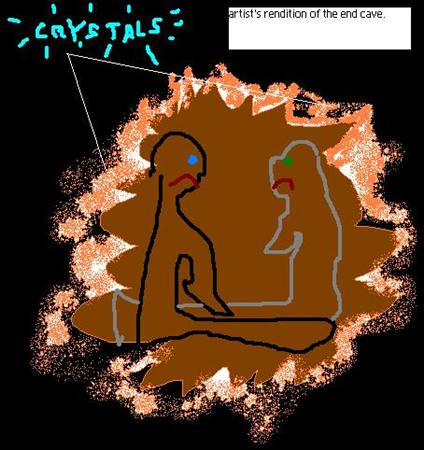 We pressed our heads against the wet ceiling to cool ourselves down. We joked and talked, but it was an act. None of us was ready to go back. Not having eaten anything in 4 hours was taking its toll, and it had been almost as long since we had had water.
We finally turned back and the reality of our eight hour crawl set in. Slowly, and punctuated by frequent stops, we made it back to the Wire wiggle. Terry went through first, and then I went through.
"I found our backpack!" Terry yelled.
"Please.. check for food or water," I replied. I knew it was empty, but I was desperate. I had no energy and collapsing on the floor had become part of my gait.
"There's nothing," Terry said mournfully, "Oh WAIT! Craisins!"
It was Jake's backpack, and in the bottom, under our empty water bottles, was a half eaten bag of Craisins. It was the best news I had all night. Behind me I heard Jake. He was stuck in the Wire Wiggle.
"Hold on," I pleaded.
Terry stuffed his face with a handful of Craisins and passed the bag to me. I took a handful too. I've been privy to some delicious meals in my day, but I don't know that any was as appreciated as those Craisins. I'd never had Craisins before, and had dismissed them as some stupid fad health food. But today, they were my best friend.
"Here, eat some of these," I said to Jake, and handed him the Craisins. Instantly his spirits were lifted as well. Austin, probably eager to get access to the Craisins himself, pushed Jake while I pulled him. He finally got unstuck and made it to the other side.
Our energy renewed from the paltry 75 calories or so that we had each received, we pressed on with less frequent breaks. I'd like to think that we somehow would have made it without those Craisins, but you never know. As far as I'm concerned, they saved my life.
It was a two hour trek back to Sherwood forest, where the promise of granola bars and water lay. I fantasized about eating a granola bar. Maybe two at once.
We reached Hayden just as he woke up. We excitedly told him about the crystalline cavern at the end of the tunnel. By now we'd been in the cave for 11 hours, muscles working hard the entire time. If you want to simluate this at home, walk on a treadmill while lifting weights, and continue for 11 hours straight. My strength was so low that I had resorted to rolling sideways through the cave when the width permitted. I wasn't sure which muscles the rolling was using, but I was happy that they hadn't given up on me yet.
I finally caught sight of the backpacks. That last twenty feet seemed to take forever, but I finally made it. I lay on my back and stuffed my face with food. As the other got to Sherwood Forest I lobbed packages of crackers and granola bars to them as well.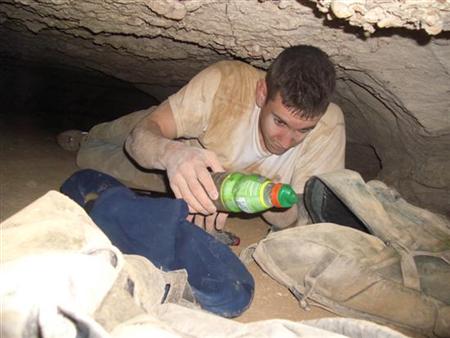 Surely with bellies full of food and water, we'd easily make it back to the entrance. We were only four hours away. It seemed like forever, but knowing that we had made it twelve hours already was encouraging. Seventy five percent of the way there.
After eating, drinking, and resting for half an hour, reality set in. We had to go. Unfortuntately my excitement had caused me to eat too much too fast and I felt sick.
The last four hours were perhaps the longest. Every time we'd ask I swear that Greg said that we were three hours away. He would describe the upcoming obstacles, and was always correct. But it always seemed like there were three hours left. Maybe I was going crazy.
At one point I realized that I had dropped my flashlight. Crap. It cost over $100 and I loved it. I was last in line and I saw it just twenty feet behind me. It took me only a few seconds to opt to continue on without it. Nothing was going to get me to crawl more than I had to.
During the last hour I made a point to evaluate the situation in my head. Would I do this again for $10,000? I think I actually chuckled outloud. This torture wasn't worth it. $100,000? No, I decided. Finally I considered that it might be worth it for a million dollars. Maybe. That's how painful it was.
After what seemed like an eternity, we went back through the birth canal and emerged from the cave. Overall we had been in the cave for more than sixteen hours. I marveled at the height of the sky as we walked back to the car. I would never hit my head on the sky. That was comforting. We piled into the car and headed to a local hamburger joint. Everyone ordered the double cheeseburgers.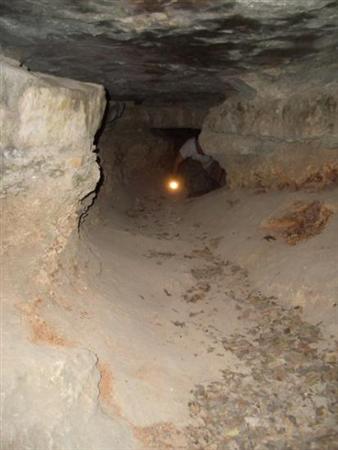 For the first time since the apartments, we were bathed in light. It was a funny sight. Our clothes, backpacks, and skin were caked in mud and dust, making us monotone. We looked as if we'd just survived a nuclear blast, which at the time seemed more pleasant.
I drove home and stripped naked in my garage. Even my underwear was somehow covered in mud and dust. I went into the bathroom and sat on the toilet. My floor is limestone. Looking at it, I had a momentary panic attack and felt like I was trapped in the cave. No. I was ok. I got into bed and closed my eyes. I had intensely realistic visions of the cave which jolted me awake. Finally after three or four tries, I fell asleep.
Since that day I've gone back through the birth canal, but no deeper. The cave was by far the most unpleasant experience in my life. But it was a good one. I'm now deeply grateful that Jake pushed us to continue to the end of the cave. More than any other experience, the cave taught me that our limits are FAR beyond what we could ever imagine. Also I learned that dried cranberries are life giving nuggets of goodness that should be praised across the globe.