That girl who I accused of having the chain DID steal it. Even though I suspected her, I was shocked. What a bitch. Anyway, she is giving it back. But… I wanted to wear the chain for Krunkeoke last night, so I bought a new one.
Jonah and I are going to get on the Amazing Race. The only problem is that we just got the idea yesterday and our videos and applications need to be in by tomorrow. Based on what we've worked out so far, and our stellar personalities, I don't see how it could even be possible that we WOULDN'T get on the show.

Also, I can't imagine how we wouldn't win. I plan on running every day, lifting weights every other day, and learning 1-2 more languages by the time the show films in June.

I've got some killer stories coming up soon here, so Bookmark this bad boy now. Included are :

What it's Like Living With Courtney Love
Road Tripping in a 40 foot School Bus
Accidentally Exploring the Longest Cave in America
Why Many People Should Drop Out of School
The Secret Tunnels under UT

Oh, and for people interested in the polynapping – it's going great. I've had two days where I've basically had 19-20 hours of productive time that I've worked.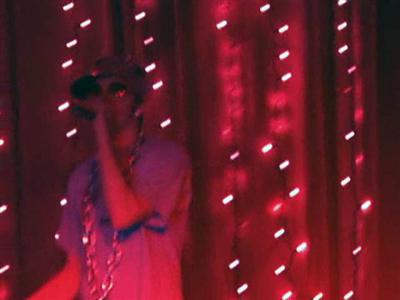 Me at Krunkeoke Last Night