Now it's time for the one post that everyone's been waiting for. The 2010 Gear Post.
For a quick background: my method is to have very few items, all of which are as small as possible and as awesome as possible. The goal is to have a tiny bag but be prepared for absolutely everything. This year I've gotten closer to that ideal than ever before. You can see my 2009 packing list here to compare.
The Bag: Ortlieb Flight 22
First on the list is the piece of gear that has delayed this post by at least six month: the backpack. My old Deuter Futura 28 was great, but I found that the gear changes I made left the backpack partially empty. Because the Deuter is such a great bag, it took me hours of research and trialing four different bags before I finally found one that I can comfortably say is the best bag for the modern nomad.
That bag is the Ortlieb Flight 22. The 22 in the name, as you may have guessed, refers to the size of the bag. It's 25% smaller than the Deuter, which is just about the size I was looking for.
The most impressive feature of the bag is that it's fully waterproof. Not just from rain, but from throwing it in the ocean. And if you did throw it in the ocean, you could hold on to it and it would keep you alive because the air inside wouldn't escape. That's pretty incredible. This also makes it dustproof, which means that you could bring it to the desert or to Burning Man without worries. A side benefit of being fully sealed is that you can also inflate it and use it as a pillow (or even fill one of the pockets with water if you're in a survival situation.
The backpack has two pockets: a front one that pretty much collapses if empty, and a big main pocket. It has a handy organizer with two sleeves and a small zip pocket. The sleeves just happen to be the absolute perfect size for my laptop.
Ortlieb primarily makes products for bicyclists, and the Flight 22 is no exception. In the bottom is a tiny pocket with a net that comes out and clips to the front of the pack, making a helmet holder. I think this would also be great for holding a jacket or sleeping bag during a hike, or for drying clothes.
The Construction is top notch, with a really great lightweight mesh suspension, similar to the Deuter Futura 28. Despite being a small bag it has a really nice waist strap and chest strap, which are better than any backpack I've used before. I like having these straps for running with my bag.
The one caveat with this bag is that the zippers are harder to pull than normal zippers and require lubrication every once in a while. This is a function of the hardcore waterproofing.
Other contenders were the Deuter Futura 22 (not waterproof), the Pacsafe VentureSafe 25L (TERRIBLE security, surprisingly but really great organization), and the Arc'teryx Blade 15 (Todd's choice. I love how small it is, but it has no chest/waist straps and isn't waterproof).
Clothes: Less Than Ever
I'm down to two pairs of underwear, two shirts, one pair of pants, one Speedo, and no socks. That means that other than the clothes I'm wearing, I only have to pack a pair of underwear, a shirt, and the Speedo. That's really the key to packing light. Most people's bags are stuffed full of inefficient clothes like sweatshirts and jeans.
I'm still using Icebreaker t-shirts, although I'm considering a switch to Smartwool Microweight t-shirts. Todd likes them better, and they do feel a bit softer.
My pants are made by Sherpa (no link because they don't seem to exist anymore), and are great except that one of the thigh pockets is very poorly designed and hangs below the leg when worn in shorts mode. My suggestion is to pick any nylon convertible pants that you like.
Underwear is still Icebreaker Beast Briefs. I love them. I still pack the same Speedo, chosen mainly because I think it's hilarious.
Outerwear: Major Improvements
The main reason I'm able to fit everything into a smaller pack now is because I've replaced my outerwear with new stuff that fits into roughly 1/3 of the space as the old gear, is much lighter, and is almost as warm, equally waterproof, and more breathable.
The biggest win is the insulation layer. I've replaced my bulky but very warm fleece with Mont-Bell's Ex-Light jacket. This thing is beyond amazing. It weighs next to nothing (less than half a pound), compacts into a stuff sack the size of two fists, and is quite  warm. It's not as warm as the fleece, but so far I haven't been in a situation I haven't been able to handle. I can't recommend this thing enough.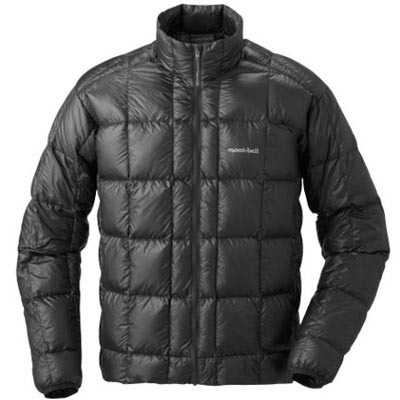 I also got a lighter shell, the Marmot Mica. It's also unbelievably light, can stand up to the most intense rainstorm, and has so far proved to be far more durable than it feels. The zipper on it is a women's zipper, which at first I thought meant that I bought the wrong model, but later found out was because there was no men's zipper as light. That's dedication to weight savings! This jacket pairs perfectly with the Mont-Bell for a very warm, windproof, and waterproof jacket system.
Moving to the extremities, I got rid of the nigh-useless SealSkinz gloves and replaced them with a two layer system: Icebreaker wool gloves and the Outdoor Research Endeavor Mitt. Just like the jackets, they're small, light, and incredibly warm.
Shoes: Not Really There
I just wrote all about these here, so I won't rehash too much. Suffice to say that Invisible Shoes are the most minimalist shoes you can get. They dry almost instantly, can be stuffed into a pocket, and don't wear out easily. When it's cold I'll probably get some ninja socks and wear them under the NEOS Villager overshoes. I may eventually try the Smartwool Vibram Five Fingers. Friends have told me that even the leather Five Fingers are much better in the odor department than the originals.
Camera: Smaller, An Extra Lens, Does Video, Changing Soon
With a bit of hesitation I gave up my trusty digital rangefinder and bought a micro 4/3s camera, the Panasonic GF1. For most people this camera will make the most sense: it's reasonably priced, small, has great lens selection, and shoots amazing video. I recommend the 20mm f/1.7 lens for it as well as the OLYMPUS (not Panasonic) 14-42mm zoom lens. The Olympus lens very cleverly compacts for travel, making it probably the smallest sized 14-42mm lens available.
The one problem with the GF1, and similar cameras, is that their lens/sensor combinations perform relatively poorly in low light. Still, that's only compared to large DSLR cameras.
All that said, I am about to sell this camera because I just bought a new one that I'm extremely excited about. A post on this camera will follow. It's more expensive but blows the GF1 away.
Electronics: We Live in the Future
I'm constantly upgrading all of my electronics. Amazing things are released every day that are leaps and bounds better and smaller than the previous best offerings. Take, for example, my laptop, the Sony Z12 Vaio. It has three hard drives, a screen with the same resolution of most 24-50″ screens, and weighs only three pounds. You can read my full review here.
Now that I have a good camera capable of recording video, I decided to get an audio recorder as well. The truth is that even these new cameras with amazing video recording capabilities still have sound quality that lags far behind the video. I bought a Zoom H2, which has four microphones and can record a 90 degree field, 120 degree field, or in four channel surround sound. That means that future videos I produce may actually be encoded with surround sound. If you don't really need that (and really, who does?), check out the Zoom H1, which can conveniently be mounted on top of a camera hot shoe.
There still isn't a phone I consider perfect, but within the next month, one will be released. My criteria are: Android operating system, QWERTY keyboard, decent camera, and an unlocked SIM slot. The upcoming HTC Merge on Verizon will be the first to reach this benchmark, and should be followed shortly by the Droid World Edition, also on Verizon.
A minor addition, but something that makes me happy every time I use it is my Cooler Master 95W AC adapter. This thing is REALLY tiny, has a long Brick->Laptop cable, and has a built in USB port, which I use far more than I thought I would. Even the tip connector is really clever, and feels much more solid than any other universal AC adapter I have used.
And, of course, I have a Kindle 3, which I reviewed here. If you don't want to read the whole review, just know this: the 3G works in many different countries, providing you with free on-device internet access.
Anyone who knows me knows how much I hate long/bulky cables. Luckily my friend Phil S. showed me these tiny little ones from Griffin. The set of three (Mini USB, Micro USB, iPod) cover everything I need.
Speaking of iPods, I finally made the Apple Plunge and  bought a 16gb Nano. I'm not wholly convinced that I actually need an MP3 player, but it's definitely the one to get. Crazy small size, decent battery life, good interface, and great podcast support make it a winner. I'm still pairing it with my Etymotic ER-4S headphones (link goes to the ER-4P model, because that will be better for almost everyone) that I've had for 10 years now, but if I ever lose them, I have a few others that I'll consider.
Odds and Ends: Sometimes it's the Little Things that Count
I replaced my rigid Nalgene 3oz containers with some 2oz containers from GooToob. I love that they're soft enough to easily squeeze toothpaste out of, and I love that they have suction cups on them. The spouts are well designed enough that you can leave the cap open and suction cup one to the side of the shower without it dripping. Just apply a bit of pressure to the tube and the soap (Dr. Bronner's, of course) comes out easily.
I recently lost my flashlight, and in its stead I bought the Fenix LD15. It's almost as bright as the amazing L1D, and is somehow much smaller. If you've never had one of these high performance flashlights, you're in for a real surprise when you turn it on.
I know it's not new this year, but I have to draw a little attention to my Inka pen anyway. This thing has been on my belt loop for a couple years now, and I use it almost every day. What a great product.
I got an eye mask from Bucky called 40 Blinks. It's a nice balance between being small and being substantial enough to completely block light and not touch my eyes while I sleep.
I switched to a 12 ounce insulated Klean Kanteen (because, you know, they finally invented them), which I cook with.
Not too many odds and ends, because I just don't have that much stuff anymore. Which brings us to the next section:
Stuff I Got Rid Of: Good Riddance!
I don't need Aloksaks anymore because my bag is waterproof. I can also just lay my clothes on it to dry, so I don't have a clothes line anymore.
I gave my cot away because it's size to how-many-time-I-use-it ratio was too high, although I still really like it. I also don't need my silk liner anymore, because I only used it with the cot.
My sunglasses are gone because I lost them for the fifth time, and I think it's going to stick this time. Soon I'll buy the Ray-Ban polarized folding Wayfarers. I don't really like how trendy they are, but they fold well enough to always be in my pocket.
I got rid of my external hard drive because my computer has three hard drives now. I have a 32gb everything-proof USB memory thing around my neck in case I need to transfer files around.
The Kettlestack is gone because TSA confiscated it (I hate you people). I probably wouldn't carry it anymore because I don't work out anymore.
I don't carry that portable speaker thing around anymore because it's too annoying to deal with its batteries. The solar panel thing is gone, too. It never charged fast enough that I was able to use it functionally.
Wrapping it Up
When I look back at my packing list from a year ago (okay, longer than a year ago), I'm amazed at how much has changed. Technology has progressed, I've done a lot more research, and my attitude has shifted to become even more minimalist.
Even if you decide not to mirror my packing list, I hope that the attitudes behind it will be of use to you. The more I've traveled the more I've enjoyed the benefits of having very few items, and having the quality to size ratio of each one be as high as possible.
###
Thanks for your patience. I know I've been talking about this post for a long time. I didn't post a packing video this year because I assume that people now believe me when I say stuff fits in a bag. If enough people request a packing video, though, I will make one.
I got an email asking about my process for discovering gear. Post an item (boots / shovel / netbook / whatever) that you want help on. I'll pick one that I think is interesting and do a step by step on how I research.
The links are mostly to Amazon because I love Amazon, order a lot of my own stuff from there, and because I get a commission. If you're offended that I'm getting a percentage of the purchase price, just avoid clicking the links and search on Amazon instead.