Tynan

4 years ago

31

9

likes

1607

1607 views

No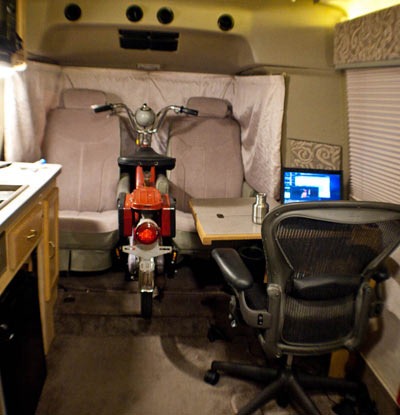 I just got my amazing new camera, the Panasonic GF1, so naturally I wanted to put it to use and make a video. Make videos with that thing is a ton of fun, so expect more videos soon (skateboards and mopeds coming up soon).
The first video is a tour of my RV, including a couple of the modifications I've made to it. Things change fast, though, as you can see from the photo above. The moped and Aeron aren't in the video.
I have a bunch of upgrades I'll be doing around Thanksgiving, so I might post a short video update then. I'll be putting in wood floors, maybe granite countertops, and removing a bunch of heavy items (awning, heater, air conditioner).
I mentioned a while back that I was going to start writing some mini ebooks on specific topics. My first one will be about how to live in an RV and should be out in a month or two.
Enjoy the video (click through to watch in HD for maximum enjoyment):
<object width="400" height="243"><param name="movie" value="http://www.youtube.com/v/tylz5sfCAOc&amp;hl=en&amp;fs=1&amp;rel=0" /><param name="allowFullScreen" value="true" /><param name="allowscriptaccess" value="always" /><embed src="http://www.youtube.com/v/tylz5sfCAOc&amp;hl=en&amp;fs=1&amp;rel=0" type="application/x-shockwave-flash" allowscriptaccess="always" allowfullscreen="true" width="400" height="243" /></object>
Subscribe to
Tynan
Do Something
Get new posts sent to you. If you change your mind later, unsubscribe with one click.
You're a member of this community! Use the buttons on the right to vote on this post or share it with others. Or leave a reply below.