I overslept by 90 minutes. I'm not proud of this. In fact, I'm in a bit of a rage over the whole thing. I don't think most people out there understand the precautions I've taken to ensure that I don't sleep.
Well, here's the latest. I've put my very loud air compressor in my bed, a foot or two from my face. If I remain in bed for 10 minutes longer than the alotted 25 minutes, it gets turned on automatically. I doubt there's anyone who has successfully slept with an air compressor going off two feet from their face. If you look at the picture below, you can also see a crock pot in the bottom left. I was going to have that boil water and then have the air compressor splash it on my face, but that proved to be too complicated at the moment.
What's frustrating is that I'm not actively making the decision, "this is too hard". My own body is sabotaging me.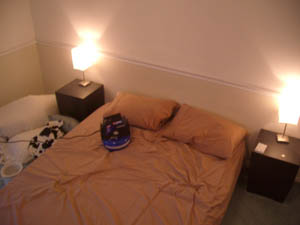 I've made a lot of changes which have dramatically helped eliminate oversleeping. Here's a rundown of how it works :
I spend most of my awake time in front of my computer. The computer has been programmed to produce a loud alarm noise every 30 minutes. This is to keep me alert and serve as a backup for the screen saver.
My screen saver seems to be somewhat flaky, but after two minutes of inactivity it's supposed to play a god awful beeping noise.
I have a second set of speakers with no volume control plugged into the computer under the desk, just in case I turn off the main ones.
I have removed the seatback of my office chair, so that instead of being comfortably supported in the case of an oversleep, I will fall backwards onto a pile of screwdrivers and other bumpy things. Since implementing this, I haven't fallen asleep at my chair.
In my bedroom I have a laptop that is duct taped shut to prevent sleepwalk-tampering. It's connected to a 200W receiver with some large speakers attached.
When it's time for a nap, I press a button on a remote next to my bed. This sends commands to the duct taped laptop. The laptop then disconnects itself from the network to prevent me from sending it more commands or remotely connecting to it to turn off alarms.
The laptop plays a 35 minute MP3 which starts out with 25 minutes of brown noise, and ends with a grand finale of an eminem song at full volume. The encore is 5 minutes of loud piercing beeps.
If I'm still in bed 10 minutes later, the alarm turns all the lights in the house to full brightness, replays the piercing noise, and text messages a couple of my friends to come wake me up. They usually don't, though, because there have been too many false alarms.
To prevent me from just taking two or more naps in a row, the system plays loud beeping noises for the next hour. There is no way to shut these off, as the computer doesn't reconnect itself to the network until the full sequence is finished. This annoys houseguests.
Rap Music loud, enough to shake the doors and my desk, is played 24 hours a day, except during naps.
The next measures I take will involve water being dumped on my face via water fountain pump and possibly a winch which pulls me out of bed and into the air. I don't know anything about winches, though. I really don't like being electrocuted, but one of those dog collar things isn't out of the question.
A lot of people will undoubtedly say "If you need to go through all this trouble, then obviously your body isn't meant for this. Blah blah blah blah". I am a stubborn person, and getting over 24 years of crappy hibernation programming is tougher than I thought it would be. However, I WILL succeed. I will literally do this for the next five years if I have to. It's only a matter of time before my subconcious relents.