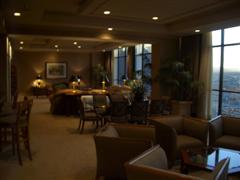 As I wrote in a previous article, I stayed for a few days in the Luxor Penthouse Suite. It's available only to high rollers and is about 4800 sqft. Because I had previously always wanted to see the inside of one of these suites, I took a few minutes and snapped some pictures for you.
We have plans to go back to Vegas already. The Golden Nugget is going to fly us out to Vegas, and then fly to Houston via private jet to see the Miami Heat vs. Houston Rockets game. I'm not actually a basketball fan, but I like seeing games live and have always wanted to ride in a private jet. Also, the Luxor has invited us to see the Mosley vs. Vargas boxing match. Expect pictures of both, and many other events to come...
Check out the pictures of the luxor suite.
Subscribe to
Tynan
Do Something
Get new posts sent to you. If you change your mind later, unsubscribe with one click.
You're a member of this community! Use the buttons on the right to vote on this post or share it with others. Or leave a reply below.