Here are a few objections raised in the comments. Although I've answered a few already, I want to put the bulk of them together in one spot.
1. Other things are dangerous too. Why eat healthy if you're not going to take EVERY precaution?
This is a pretty good question, especially aimed at me because I do tend to do fairly dangerous things occasionally.
The CDC says that the top six causes of death in the US are:
Heart disease: 652,091
Cancer: 559,312
Stroke (cerebrovascular diseases): 143,579
Chronic lower respiratory diseases: 130,933
Accidents (unintentional injuries): 117,809
Diabetes: 75,119
The things we cut out of the MaxDiet are directly and scientifically proven to be responsible for four out of the six. These make up 59.7% of the deaths in the US every year. If you're willing to agree that part of the MaxDiet is not smoking, you can bump that up to just over 65%.
Compare that to the 5.4% of deaths that accidents make up. This is a HUGE chunk of causes-of-death that the MaxDiet virtually eliminates. Sure there is still the chance of getting skin cancer or being so stressed that you'll have a heart attack anyways, but by and large, diet is THE root reason for these causes of death.
And even in cases of potentially getting skin cancer, all of the antioxidants and largely alkaline properties of the food have been proven to fight cancer.
Let me remind you again that this is a quality of life issue as well as a quantity of life issue. Lives not spent in the hospital are better.
I am willing to put considerable effort into diet because of all the possible ways I could die, the industrialized diet is by far the most likely to kill me.
I'd do it even if it was unpleasant. But it's not. Here's a graph of my food enjoyment: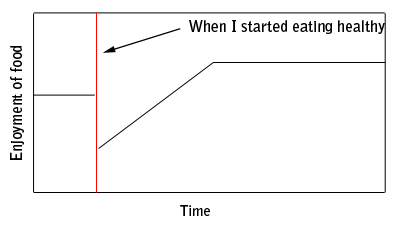 As you can see, yes... it does suck to switch. You miss the foods you're used to eating and everything seems very inconvenient. Foods taste bland. Then after a while you start loving it so much that you'd never consider going back. Normal food seems gross and artificial.
Bottom line - diet is the best way to prevent terminal diseases, and (to me and others I know who have switched) it is more enjoyable once you transition to it.
2. This Source Says that Eating Meat is Good for You!
Food is a very controversial issue, and everyone has an opinion on it. Some of these people are scientists, and some are compelling writers (*cough cough*).
Pick any decision you've made and you'll find someone on the internet or in a book who says it's wrong. They will always be out there.
However, if you follow the science you'll see that a diet made up of the ingredients in the MaxDiet consistently proves to be healthiest. This is like the people who claim that there is no global warming. A lot of people believe that and can be very convincing, but scientists are pretty much unanimous.
Of course there are a few studies here and there that show that meat is good for you. This could be due to variance or poor experiment design. The largest and most complete study (among others) shows that it's definitely bad.
And here's the thing. I'm not 100% convinced. I'm 100% convinced on flours and sugars, but for meat I'm around 95%. Maybe there is some hidden benefit to meat that we haven't discovered or something like that. But current research just doesn't show it. So I go with the science and keep my ear to the ground.
And while we're on the subject - I've never found a study that shows that eating only the items on the MaxDiet is unhealthy. And I've looked.
3. All Vegans are Pale and Weak
I actually agree with this somewhat, mainly because most vegans eat TERRIBLE diets. The typical vegan gets rid of meat and replaces it with weird soy / chemical based analogues and even more refined flours.
To be clear - if you're going to eat like that, you're better off eating meat.
Meat has many good things in it, but it also has a number of bad things in it that make it suboptimal. Flour and sugar are worse - they are pure nutritional evil.
Besides - let's compare apples to apples. What does the average meat eater look like?
The MaxDiet is not about being vegan. That's part of it, and the easiest one word label for it, but it's about a lot more. That's why I put all these posts together, rather than just talking about meat.
The average person who switches to the diet looks better than before. That's been the experience of all of my friends who have tried it, and that's been my experience. Try it for yourself and see.
4. Vegans don't get enough protein
First of all, meat protein has been shown, as mentioned earlier, to contribute to all of the leading causes of death in the Western world. So first consider how much good that protein is actually doing you.
Next, realize that everything in the MaxDiet has protein in it (except fruit). Instead of eating meat, which provides a lot of protein, and then eating bread and junk that has virtually none, you eat small amounts of protein in every meal.
You will probably eat less protein on the MaxDiet, but the typical diet today has too much, which can actually cause liver issues. If you want to eat a ton of protein anyway, just stock up on nuts, seeds, and hemp protein (or just ground up hemp seeds).
The End Of MaxDiet Week
I've said my piece. It's a bit disappointing to me that more people aren't motivated to try it out or at least get the books I recommended and research it more for themselves.
Maybe I haven't written compellingly, maybe people are too stuck in their ways, maybe it just seems too difficult to switch. I don't really know.
For what it's worth, I consider adopting this diet to be one of my very best choices in life. If any of this stuff struck a chord, I'd highly suggest that you try it out for 30-60 days. If you need any help with it, start a thread on the forum and I'll respond personally.