I woke up on Friday in an incredible amount of pain. My ankle, which I injured the night before during a particularly vigorous game of trampoline-dodgeball, had swollen the point that it looked like a bruised potato with toes dangling off.
Even the slight pressure of my blankets sent rushes of pain through my foot. I tried to get out of bed, failed amid a cloud of expletives, and got back in bed where I tried to fight off the pain by gritting my teeth and growling.
This was the day I was supposed to go to Tokyo by way of Beijing, where I had a twenty-four hour layover. As much as I had been looking forward to this trip, it occurred to me that I might not be physically capable of making it to the airport.
After ten minutes of staring at the ceiling, marveling at the pain I was in, I made my way to the front of the RV. It probably took me about five minutes.
I turned over the engine and awkwardly drove with my left foot, incapable of applying enough pressure with my injured right foot to drive properly.
I drove to a medical rental store and was greeted by a friendly man who invited me to sit down while he got me some rental crutches as well as an ace bandage, which my friend Doug recommended to me.
A carefully wrapped the bandage around my swollen ankle and hobbled out of the store on my crutches. By the time I got back to the RV the ace bandage had worked wonders. I couldn't put weight on my bad foot, but its mere existence was no longer a major life issue.
Although I was quite sure I'd later regret it, I ultimately decided not to bring my crutches traveling. If I could just suffer through the ride to the airport, surely I'd heal fast enough that I wouldn't miss the crutches within a day or two.
And suffer on the ride to the airport I did. Through the cold rain I rode my electric skateboard, each crack in the pavement exploding under my foot like a landmine.
But I made it. Eager to defiantly insist upon an X-rated pat-down rather than go through the cancer-blasting nudie machine, it was a bit of a letdown to be ushered through the standard metal detector.
My flight was late to Beijing and I was still in considerable pain, so instead of checking out the night market as I had hoped to do, I checked into my hotel. It had that distinct Asian hotel feeling: ultra clean, rock hard yet comfortable bed, and a shower that's totally functional but still seems "off" for no reason I can pinpoint.
I called room service and ordered a pitiful plate of spaghetti and a fruit salad. Through an error in communication (a.k.a. me speaking the Chinese of a retarded four year old), my fruit salad was upgraded to an expensive fruit platter, clearly meant for some sort of hotel room party. The contents? Half a watermelon, half a honeydew, and a bunch of large cherry tomatoes.
After enjoying censored internet access (no Facebook??) on a 20kb/sec "High-Speed Internet" connection, I went to bed with my foot bandaged and elevated on two pillows.
Much to my physical and mental relief, I woke up to find myself in much better condition. My limp was more worthy of a dignified pimp than a cripple, and I was excited to go see Beijing. I ate the rest of my giant fruit platter, a quarter of a 91% chocolate bar I brought with me, and left the hotel.
A couple metro rides later I found myself in the imposing Tiananmen square, going eye to ten-foot-eye with Chairman Mao in his famous portrait. Unsure of where to go or what to do, I chose a direction and walked through the fifty-foot thick wall leading to the Royal Palace.
On my way through the wall/tunnel was an aggressive happy-looking old woman with a bunch of cheap Chinese flags. She offered me one. I declined. She offered again. I declined again. This game of cat and aggressive-flag-lady went on until I reluctantly accepted the tiny plastic flag. She requested money. I declined and tried to return the flag. She again requested money and refused to take the flag back. I finally had to place it on a ledge and walk away.
She started following me, when suddenly I felt a light grip on my arm. I looked, and the woman had miraculously regressed in age by at least forty years. Holding my arm was a twenty-two year old Chinese girl saying "come on, come on!". We ran out of the tunnel together.
We quickly established that neither her English nor my Chinese was good enough for any sort of conversation. On a lark she asked if I spoke Spanish, which I do. She explained that she was a Spanish student hoping to be a teacher one day. Her name was Panpan.
Immediately I realized that this was some sort of scam. I remembered watching a Random episode where Tim Ferriss and Kevin Rose went to China and met some young "art students" who then pressured them into buying "art". Actually, Kevin and Glenn bought the art... Tim just laughed about it.
Still, as a foreigner traveling solo in a new country for only a day, I was happy to have the companionship. I've seen enough scams now that I can firmly refuse any sort of offer without feeling remorse. If the girl wanted to scam me, I thought, I may as well enjoy her company until she plays her card.
And so we walked through the enormous palace together for a couple hours. She seemed to know everything about it: what each room was used for, what that building over there was, even how the marble-dragon-based drainage system worked. Yet she claimed that she was from a small town, and this, coincidentally, happened to be not only her first time at the palace, but also her first time in Beijing. Half out of genuine interest, and half to trap her, I asked a bunch of questions about the palace. She knew all the answers.
At one point she answered her phone and spoke Chinese with her friend. With genuine enthusiasm, she said "wo ren shi yi ge peng you!", "I've made a new friend!". That didn't sound like a scam artist to me, so I was mostly put at ease. She put me on the phone with him, and we talked for a few minutes about America.
After leaving the palace, I told her that I really wanted to eat Peking duck. Even though I don't eat much duck normally, and am a bit disgusted by the idea that it's force fed, I like to step out of my comfort zone and try new things, especially when they're as famous as Peking Duck. You have to buy a whole duck, which is big enough for two or three people. It's relatively expensive, but since I was going to buy one anyway, I invited my new friend to come with me.
At this point I had largely put it out of my head that she might be trying to dupe me into something. We'd spent a few hours together at this point, joking around and talking about our respective countries. Either she was just an honest friendly girl, or she was playing the long con and I was going to leave China without my kidneys.
We made our way to a famous Peking Duck restaurant, where we were seated. We ordered our duck and a pot of pleasantly strong Pu-Erh tea. She told me that coming to Beijing was her first flight on a plane, and that she had never had Peking Duck or Pu-Erh tea. I liked the idea that I was a foreign tourist, she was a local one, and that we got to experience the same things for the first time.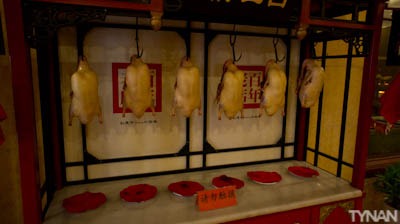 In a bit of a ceremony, our duck was brought to our table on a stainless steel rolling cart, where the chef carved it carefully. First she laid out a plate of the duck's skin, a delicacy that both Panpan and I could only stomach a bite of, and then she carved the breast onto two separate plates. Along with the duck meat were small plates of condiments such as granular sugar (surprisingly complementary to duck), cucumbers (surprisingly repulsive with duck), and onions, which Panpan insisted were called mushrooms before finally looking it up on her translator.
We stayed in the restaurant for a few hours, drinking cup after cup of dark Pu-Erh. She showed me her passport, which confirmed that she really was from the little town she claimed, as well as her papers for the Spanish exam she had come to Beijing to take. I felt a little cynical for initially suspecting ulterior motives.
I had planned originally to go to the Forbidden City as well, but I was enjoying our occasionally-trying trilingual conversation enough that I happily ran out the buzzer of my twenty-four hour Beijing trip in the restaurant. I was particularly interested to hear what she, and presumably other Chinese thought about communism, censorship, Chairman Mao, and the patriotic dogma they're force-fed as children. She told me that she's very proud of China, and that she can see the good and bad in the government, and even in the censorship of the internet. That surprised me. North Korea is much worse, she said. True.
I motioned to pay the bill, and she insisted on paying half. I was actually pretty moved by this. I thought it was mutually understood that I'd pay, considering I was a foreign tourist and she was a younger student. She used my own argument against me (that she would have had to buy the whole duck herself, too), and the dispute was finally settled when she dropped her money in front of me and refused to pick it back up.
The first couple train connections I had to take coincided with the ones she was taking to visit the Olympic stadium, so we went to the subway together. Once we got to my stop she asked if I had to take the airport train immediately, or if I had time. We were early, so I had thirty minutes before I had to leave.
In the lobby of the train station was a really cool giant map of the world. We spent half an hour walking back and forth in front of it, her telling me where she wanted to go, me telling little stories from places I'd been, and both of us giving each other geography lessons. I thought Beijing was south of Korea. She thought that New York and San Francisco were different names for the same place.
Finally time was up and we went our separate ways. I thought about how lucky I was to have an instant friend for the day, especially one who knew so much about the place I was visiting. I guess my foot finally realized that there was no point in hurting anymore, because I was going to walk all day regardless, and so it's now in good enough condition that I'm ready for my upcoming adventures in Japan.
On my way back from Japan I have another twenty-four hours in China. Hopefully I'll have another good story from that day as well.
Here's a video:
###
Sorry for the delay. I was trying to prank my Japanese teacher by pretending that I didn't make it to Japan, so I couldn't indicate that I was gone, but she didn't fall for it!
There are a bunch of new photos of Japan at my Flickr. Lots more coming, so keep watching!