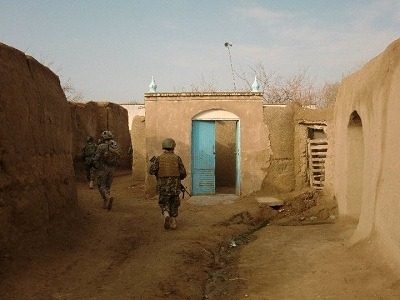 I'm in Austin, ostensibly for SXSW, but in reality I've spent most of my time at my friend's house, or at Casa, plugging away at my YC demo. The deadline is this Sunday and there's a lot to be done before I'll feel confident submitting.
So that's why I haven't posted yet this week. I intended to post a video of the talk Jason and I gave, but my camera ran out of batteries early into the talk, so I have no video.
My brother, who I wrote about last year, has been in Afghanistan. He's a soldier in the army. Besides shooting with his gun, he's also been shooting with a camera he brought with him. He posts photos to Facebook on a regular basis, and some of those photos have been really fascinating to look at. With his permission, I've reposted some of them here for you to see:
Luckily for Taylor, my family, and myself, he comes home very soon (although we're not allowed to know when exactly)!
###
With deadlines over on Sunday, I'll get back to writing next week. Thanks for being patient.
It's supposed to rain every single day once I get back to SF! Thinking about going somewhere else to avoid the rain. But where?
Tasksmash codes:
B6B7B7F2
7C64FBF4
869A9E8E
EC68DD44
C0DFF5A5
95A62796
8F5DC6FD
Subscribe to
Tynan
Do Something
Get new posts sent to you. If you change your mind later, unsubscribe with one click.
You're a member of this community! Use the buttons on the right to vote on this post or share it with others. Or leave a reply below.